James Foley's Mother Remembers Her Son
13:18
Play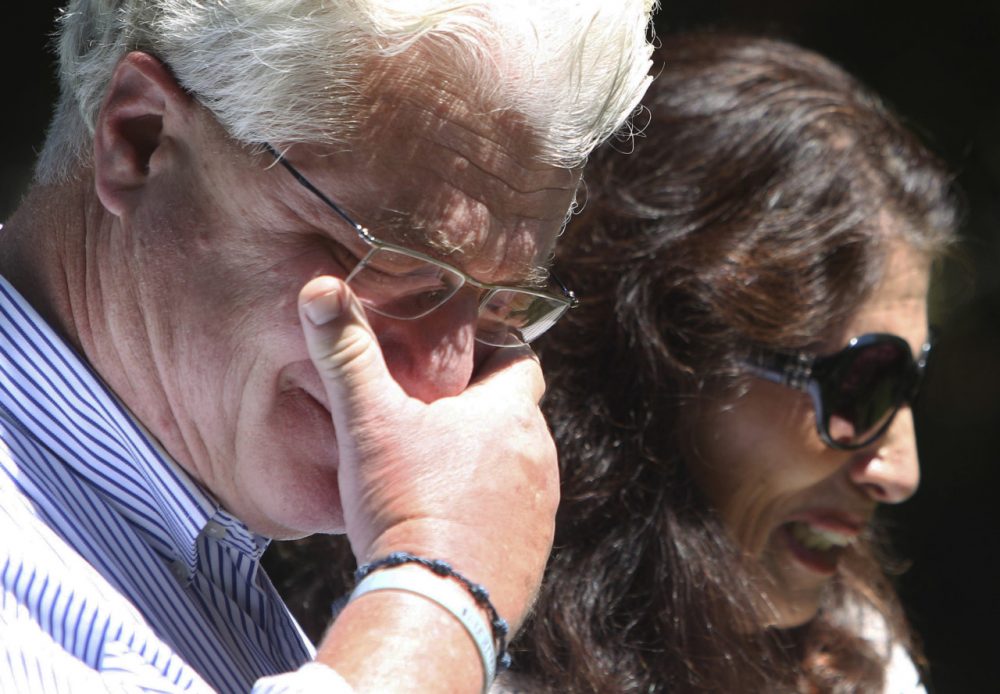 This article is more than 6 years old.
For nearly two years, John and Diane Foley have been consumed with finding their son, James. He was kidnapped in Syria on November 22, 2012. On August 19, militants released a video showing the beheading of James Foley.
The next morning, journalists gathered outside the family home in Rochester, New Hampshire. At that moment, Diane Foley was unable to speak. Instead, she hugged each reporter waiting on her lawn, then went inside to pray with her family.
Foley is speaking more now. She came into our studios Wednesday and talked about how she remembers her son.
The Foley family is establishing a foundation in honor of their son, called the James W. Foley Foundation. Donations can be made through their website, freejamesfoley.org.
Guest
Diane Foley, mother of James Foley.
Highlights
On Jim Foley's death:
Diane Foley: "Jim's death has been very difficult for us, as a family. Very difficult. Jim is the oldest — and very beloved oldest — of our five children. So, it's been very difficult. It has been very difficult. But he does inspire us and challenge us too, Meghna. He had grown into a man my husband and I hardly recognize. He he had grown into a humanitarian as well as a journalist, and we are challenged to continue that legacy, we really are."
On Jim as a child:
DF: "Jim was always really full of joy. He was a happy kid, he had a big smile. He also loved adventures. He loved to go places and see things and meet people. He had a real ability to be present to others, always had a lot of friends. All kinds of friends, you know? Not just one type of friend, but all ages and all types of people."
On the emotional toll of Jim's work on the family:
DF: "[We were] very worried. And Jim knew that. He was very good about keeping in touch while he was away because he knew it was hard on us, but he had found his passion, and we tried many times to dissuade him. His siblings did and I did, as we really came to know how really dangerous it was."
On Jim's return to Syria:
DF: "We implored him not to [go back], and we tried to ask him to consider other things. But Jim made it very clear that he was passionate about it, and that is what he wanted to do. And so, you know, as a parent, you know, you want to support a child's passion, if you will. So, we tried to support him in that effort."
On Jim's second kidnapping:
DF: "Well, Meghna, truly a nightmare, really. A nightmare. Except that this nightmare went on and on and on. It was an entire year that we had not even had a sighting of Jim. So we did not know for that first year if he was alive or not. Then, getting him out was another huge hurtle, obviously."
On the U.S. government's effort to free Jim:
DF: "Of course, the result was not at all what we wanted. We're deeply grateful to GlobalPost and Phil Balboni. And I do believe our government tried to be of help to us. We hope that Jim's death will make a difference and that the other hostages, particularly Steven Sotloff and Austin Tice, who are public, will be released and returned home safely. We hope that something better can be done, certainly."
On paying ransoms for kidnapped journalists:
DF: "It is a very complex issue. I, as a mother, would like our government to find a way to protect these courageous journalists and bring them home. I'm not wise enough to know what should be done, because I certainly don't want to encourage kidnapping of any journalist. We need to trust our elected officials to figure this out for us and I would hope to work together with our allies so that this doesn't happen to any other journalist. It shouldn't be, Meghna. It just shouldn't be."
On the letter from Jim delivered by a fellow hostage:
DF: "That was a gift, Meghna. We had not heard his voice or received any letter from him since he was captured in November 2012. So, for this young man, for Daniel [Rye Ottosen], a Danish citizen, to memorize the English and then take the time within 48 hours of his release to call us was just so dear. His words are all we have, so we treasure them."
On what gave Jim strength:
DF: "We have a wonderful family, Meghna. We're very blessed. I like to think that a lot of the joy that he experienced as a child and young adult and our wonderful family times were a huge strength to him. That, together with the prayer. So much prayer was going on for Jim — has been going on — for the last several years. So I hope the love of the family and those prayers are what gave him the strength to endure."
On her favorite memories of Jim:
DF: "There are so many. I guess one of the things that warms my heart, Meghna, is when the other hostages, now freed, tell us the stories of how Jim helped in the prison. He was such a force for positivity and optimism in the midst of a very dark place and he brought some of his joy. They played games and figured out ways to entertain themselves and challenge each other. He brought a lot of light into that very dark place. And just his goodness — to mentoring former students in Chicago — we have been so struck by so many people whose lives he's touched and those all give me a good feeling that he's going to live on."
This article was originally published on August 29, 2014.
This segment aired on August 29, 2014.