Malcolm-Jamal Warner Stars In The Huntington's 'Guess Who's Coming To Dinner'
14:52
Play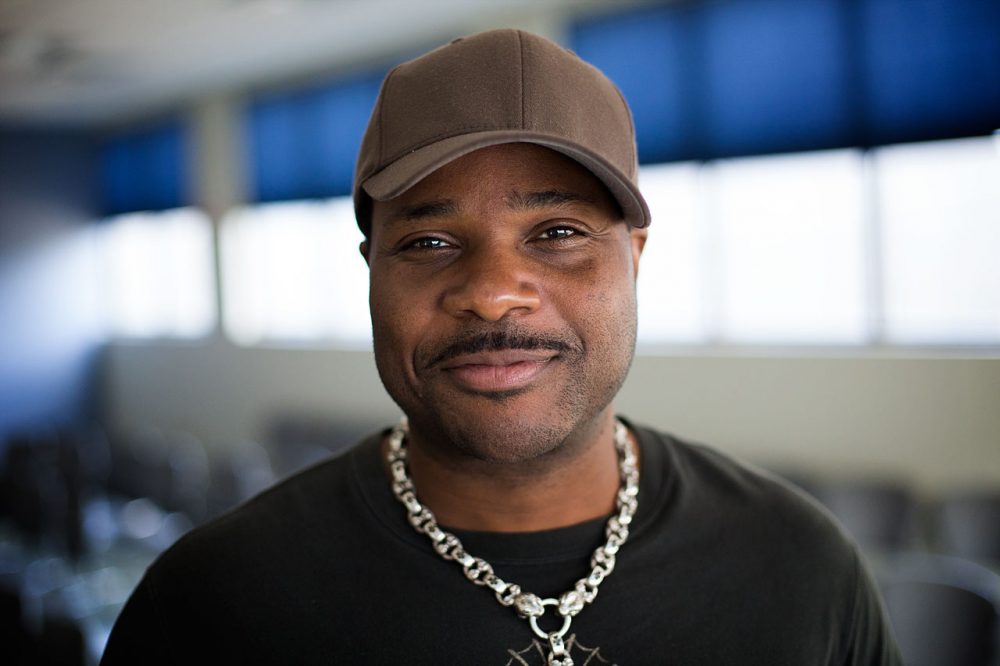 This article is more than 6 years old.
Back in 1967, the movie "Guess Who's Coming to Dinner," opened across the country. It starred Sidney Poitier, as well as Katherine Hepburn and Spencer Tracy, who played two white liberals. Their lives are suddenly thrown into turmoil when their daughter comes home with a black doctor and announces they plan to marry.
"Would you think it was some kind of cowardice if I told you that, no matter how confident you two are, I'm just a little scared," Spencer Tracy's character told Sidney Poitier, who played the black doctor in the 1967 film.
"No, it wouldn't. But you never know. Things are changing," said Poitier.
"I have a feeling they're not changing anywhere else quite as fast as they are in my own backyard."
"But it wasn't my idea that everything be settled so quickly. Your daughter said that there's no problem. She said, 'My dad. My dad is a lifelong, fighting liberal who loathes race prejudice and has spent his whole life fighting against discrimination.' She said, 'My parents, well, they'll welcome you with open arms.' And I said, 'Oh, I sure want to meet them.'"
In tackling the subject of interracial marriage, "Guess Who's Coming to Dinner" took on a hugely controversial subject in the late 60s. Now, a play based on the movie is onstage at the Huntington Theater in Boston.
Guest
Malcolm-Jamal Warner, star of the Huntington Theater's production of "Guess Who's Coming to Dinner." He's best known for his role as Theo Huxtable in the popular TV show, "The Cosby Show." He tweets @MalcolmJamalWar.
Highlights
On playing John Prentice in "Guess Who's Coming to Dinner?":
Malcolm-Jamal Warner: "It's a Sidney Poitier role, so that was the biggest attraction. And obviously it's not a role where I'm trying to do what he did with it because that would be too intimidating...What resonated with me with the character was that it was almost, in some sense, a coming of age piece for this man who, at some point along the line, has to let go of needing his father's approval and having to stand up to his father."
On the timelessness of the story:
MJW: "What's really interesting [and] what we found with a lot of audience members, is they were able to see that this particular story about an interracial relationship transcended [beyond] just different races. Someone made the comment that you could take this story and make it about a same-sex couple and it would still resonate...a Christian and a Muslim, you know, and the story would still work. So I think Todd Kreidler, the playwright, and David Esbjornson, our director, together really did some work in being able to take this story, but make it universal."
On the changing social climate in 2014:
MJW: "In '67, they had to tread rather lightly on the subject matter because of the social and racial climate at the time. What we have an opportunity to do in 2014 and onstage is, you know, the characters get to take deeper emotional journeys, and so had room to go a little further and not have to treat everything with kid gloves."
On auditioning for Theo Huxtable in "The Cosby Show":
MJW: "Initially, my agent submitted me for the role but they were not interested because they were looking for a 6'2 15-year-old and I was a 5'5 13-year-old. Months later, they still had not cast the role and my agent submitted me again and I was — literally this was Good Friday, 1984 — my agent convinced them to wait for me. I was literally the last person they saw...I went into the audition and I read the character — it was actually the "regular people" scene — and I read the character like I saw young kids on TV — precocious, kind of smart-alecky — and I'm in the audition and I'm hitting all the beats, I'm killing in the room, you know, I'm killing it. Everyone's laughing in all the right places. And when I'm done, I look up at Mr. Cosby and he's got his face in his hand and he's looking at me and he says, 'Now, would you really talk to your father like that?' And I said, 'No.' And he said, 'Well, I don't want to see that on the show.' And he said, 'You go back out there and you work on it and you come back and bring me something else.'"
On his relationship with Bill Cosby:
MJW: "The thing I always have to point out is Mr. Cosby has five kids of his own. And you know, I had a mother and father of my own. And my father was very instrumental in my raising, he was a very integral part of my growing up. And Ennis Cosby, Mr. Cosby's son, and I were really good friends. So Mr. Cosby's always very willing to share his wisdom and his experiences to anyone who was willing to listen. And I just happened to be the cat who was really willing to listen and wanted to listen. Because my mother, before "The Cosby Show," my mother used to always use Bill Cosby as an example when she was impressing the importance upon education. You know, he went back and got his doctorate when he didn't have to. When he was already famous and already rich...So there was definitely a mentor relationship there. I say, a mentor and a friendship there, that has lasted long past the show and I can definitely say for more than half of my life."
On always being Theo Huxtable:
MJW: "People still call Ron Howard 'Opie' and it hasn't hurt his career one bit. People think it is a compliment when they say, 'You will always be Theo to me." It sounds like, 'I don't care whatever else you do. None of that really matters, you're really Theo to me'...Being called Theo all the time would probably bother me more if I hadn't done so much other work. But even when we were doing the show, at the height of the show, my focus was always life after. Theo was not going to be the end-all, be-all of my career. I'm going to be more than Theo. So I like being called Malcolm."
On his changing relationship with the play:
MJW: "I did the production in D.C. back in December with a different cast. So coming to Boston and doing it with a different cast, you know, there are always new things to learn. The beauty of live theater is I still get 'ah ha' moments on stage. I love the fact that I can come back the next night and employ what I learned the night before and see how that affects the journey of the character...Live theater is its own living, breathing thing. It's never the same two nights in a row."
More
The Boston Globe: A Satisfying 'Guess Who's Coming To Dinner' At Huntington
"It is largely Warner who keeps 'Guess Who's Coming to Dinner' from drowning in treacle or wafting off the stage altogether. He brings both wit and moral weight to the role of Dr. John Prentice, the fiance of medical student Joanna Drayton, played by Meredith Forlenza."
This article was originally published on September 19, 2014.
This segment aired on September 19, 2014.