At Time Capsule Ceremony, A Mystery Revealed. Sort Of.
02:22
Play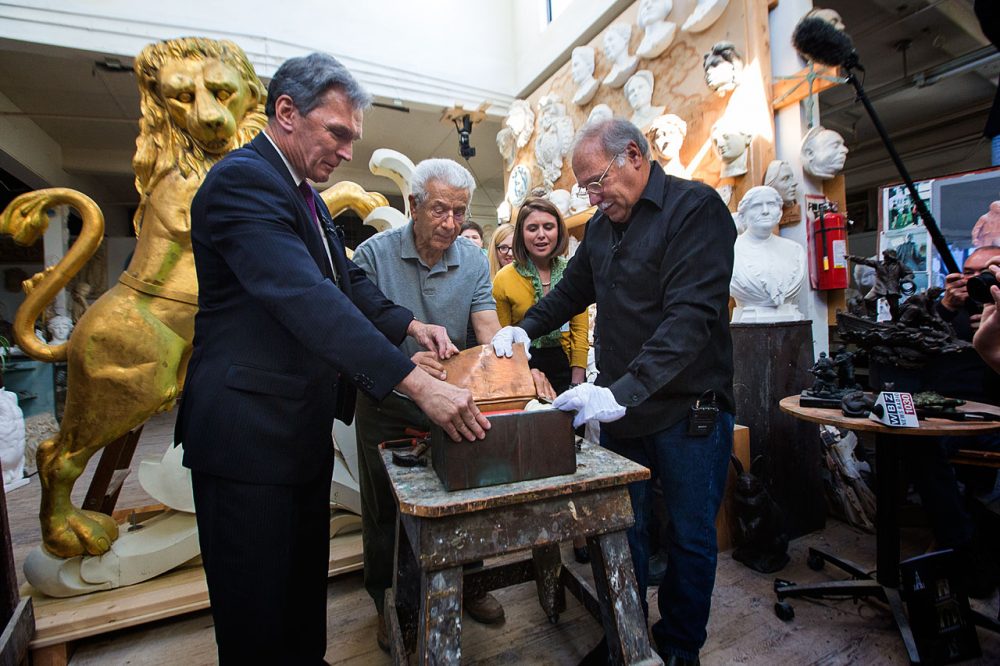 This article is more than 6 years old.
After some tapping through old solder, pulling out old screws and eventually, cuts with tin snips, archivists opened up a century-old time capsule tucked inside copper box that once lay hidden within the head of the lion that sat atop Boston's Old State House.
A bright, red, well preserved book appeared to be right at the top of the capsule. Which was, to put it simply, a bit of a surprise.
Elizabeth Roscio, the Bostonian Society's archivist, bubbled over with both surprise and excitement because historians thought they knew what the time capsule contained.
A Boston Globe report from 1901 said capsule would hold, photographs, autographs from government officials, a population map, a letter from local reporters assigned to cover City Hall, old newspapers and presidential campaign buttons. But no mention of a big red book.
What's actually in the time capsule underneath the book? We'll have to wait and see.
"The surrounding papers are also pretty tight," says Roscio. "It seems likely that we might have to bring this back to our archives where we can move a bit slowly and have a bit more space and a bit more of a controlled environment to really delve into this."
Roscio will begin removing and preserving the materials Tuesday. Given that Boston has already waited 113 years to find out what's in the time capsule, we figure we'll find the patience to wait another week.
More
WBUR: A Lion, A Grasshopper And Other Boston Time Capsules
"A 113-year-old time capsule that was inside the head of a lion statue atop the Old State House in Boston was opened Thursday. But it isn't the only hidden capsule waiting to be unearthed in Greater Boston. Here is a look at four other time capsules in the area."
This segment aired on October 9, 2014.