Boston's Climate Change Point Man Looks At How To Accommodate Rising Sea Levels
Resume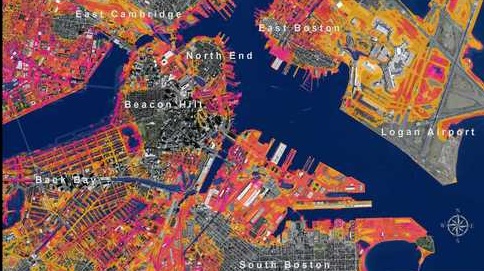 Much of Boston was built by claiming land from the sea: Back Bay, the South End, the Financial District, East Boston and large swaths of Charleston used to be watery tidal zones and marshes.
Reclaiming that land was an engineering marvel. But with rising seas, those areas will soon be vulnerable to the waters again, and it will take generations of continued ingenuity to shield those areas from the effects of climate change.
Guests
Brian Swett, chief of environment, energy, and open space for Boston.
Highlights
On Hurricane Sandy as a wake-up call for Boston:
Brian Swett: "[Hurricane] Sandy was a real milestone and call to action for the city and the region. I often got questions after Sandy had struck of, 'What if Sandy had hit Boston directly?' And that was actually the wrong question to be asking. That storm was so large and was so powerful that if Sandy had hit five and half hours early — same direction, but...at our high tide, we would've had a 100 year flooding event...We've had three additional storms that, had they hit at high tide, we would've had 100 year flooding events as well — Nemo, the big snowstorm; Hercules, which we had this past New Year's and one other, actually, unnamed storm. It just shows you how the impacts and the timing, how lucky we've been in the last two years."
On what would happen if Boston did nothing to prepare for rising sea levels:
BS: "Since 1920 until today, we've had about 10 inches of sea level rise. About half of that has been from land subsidence, so the land on the east cost is actually still settling, still sinking, and half of that has been from sea level rise. We expect an additional six to 16 inches of sea level rise by mid-century and, potentially, an additional two to six feet by end of century. The storm surge for Superstorm Sandy was about five feet in this area...So, an event that raises the sea beyond high tide by seven and a half feet, is enough to overtop the Charles River dam in its current construction. And so, that's when you start to think about [how] areas that traditionally have not experienced flooding would be impacted. The other attribute that folks need to consider is, when we have those types of storm events, it's usually a high precipitation event as well. So, we have the Charles River, the Muddy River, the Mystic, the Neponset, all draining flood waters from eastern [Massachusetts] through Boston to get out to the ocean. If the storm increases storm surge into sea level, there will be backup of that precipitation."
On canals in the Back Bay:
BS: "[Those canals are] proof that a picture speaks a thousand words, and it was clearly the most bold and compelling of numerous visions that design charrette the Urban Land Institute hosted on four critical areas in the metro Boston region — that has certainly gotten the most attention. I have tried to be consistent in telling folks we're not going to start digging canals tomorrow, but what a compelling vision and approach to get people thinking about the concept of living with water. And I think we have a variety of solutions and I would remind folks that, for that design charrette, they weren't allowed to solve seven and a half feet of sea level rise outside of the neighborhood, they had to solve it within the neighborhood. The reality is, there may be an infrastructure approach — some combination of increasing protection further outside of the Back Bay through sea walls and levees and storm systems. But it helps convey the magnitude of the challenge in front of us — we're now experiencing, over the next century, a faster increase in sea level rise than has ever been experienced in human history. So, there is no marker for adaptation from a human history [or] engineering perspective."
On the costly nature of heat waves:
BS: "[It's costly] not only in terms of dollar value but in terms of the impacts on human life — both the stress on human life and the loss of human life. Heat waves and extreme heat, globally, are by far the deadliest natural hazard. It gets a lot less press because, oftentimes, it's not from an event like a tornado or a hurricane but in terms of stress, especially for the most vulnerable populations — so, the young, the elderly, those with breathing issues and challenges and health issues, extreme heat is extremely challenging...Many folks have seen those maps that show the average climate and us starting to feel more like Maryland and more like North Carolina. There was an interesting study in 2013 out of the University of Hawaii that looked at, when do we have a record hot year now that will be considered a record cold year in the future? And for Boston, we had a record hot year in 2012. By 2047, that summer that we had — and that whole year — will be considered a record cold year. So, within a single generation, we're completely going to flip the dial."
On what needs to be done to prepare the city for climate change:
BS: "We're looking across the spectrum at the building scale, at the neighborhood scale and at the infrastructure scale. Talking about infrastructure, when you talk about extreme heat, it's not only the impacts on human populations but it's on the infrastructure on which we rely, so one prime example of that is our power grid. We need the ability, at the same time that people are turning on their air conditioners, we need reliable power in that system. Many of our generators are coastal and use ocean water or river water to cool, and at the same time, as we're turning on and reaching peak demand, we're having a hard time cooling our power plants. We had a circumstance back...two summers ago, where we had to downgrade the output of Pilgrim Nuclear Plant because the ocean water was so warm. So, at the infrastructure scale, we need a more robust, reliable, resilient infrastructure to these impacts. At the neighborhood scale, we need to think about — certainly in the realm of heat — about urban heat island effects and creating cooler cities. We know that tree canopies work, we've done studies in Boston that have found...surface level temperatures up to 15 degrees different between over black asphalt versus a shaded green space. How do we create more shaded green space in our neighborhoods and reduce the need for mechanized cooling?"
More
Radio Boston: How Will Boston Accommodate Sea Level Rise? New Report Suggests Canals, Wetlands
"What can a coastal city like Boston do to prepare for the effects of climate change and rising sea levels? Consider, for example, Back Bay, which was once a marsh and now sits just four feet above high tide. Climate experts say, over the next 75 years, sea levels could rise as much as seven and a half feet, which would swamp the neighborhood."
This article was originally published on October 20, 2014.
This segment aired on October 20, 2014.