Beneath Your Feet: The Maintenance Crews That Keep The MBTA Running
Resume
Gov. Charlie Baker announced Friday that he's giving a special panel 30 days to come up with recommendations to fix the MBTA's finances and operations.
And for good reason. In the past couple of weeks, we've heard a lot about the failings of the MBTA — about systemic problems and a lack of financing, about bad management and political pitfalls. We've heard about maintenance backlogs, old rolling stock and poor service. In short, we've heard about a system that already can't meet demand, even as we demand that it be expanded.
We've talked a lot about everything that's wrong with the MBTA. And, granted, there's a lot to legitimately complain about. But, it also might be time to take a second to talk about at least one thing that works about the T.
Last year, we visited the MBTA's maintenance shop. It's the system's only repair facility — a 110,000 square foot warehouse in Everett. Every single part that breaks down on the T — whether it's a valve, a wheel, a break, or an entire undercarriage — is sent there.
"When you're standing on the platform, you're only seeing the shiny part," says Edward Belanger, a maintenance supervisor of the MBTA's subway main repair facility. "We handle the stuff underneath. The majority of our work is under the deck."
Belanger has been at this facility for about a decade, and he's responsible for overseeing the machine shop, sheet metal shop and electronics room.
"You have a lot of different trades under the same roof," he says. "It's very reminiscent of America when companies did everything themselves."
But very skilled work happens here, too.
"People don't like it when the wheels come off," says Belanger.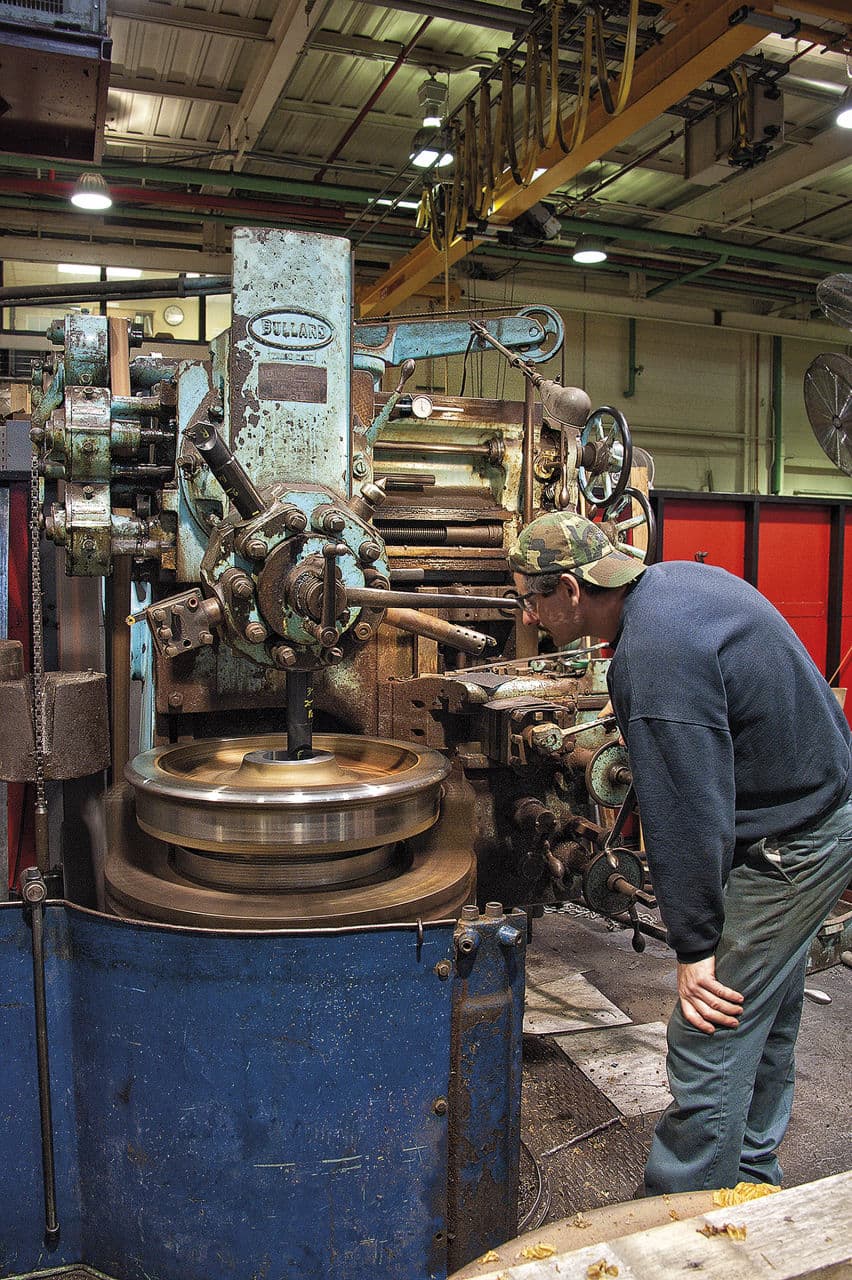 When we visited, worker Tony Moccia was inspecting a red line axle for signs of cracks or bends.
"The T is always recycled, but not for green reasons," says Belanger. "The axle unit you're looking at, with the resilient coupling, is worth about $11,000. Some of these axles will actually run the entire life of the car without being replaced."
And the wheels that are placed on those axles are held on by nothing other than an extremely tight, pressed fit — that means no welding, no lugs screwed in like on your car. Just an ultra precise press fit.
"The hole has to be 0.0025 smaller than the axle," says Belanger. "Just about the width of a human hair. So, if John misses it, either way, we can't use the wheel."
John O'Donnell bores the hole to get that red line wheel on the axle. When John is done boring the hole, you're not supposed to be able to slide anything thicker than a human hair between the wheel and the axle. You would think they would use some kind of laser-guided, computer aided machine.
But, no. With great care and skill, O'Donnell achieves that ultra tight press fit using an almost 80-year-old mechanical boring machine that's been there since the T moved into the Everett building.
"We don't throw a lot of wheels away, because John's good," says Belanger.
So good that the wheels stay on, until the maintenance crew needs to take them off. It's no easy task and requires another special — and old — machine.
"Steve and Mike are going to press off a number three wheel," says Belanger. "They're removing the wheel from the axle so we can put a new one on."
And what does it sound like? About 170,000 pounds of pressure. In other words, loud.
"That's the force it takes to hold one on," says Belanger. "When you think about the diameter of a human hair, you don't realize how powerful it can be."
And with that precision, the crew makes sure that the wheels stay on the red line as it rumbles over the tracks. They also make sure that the train stays steady, even as thousands of riders board, changing the weight distribution on each carriage throughout the commute.
All of that is done, basically, with some valves and an air bag.
"Get on a subway car. You step on that car, and that car is even with the platform," says Mark Craven, the foreman in charge of the air pressure section of the facility. He's been with the T for 24 years. "As more people get on the car or get off the car, that wants to move up and down, but we have leveling valves that adjust that automatically, so that when you're stepping on that car, if it's an empty car, you're not tripping over the door. And if it's a full car, you're not stepping into a hole in there."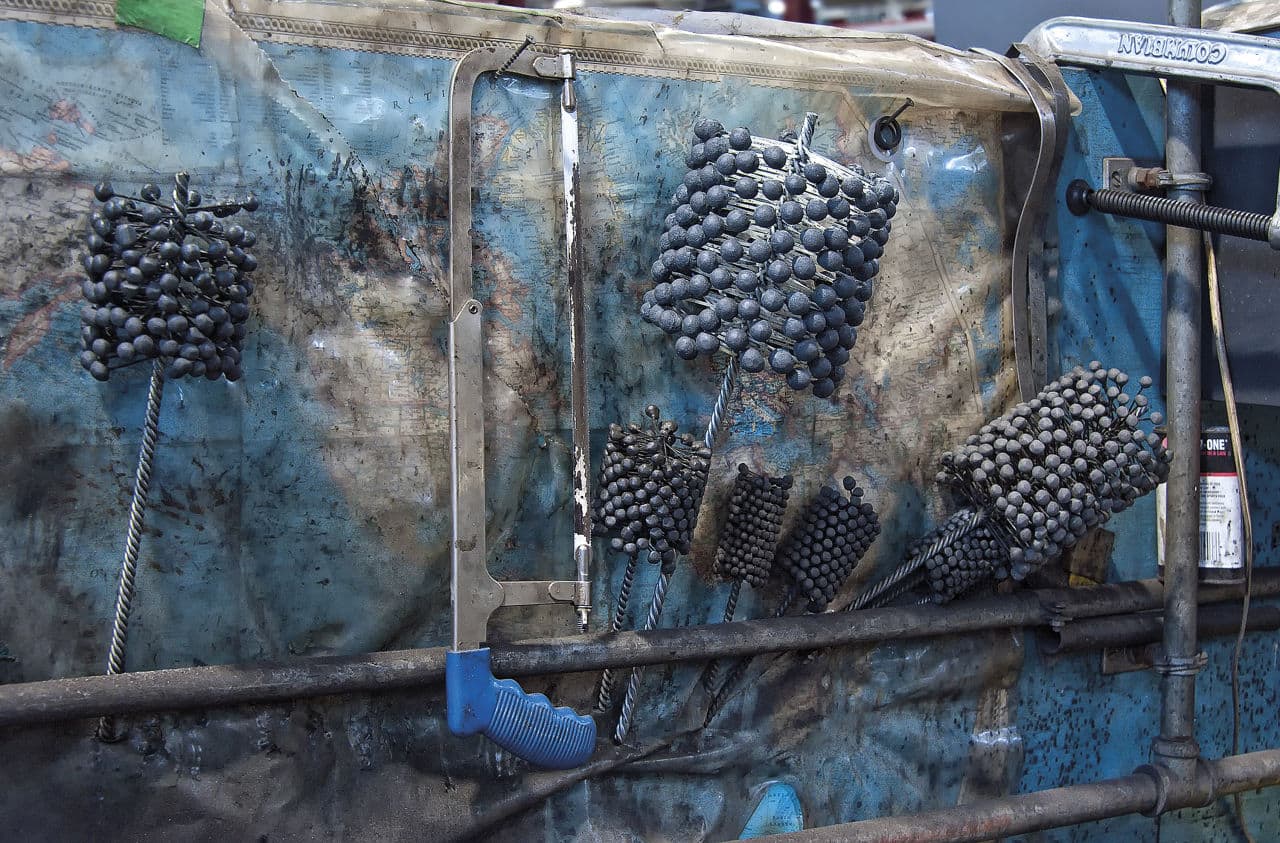 Think about it. When you get on the train in the morning, you — and many other people — cram onto the train. With that extra weight, the car doesn't sag down, even for a moment. It stays level with the platform and it stays level at the next stop, when more people board. And at stations like Park Street, when many people get off the red line — the car stays level, yet again. All because of a valve.
It's just another example of the thousands of tiny parts that make up the entire system. And almost all of this maintenance work is done in-house. Belanger points out what's called a gear unit — basically, the guts of the train: the transmission, the axles, bearings and wheels.
"It actually kind of symbolizes the building itself," he says. "The pallet was made in our wood shop, the gear unit was rebuilt in the wheel shop, components of it came out of the machine shop and the bearings — the bearing housings — were actually worked on over in our welding or blacksmith's area."
Part of the reason they do everything in-house, even crafting things like replacement door hinges and simple things like washers — all from scratch — is because many of the trains are so old, they can't buy the parts anywhere.
"We're not a production shop, but we are. And we're not a prototype shop, but we are. Many of these pieces — like these pieces for the track break — they were designed and manufactured here because nobody makes them."
Here's one of the big lessons to take away from this visit — Belanger and his employees are working on anything from blue line trains that are just a couple of years old to the Mattapan high speed line, which has rolling stock that was built back in 1945. Many of the companies that first manufactured those trains don't even exist any more. Therefore, the T's machinists are custom crafting individual replacement parts, using unique and really old tools. In other words, their skill really matters.
So, what's it like to work here?
"It's awesome. The ability to create has always been something I've been fascinated with, and this building has it all. It literally encompasses almost every single trade you would need to fabricate anything," says Belanger. "We take it serious. There's this imagery of the T that has a tendency to think that we're not, like, on the ball, we're not producing, we're taking the public's money. This building is working. It's bustling the entire time...Those two individuals are responsible for every single wheel that goes on and off every single train in the entire system. Two guys. And it's like, it doesn't get more personal than that."
It's likely Belanger and his crew are taking the current crisis at the T very personally, and that they're busier than ever doing what they can, literally and physically, to hold together an aging, underfunded train fleet.
That's the irony of maintenance work, though. On most days, when the T runs, the work that comes out of this machine shop is invisible. Right now, it's very visible. And whether or not the MBTA is suffering systemic, financial and managerial failures, the work at the T's repair facility in Everett goes on.
We were able to learn about the facility and see it first hand thanks to two freelance photographers, Joseph Votano and Karen Hosking, who published a coffee table book in 2014 called "Boston Below" featuring pictures of commuters and some incredible photos of the Everett facility.
Guest
Edward Belanger, a maintenance supervisor at the MBTA subway main repair facility in Everett.
More
Boston Magazine: Boston Below: Photographers Explore The Underbelly Of The MBTA
"Two photographers have been capturing the T since 2010, and their work makes up a newly released book."
This segment aired on February 20, 2015.