The Liberal Lion's Legacy: The Kennedy Institute Opens In Dorchester
09:04
Play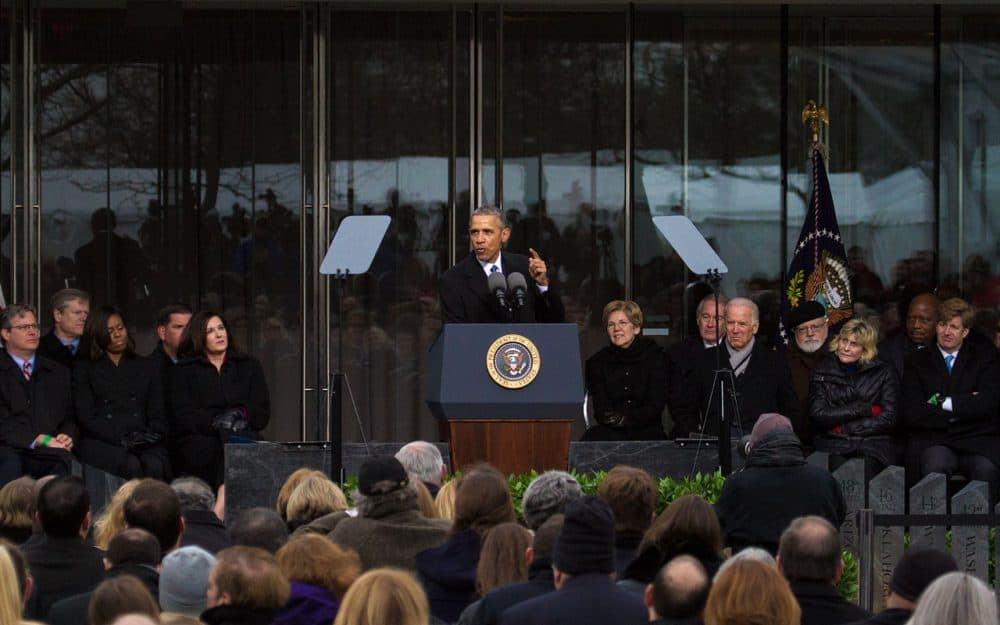 This article is more than 5 years old.
President Barack Obama, Vice President Joe Biden, Gov. Charlie Baker and Sen. Elizabeth Warren were among a procession of politicians from near and far in Dorchester Monday for the formal dedication of the Edward M. Kennedy Institute for the United States Senate.
The center honors the late senator — and the legislative body the he served from 1962 until his death in 2009. At his funeral, President Obama called Kennedy, "the soul of the Democratic party." At the dedication, he called him "a friend."
"It was never ideology that compelled him," said the president. "Except, insofar as his ideology said you should help people. That you should have a life of purpose. That you should be empathetic and put yourself in somebody else's shoes."
Kennedy was one of the longest serving senators in history, and the institute named for him on Columbia Point is as much of a learning lab as it is a museum. Exhibits allow visitors to play at politics, and even vote in a life-sized replica of the U.S. Senate.
It's also a memorial to Kennedy's 47 years in the Senate. He authored more than 300 pieces of legislation that became law, a record that helped him earn the moniker, "the liberal lion."
In August 2008, after undergoing surgery for a brain tumor and not long before his death, Kennedy spoke at the Democratic National Convention in Denver in support of then-candidate, Barack Obama. And, for what would become the president's signature issue, health care reform.
"This is the cause of my life," said Kennedy. "New hope that we will break the old gridlock and guarantee that every American — north, south, east, west, young, old — will have decent, quality health care as a fundamental right and not a privilege."
Guest
Jim Manley, worked in the U.S. senate for 21 years, 12 of which were with Sen. Ted Kennedy. He tweets at @jamespmanley.
More
Radio Boston: Inside Edward M. Kennedy Institute, Students Try To Make Senate Work
"Around 60 junior and senior high school students file into the massive chamber. Staring up at the white oval ceiling, gold moldings and rich, yellow wallpaper, many exhale, 'Woah,' taken aback by the magnitude of the Senate chamber."
WBUR: As Senate Institute Opens, Kennedy's Ability To Find 'Common Ground' Recalled
"At the formal dedication for the institute that bears his name, Sen. Edward M. Kennedy, the late "Liberal Lion" of the U.S. Senate, was remembered Monday for his devotion to causes he cared for and his ability to find 'common ground' with Republicans."
This segment aired on March 30, 2015.