Closing Arguments Underway In The Tsarnaev Trial
06:08
Play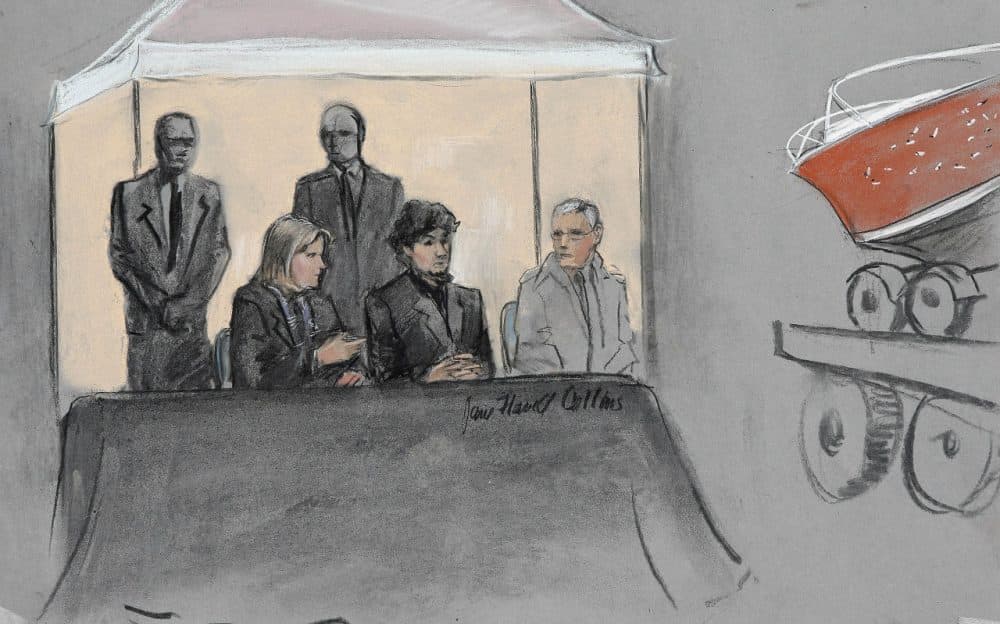 This article is more than 6 years old.
After more than two weeks in court and testimony from nearly 100 witnesses, closing statements began today in the trial of Dzhokhar Tsarnaev. Twelve jurors will decide Tsarnaev's fate and his role in the 2013 marathon bombing.
This morning, the prosecution's final argument included a graphic video of the bombing and it aftermath. Prosecutors argued that Tsarnaev played a major role in the attack, concluding with, "Now is the time to hold him accountable."
Defense attorney Judy Clarke didn't deny that Dzhokhar Tsarnaev participated in the attack, and said her client "stands ready by your verdict to be held responsible for his actions. " But she argued that Tsarnaev had followed the lead of his late older brother, Tamerlan, who was the mastermind of the bombings.
Dzhokhar faces 30 charges including conspiracy to use a weapon of mass destruction, carjacking and murder. 17 of those charges carry the death penalty.
Guests
Jack Lepiarz, reporter for WBUR. He tweets @Lepiarz.
More
The Boston Globe: Closing Arguments Set To Begin In Marathon Bombing Trial
Even though the defense has admitted Dzhokhar Tsarnaev's role, jurors in federal court in Boston still must determine whether federal prosecutors have proven beyond a reasonable doubt each of the 30 charges he faces. Seventeen of those charges carry the death penalty for the now 21-year-old Tsarnaev.
The New York Times: Closing Arguments Begin In Boston Marathon Bombing Trial
The jury instructions included detailed descriptions of what facts, precisely, the government must show for each of the 30 counts that Mr. Tsarnaev faces. The government must prove, Judge O'Toole said, that Mr. Tsarnaev agreed with his brother, Tamerlan, to use a weapon of mass destruction and voluntarily joined in the plan to commit that crime.