Deval Patrick Goes To Bain And Ethical Investing At Harvard
16:51
Play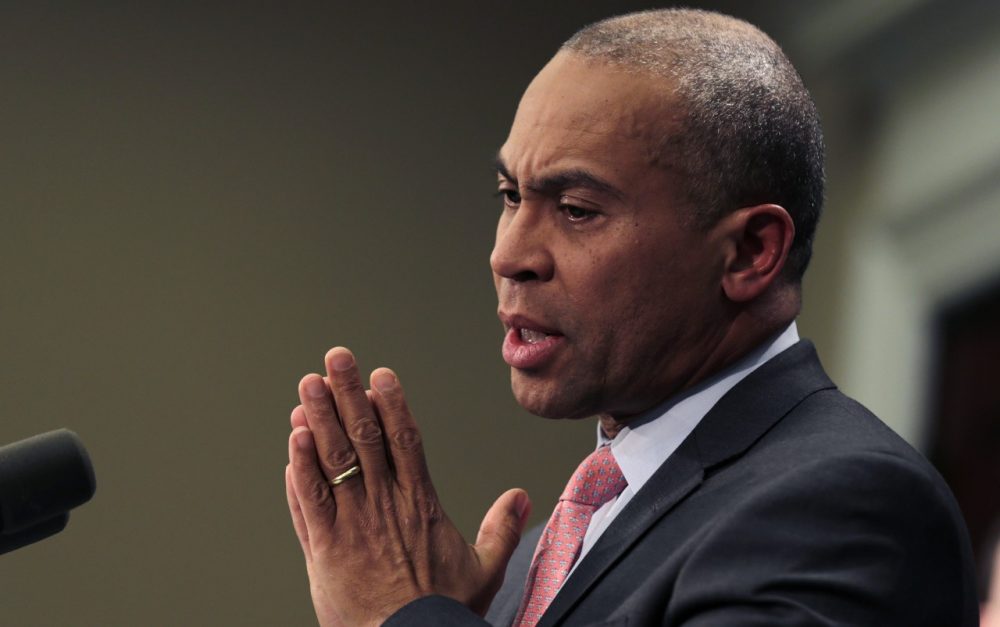 This article is more than 6 years old.
There are a couple of big stories brewing around town, and they have to do with putting your money where your mouth is. The first is that former Gov. Deval Patrick announced Tuesday that he's joining Bain Capital, the private equity and venture capital firm co-founded by former Massachusetts Gov. Mitt Romney. Patrick will become Bain's first African-American managing director. He will start a new line of business for Bain: social impact investing, directing money to companies that create positive social change and profits.
Meanwhile, in Cambridge, Harvard University students are camped outside the main administration building. They're demanding that the world's largest university endowment divest from fossil fuels-based energy companies.
For some time now, corporations have talked about the concept of "the double bottom line," where they measure both financial performance and the social impact of how they do business. But this week's news made us wonder about the shift to the investment side of things: is the "double bottom line" an increasingly important strategy for individual and institutional investors?
Guests
Beth Healy financial and investigative reporter for the business section of The Boston Globe. She tweets @HealyBeth.
Will Lana partner and investment manager at Trillium Asset Management, a Boston-based firm that specializes in using investments to promote social and environmental change.
More
The Boston Globe: Former Gov. Deval Patrick To Join Bain Capital
"The move is a new avenue for Bain Capital, an $80 billion firm best known for investments in companies like Dunkin' Donuts and Staples. Patrick will help give Bain its first foothold in the growing field of "social impact" investing, tackling social problems such as hunger and climate change with for-profit investments."
The Guardian: Harvard Divestment Campaigners Gear Up For A Week Of Action
"It comes as a new analysis suggests that the world's richest university would have been $21m (£14m) better off without fossil fuel investments in the period since the divestment campaign began in August 2012. The university has refused calls to divest, saying its responsibility is to generate a healthy financial return for its $36bn endowment."
This segment aired on April 14, 2015.