Bostonians Remember Marathon Bombings On Second Anniversary
21:58
Play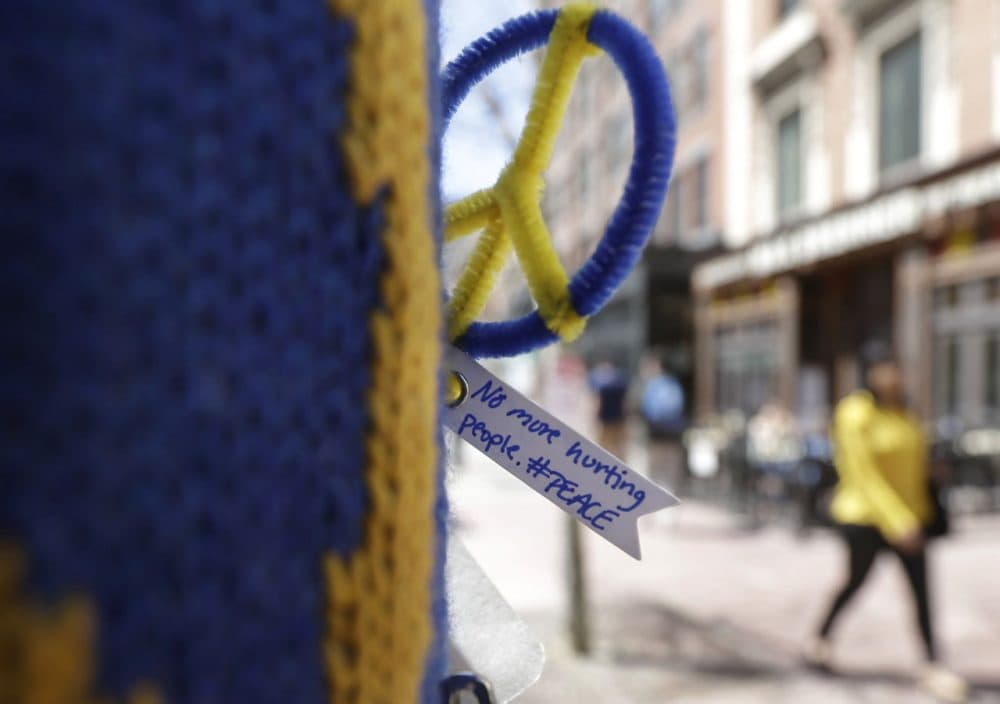 This article is more than 6 years old.
There were numerous tributes Wednesday to the victims of the Boston Marathon bombing two years ago. Survivors and family members came together along Boylston street at the sites where the two bombs exploded — killing three people and injuring more than 260 others.
And at the precise time that the first of the two bombs detonated, church bells tolled and the city came to a stop to observe a moment of silence.
Anthony Brooks was out on Boylston Street Wednesday talking to some people about the significance of this day.
On one hand, he says, it feels like this city is a long way from what happened two years ago. Along Bolyston Street, there's traffic and lots of people coming and going in the course of beautiful spring day. The viewing stands are already up for next week's race.
Yet, you can't escape reminders of what happened two years ago. We saw a team of police officers conducting what looked like a security sweep. And, we encountered a group of people from the Boston Convention Center, planting plants and flowers as a memorial to the victims of the bombing.
Guest
Dan Donahue, general manager of the Lenox Hotel, on the corner of Boylston and Exeter Streets, near the Boston Marathon finish line, which tweets @LenoxHotel.
David Abel, reporter for The Boston Globe. He tweets @davabel.
Alex Ashlock, producer of WBUR's Here & Now. He tweets @aashlock.
Martha Bebinger, WBUR reporter. She tweets @mbebinger.
More
CommonHealth: Time The Healer Moves Slowly For 2 Boston Marathon Survivors
"It's just the crumb of a muffin, but Martha Galvis must pick it up. Lips clenched, eyes narrowed, she goes after the morsel, pushing it back and forth, then in circles, across a slick tabletop."
This segment aired on April 15, 2015.