Aaron Hernandez And The Woes Of The NFL
15:19
Play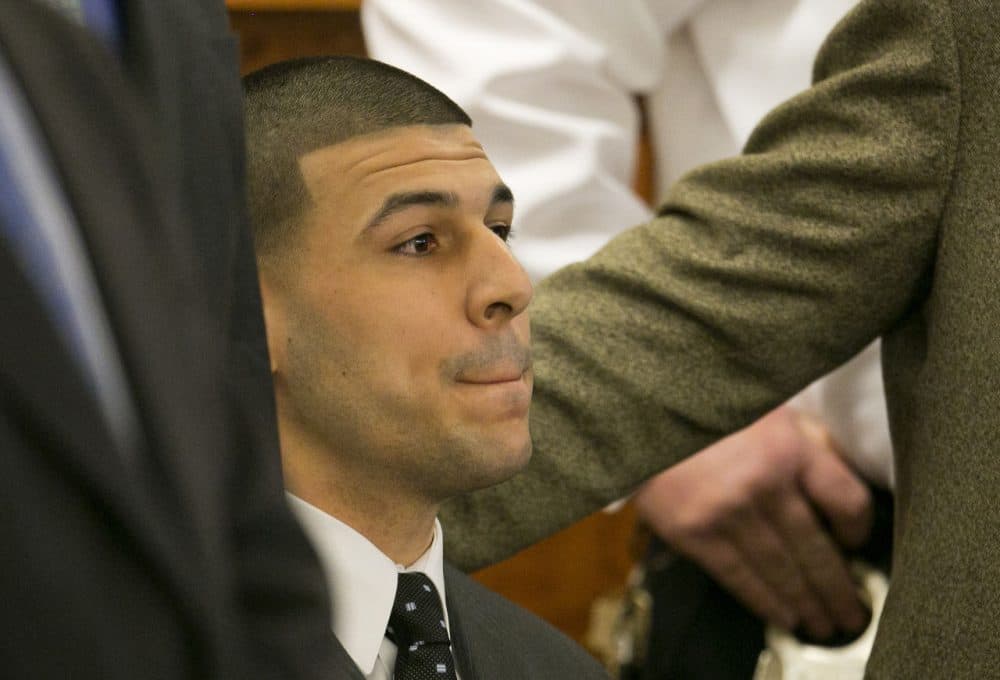 This article is more than 6 years old.
It was a stunning conclusion Wednesday in the murder trial of former New England Patriots player, Aaron Hernandez: guilty on all counts for the murder of Odin Lloyd. Hernandez now faces life in prison, without parole.
Despite a past that was checkered with drugs, bar fights and suspensions, in 2012, the New England Patriots gave Hernandez a $40 million contract. That same year, his daughter was born and Hernandez talked like a man who was turning things around, telling the press in November, "Another one's looking up to me — I can't just be young and reckless Aaron no more. So I just, I'm a try to do the right things, become a good father and be raised like I was raised."
Hernandez claimed he'd been nurtured by "the Patriot Way." But Wednesday's verdict raises new troubling questions for the NFL about violence on and off the field, including domestic violence — and now, murder — by it players.
So, what does this mean for the Patriots? What does it say about "the Patriot way" and the NFL?
Guests
Dan Lebowitz, executive director of the Center for Study of Sport in Society at Northeastern University. He tweets @SIS_directordan.
Bill Littlefield, host of NPR's Only A Game. He tweets @OnlyAGameNPR.
Highlights
On what made Aaron Hernandez commit this murder:
Dan Lebowitz: "I think that a lot of times, in society, we tend to look at the fall but we don't look at what was built up before the fall...The questions that I have are...the larger societal questions. You know, what were Aaron Hernandez's acute childhood experiences, where were the layers of trauma that might've existed in his life, what were the things that led up to it? So, whether we're talking about the Ray Rice or the Aaron Hernandez incident or Adrian Peterson incident, in many respects, it's a much larger question about society in general. And so, for me, you know, I want to ask the question, what made Aaron Hernandez think that Odin Lloyd or the other — Daniel Abreu or Safiro Furtado — if, in fact, he gets convicted of those murders, made him think they were inanimate objects in some respects? And what caused the incredible power dynamic and outgrowth that came of it."
On whether the NFL is responsible for Hernandez's actions:
Bill Littlefield: "My understanding is, a lot of people in the NFL did pay attention because Aaron Hernandez was initially projected to go very high in the NFL draft. And, when other teams began to understand some of the history...he dropped way down. The Patriots got him much lower in the draft than most people initially thought he would go...I think that has something to do with it. A lot of people have tough circumstances and they don't necessarily end up murdering somebody. A lot of people grow up with all sorts of difficulties and I think that there's a lot of cultural influences that come into this and the violence endemic to football may be part of that as well, as people have talked about in relation to some of these other cases. But basically, this is a guy who — I think Dan put it very well — he apparently regarded other people as deserving to die for real or imagined insults."
On what extent football teams have to take responsibility for signing a guy like Hernandez:
DL: "There was no doubt there were incidents — [as] a 17-year-old in Florida, he was arrested or questioned a year later relative to a shooting in Florida and he had multiple [failed] drug tests in college. And yet, he goes to college at 17, and so, we live in a society that, in many respects, allows a redemption platform. Most young men, they might be involved in issues when they're younger, their frontal lobe starts to develop and we start to believe, do we want to be a society that's punitive or do we want to be a society that allows for redemption? So, when I look at the NFL, I don't want to put them in some kind of compartmentalized framework that's different than how we hold the rest of society accountable for the things that we try to do to maintain a sense of humanity. The fact that, out of this, came something that was incredibly inhuman is more, probably, specific to Aaron Hernandez than it is to the NFL."
On the line that connects the Aaron Hernandez story with other problems in the NFL:
BL: "I don't think you see a direct connection between the NFL's irresponsibility and hypocrisy and in many cases, outright dishonesty about the concussion issue. That's been thoroughly documented. I think this is something very different. I think we're talking about the willingness of this culture — and I'm not just talking about the NFL, I'm also talking about colleges — to suspend any kind of feeling that somebody should be responsible for what they do as long as they're big and strong and can either put the ball in the basket or run it through the line. These guys do get all kinds of opportunities based on what they can do physically and they get rewarded with enormous contracts and that is something that our culture has decided is appropriate...That they carry off the field the attitudes that they have been rewarded for, attitudes that have been reinforced as they've grown up in their cultures, off the field, beyond the field, is a terrible consequence."
On the culture's construct of hyper-masculinity:
DL: "It's out-grossed well beyond the playing field. We allow for that, you know, we celebrate the violence when it happens on the field and we call that consensual and we tend to often say, as a society, that we don't like violence, but we tend to sort of celebrate it and exacerbate it off the field, as well. And so, whether it's from homicide or sexual assault or domestic violence or child abuse, I think that, as a society, we need to be a little bit more respective about our own tacit approval, our own responsibility and introspective enough to sort of change that construct of manhood and start at a much younger age."
More
The New York Times: Aaron Hernandez Sheds Tackles, But Not His Past
Within a few years, he was a star for the N.F.L.'s New England Patriots, signing a $40 million contract extension and moving into a huge home in suburban Massachusetts.He had left behind his Bristol neighborhood and an unruly, sometimes violent household. But he had never truly escaped.
Rolling Stone: Aaron Hernandez And The NFL: A History Of Violence
This is the issue the NFL faces: It is a terrifyingly ferocious sport to watch, a sport that wears down its practitioners in both body and mind. It's not unfathomable to imagine that a professional football player will commit (presumably accidental) manslaughter on a football field sometime in the next five years.
The Boston Globe: Why Odin Lloyd's Life Matters
Let's face it: If he had been murdered by an anonymous sociopath, instead of a famous one, his death would have drawn little notice outside the circle of people who loved him. We might have been touched, briefly, by his June 2013 killing, and by the suffering of his family and friends. But then we would have moved on, the way we do from the shooting deaths of so many black men.
This segment aired on April 16, 2015.