Tens Of Thousands Cross The Finish Line In 119th Boston Marathon
21:25
Play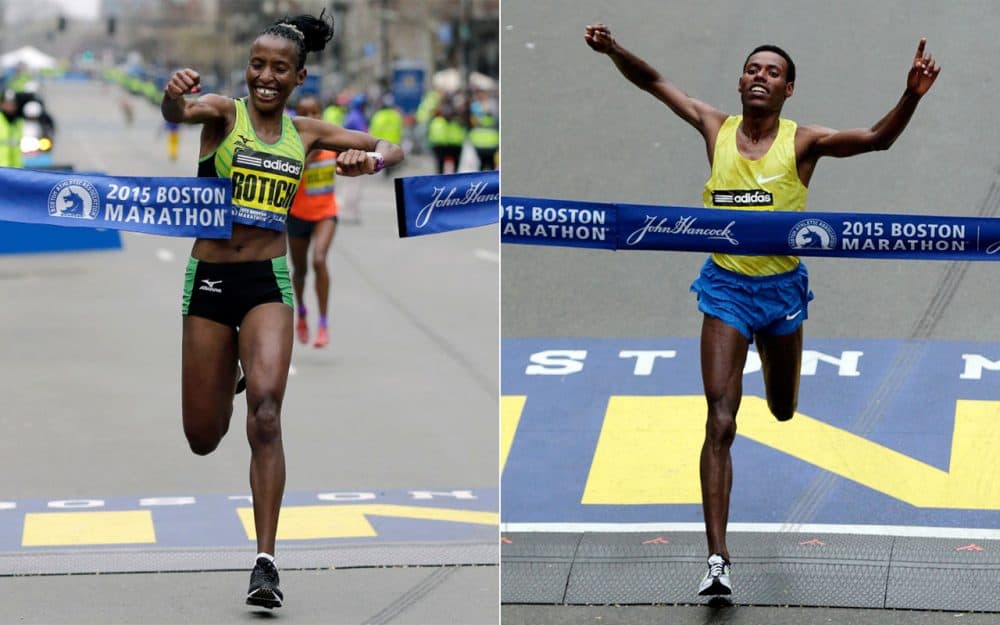 This article is more than 6 years old.
Despite gray skies and chilling rain, Boston is alive with Boston Marathon spirit this Patriot's Day.
The Red Sox have played, and in Copley Square, marathoners push through the pain as they stream over the finish line to the sound of spectators cheering them on.
A big part of the excitement of Marathon Monday — of just about any sporting event, in fact — are the sounds of the crowd, like the sounds from race fans at Wellesley College in the so-called Scream Tunnel.
Or, from spectators urging the runners up Heartbreak Hill in Newton. The cheers and support of hundreds of thousands of people, most of them strangers, help push the runners along for the 26-plus miles.
Now, imagine running the marathon in silence.
As if running 26.2 miles wasn't difficult enough, running it in silence adds an extra challenge for athletes who are hearing impaired. Sean Elam was thinking of them as he ran his first Boston Marathon.
Sean is an audiologist at Brigham and Women's Hospital, and he ran for one of the hospital's charity teams.
Many of the people running the Boston Marathon crossed the finish line, and one one of them is Jose Calderon. He ran for Team MR8, the Martin Richard Charitable Foundation and was a soccer coach for Martin Richard — the youngest victim of the Boston Marathon bombings two years ago.
Marathon Monday is about the runners — but it's also about the spectators — it was estimated that more than a million of them would show up to line the course today.
One place that's hosted marathon spectators for years is O'Leary's Irish Pub and Restaurant, it's on Beacon Street and Saint Mary Street in Brookline — just about a mile from the finish line.
Guests
Alex Ashlock, WBUR reporter. He tweets @aashlock.
Sean Elam, audiologist at Brigham and Women's Hospital. He ran the Boston Marathon for one of the hospital's charity teams. He tweets @doctorelam.
Angus O'Leary, owner of O'Leary's Irish Pub and Restaurant.
More
WBUR: 2015 Boston Marathon Live Blog
Our Zoe Sobel is out at Wellesley College, the loudest spot on the marathon route. She sent back about a minute of raw audio for our Newscast Unit. Just to give you a sampling of the cheers."
WBUR: Boston Marathon Interactive Photo Map
"Tweets and Instagrams from the 2015 Boston Marathon 26.2-mile route."
This segment aired on April 20, 2015.