Dancer-Illusionists Achieve The Unexpected In 'Alchemia'
10:20
Play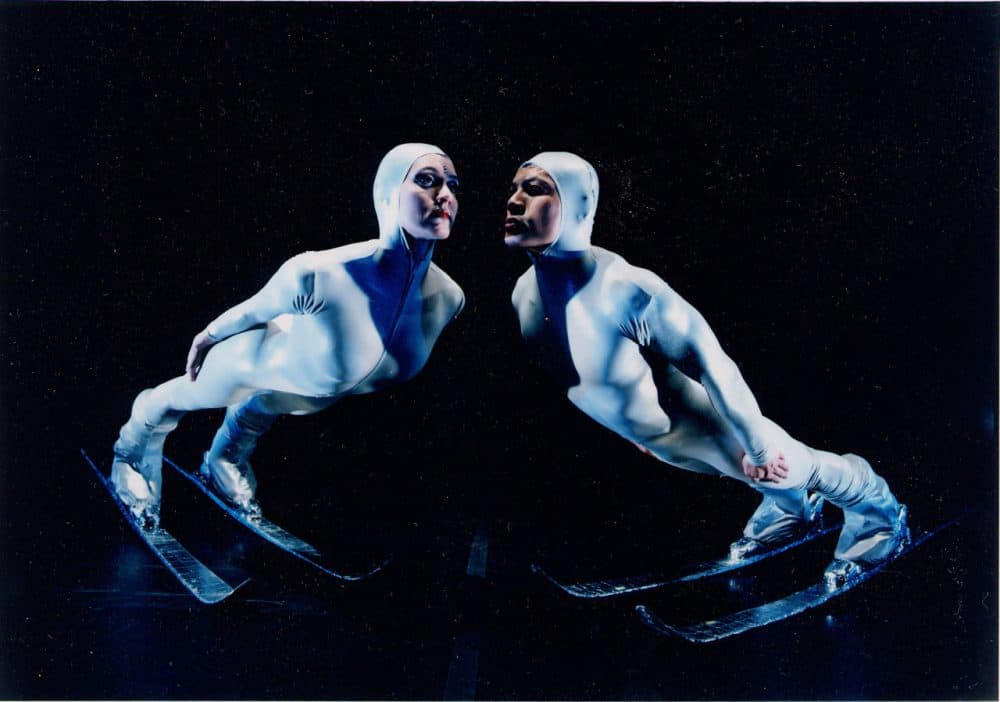 This article is more than 6 years old.
Not many people get to daydream for a living, but that's exactly what Moses Pendleton, a founding member of Pilobolus Dance Theater and now the artistic director of the company Momix calls his job.
Raised on a dairy farm in northern Vermont, Pendleton dreamed of becoming a professional downhill skier. But after a training accident broke his leg, he was wooed to dance by a beautiful instructor. He eventually did see the Winter Olympics, but it was as choreographer for the closing ceremonies at Lake Placid in 1980.
Both companies, Pilobolus and Momix, are renowned for the way they play with the human body and space to upend expectations with illusion. As Andrew Purcell wrote in "The Age," "Half the pleasure of watching a Momix show is in working out how the visual effects are created and enjoying the feeling of being tricked."
Momix's new show, "Alchemia," premieres in Boston May 8 at the Cutler Majestic Theater and runs through May 10.
Guest
Moses Pendleton, artistic director of Momix. He tweets @MosesPendleton.
More
The irrepressible Moses Pendleton presents Alchemia, his new work for the dazzling dancer-illusionists of Momix. It's all about the art of alchemy, and the alchemy of art. Pendleton's latest creation is an enchanting, phantasmagorical multimedia spectacle full of invention, beauty, sensuality and humor. In Alchemia, Pendleton manipulates the four classic elements of earth, air, fire and water to produce a show full of aesthetic thrills, surprising metamorphoses, and the sexuality of nature itself.
The Boston Globe: Momix Founder Moses Pendleton, Capturing Dreams
These walks in nature, observing the shapes and movements, were essential to the creation of "Alchemia," which explores the human connection to the four elements of earth, air, fire and water. So were Pendleton's many hours in the garden he planted in the field behind the 1901 home, where he has arranged deep orange marigolds into 16 rays reaching out from the center of a circle, like the sun.
Videos
This segment aired on May 8, 2015.