Littlefield On Sports: Robert Kraft, Bruins GM, New England Revolution
06:04
Play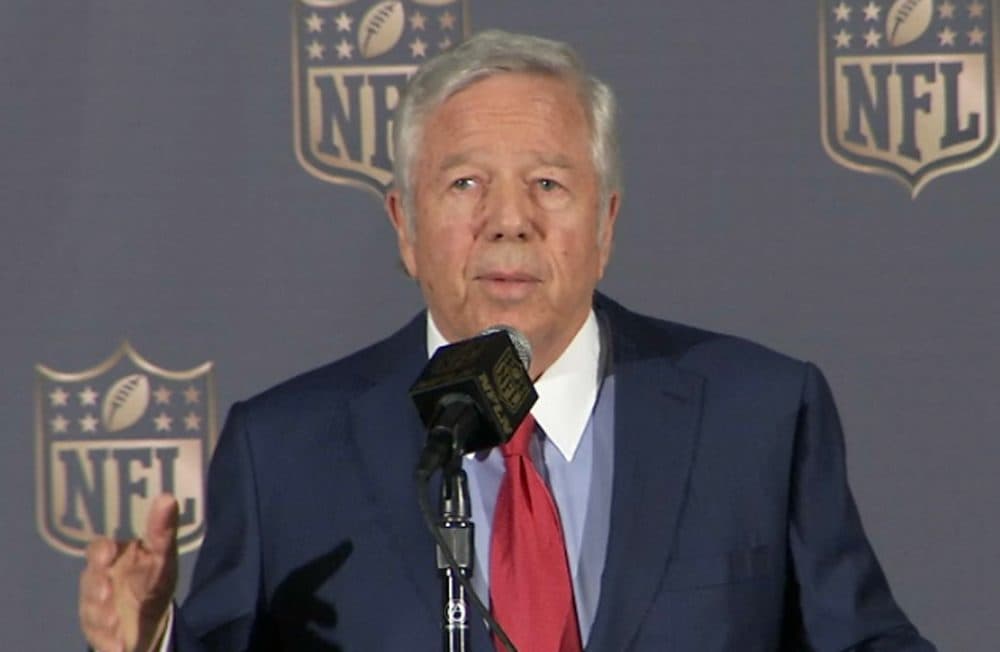 This article is more than 5 years old.
He said his team did nothing wrong. He said he believed his star quarterback. He issued a 20,000 word rebuttal and demanded the NFL apologize. He was full of righteous indignation and fighting mad — but this week, Robert Kraft surrendered.
The formerly defiant owner of the New England Patriots said he would accept the NFL's sanctions against his team — $1 million fine and the loss of two draft picks for deflating footballs in the AFC championship game. The suddenly meek and mild Mr. Kraft said he he's accepting NFL commissioner Roger Goodell's judgement for the good of the whole league.
"I don't want to continue the rhetoric that's gone on for the last four months," said Kraft. "I'm going to accept reluctantly what he has given us, and not continue this dialogue and rhetoric and we won't appeal."
Guest
Bill Littlefield, host of NPR's Only A Game. He tweets at @OnlyAGameNPR.
More
WBUR: Kraft: Patriots Won't Appeal Team's Fine, Draft Penalties
"New England Patriots owner Robert Kraft will not appeal the $1 million fine and loss of two draft choices the NFL penalized the team for its role in the use of deflated footballs in the AFC championship game."
This segment aired on May 20, 2015.