Man Under Terrorism Investigation Shot Dead; Community Leaders See Surveillance Video
05:37
Play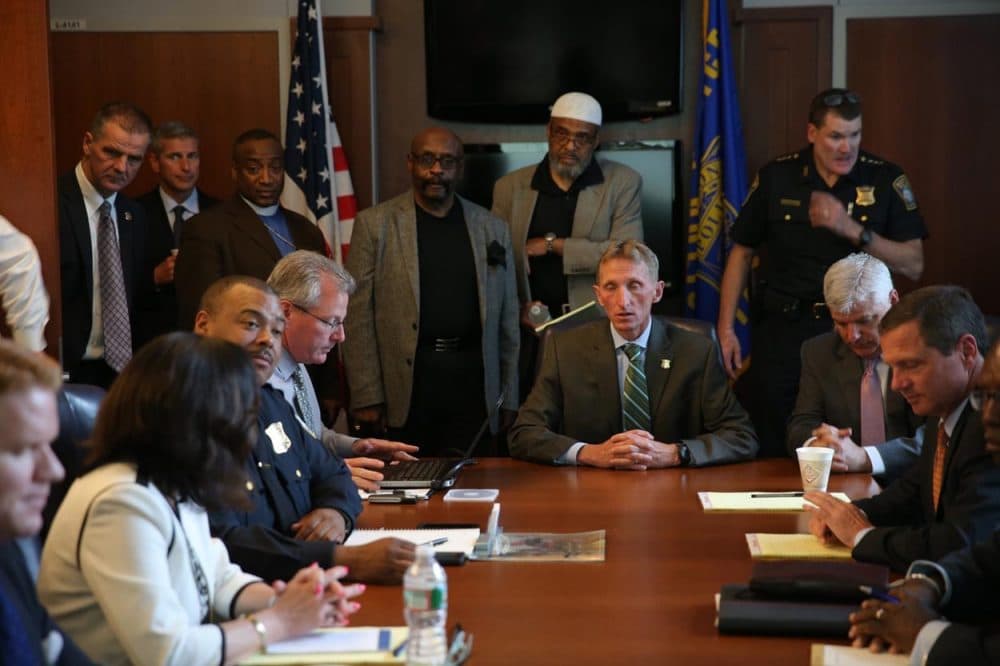 This article is more than 5 years old.
Usaama Rahim was shot dead Tuesday by a Boston police officer and an FBI agent in Roslindale after he allegedly lunged at them with military-style knife.
Anti-terrorism officials say they had been watching Rahim for some time.
"He was being investigated by the Boston Joint Terrorism Task Force after communicating with and spreading ISIS propaganda online," said Rep. Michael McCaul of Texas Wednesday at a congressional hearing on terrorism.
According to a law enforcement source quoted by The Boston Globe, Rahim and another man, named David Wright, were plotting to behead a police officer. Wright is scheduled to appear in federal court Wednesday.
Meanwhile, law enforcement officials showed a surveillance video of Tuesday's shooting to community and religious leaders at Boston police headquarters.
Guest
Fred Thys, WBUR reporter. He tweets @fredthys.
More
WBUR: Boston Man Killed By Law Enforcement Allegedly Planned Attack On 'Boys In Blue'
Usaama Rahim had originally planned to behead someone outside of the state but changed his plan early Tuesday, intending to kill police officers in Massachusetts, according to a criminal complaint.
WBUR: Boston Leaders: Video Shows Man Under Terror Surveillance Was Not Shot In Back
"The Boston man who was fatally shot by terrorism investigators Tuesday had been spreading propaganda for the Islamic State group online, the chairman of the House Homeland Security Committee said."
This segment aired on June 3, 2015.