Supreme Court Strikes Down Obamacare Challenge
15:50
Play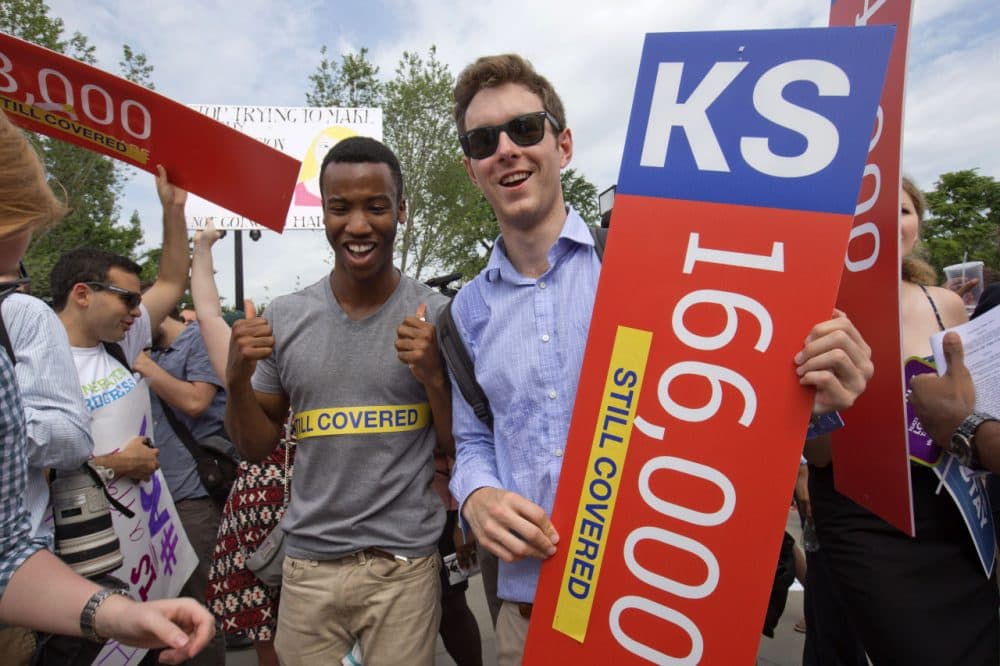 This article is more than 5 years old.
In a 6-3 vote, the U.S. Supreme Court rejected a challenge to the Affordable Care Act--President Obama's landmark legislative accomplishment.
The ruling is a major victory for President Obama and a major disappointment for critics who have been gunning for Obamacare since the president signed it into law in 2010.
They lost the battle against the law for the second time in three years when the court ruled that under the government can provide subsidies even in states that have not set up their own health care exchanges.
Guest
Dahlia Lithwick, writes about the courts and law for Slate. She tweets @Dahlialithwick
More
Supreme Court of the United States: King et. al. v. Burwell, Secretary of Health and Human Services
"Congress passed the Affordable Care Act to improve health insurance markets, not to destroy them. If at all possible, we must interpret the Act in a way that is consistent with the former, and avoids the latter. [The disputed section] can fairly be read consistent with what we see as Congress's plan, and that is the reading we adopt."
Supreme Court of the United States: Dissenting Opinion By Justice Antonin Scalia
"The Act that Congress passed makes tax credits available only on an 'Exchange established by the State.' This Court, however, concludes that this limitation would prevent the rest of the Act from working as well as hoped. So it rewrites the law to make tax credits available everywhere. We should start calling this law SCOTUScare."
WBUR's Commonhealth: Those Who Worked On Mass. Law Cheer As Supreme Court Upholds Obamacare Subsidies
"The Supreme Court's decision has no direct impact for Massachusetts. ... But many in Massachusetts who worked on the state law that became a blueprint for Obamacare say Thursday's decision is a victory for Massachusetts."
This segment aired on June 25, 2015.