What New Horizons Means To An MIT Professor Who Spent Almost 35 Years On A Pluto Mission
08:19
Play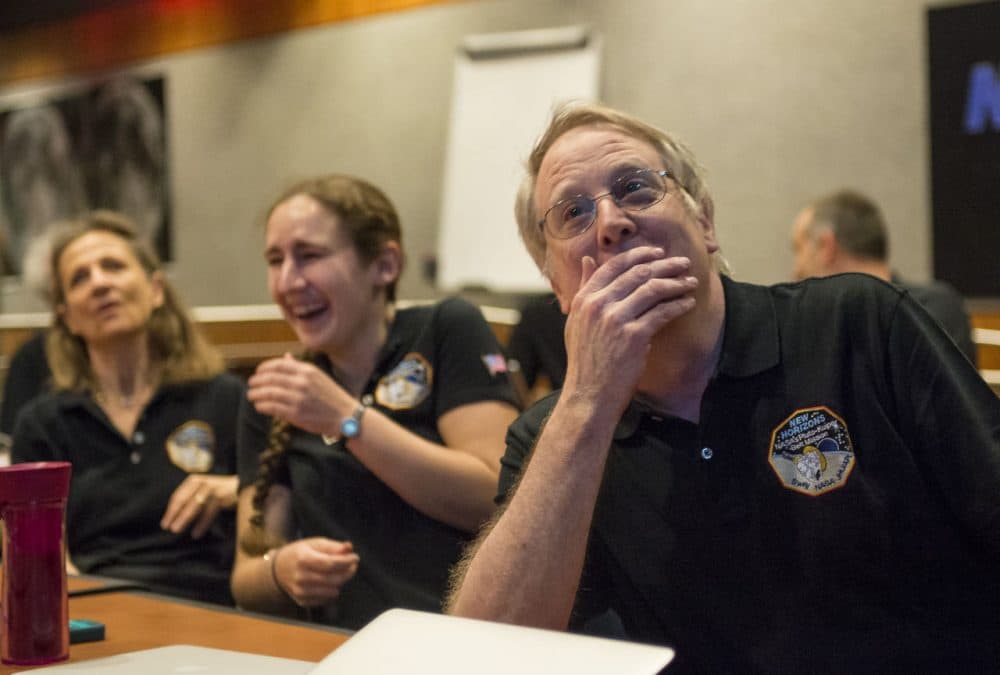 This article is more than 5 years old.
Tuesday will go down as a huge day in the history of NASA.
After traveling 3 billion miles over the course of nearly a decade, the spacecraft called New Horizons reached its target, passing close by the dwarf planet, Pluto.
It was also a big day for MIT Professor Richard Binzel, who spent almost 35 years trying to get a mission to Pluto.
For the past 15 of those years, he's worked to make it possible for New Horizons to collect immense amounts of data from the ninth planet from the sun.
He spent the day observing and celebrating at mission headquarters at the Johns Hopkins Applied Physics Laboratory in Laurel, Maryland.
Guest
Richard Binzel, professor of planetary sciences at MIT and member of the New Horizons science team, which tweets @NASANewHorizons.
More
The New York Times: New Horizons' Pluto Flyby

"After nine years and three billion miles, NASA's New Horizons spacecraft zipped past Pluto and its five moons this morning."
The Boston Globe: MIT Professor Hopes Pluto Flyby Proves Picture Perfect

"With bated breath, MIT professor Richard Binzel is waiting until he gets word Tuesday night that New Horizons, a NASA spacecraft set to sail by Pluto during its mission 3 billion miles from Earth, has done its job of capturing detailed images of the dwarf planet."
Vox: The New Horizons Pluto Mission Is A Big Deal. Here Are 7 Reasons Why.
"Pluto takes 248 Earth years to orbit the sun. To put it another way, the entirety of U.S. history has occurred during a single Plutonian orbit. The last time Pluto was in its current position — in 1768 — humans were totally unaware of its existence (it was discovered in 1930). We hadn't invented aviation, let alone spaceflight. All of which is to say: It's pretty amazing that this time around, Pluto will be visited by a tiny robot sent by a curious species of apes 3 billion miles away. A lot can change in a single orbit."
Radio Boston: Dava Newman Brings Her Optimism, Passion For Space From MIT To NASA
"'I loved space,' NASA's new deputy administrator told us. 'I was hugely influenced by the Apollo program. What it taught me was — I grew up in Montana, so for a young girl growing up in Montana, to dream. And space flight and exploration are just boundless, and I took that as a call to exploration.'"
This segment aired on July 14, 2015.