Week In Review: Deflategate Deflated, DCF Report, And Irish Nanny Goes Home
27:34
Play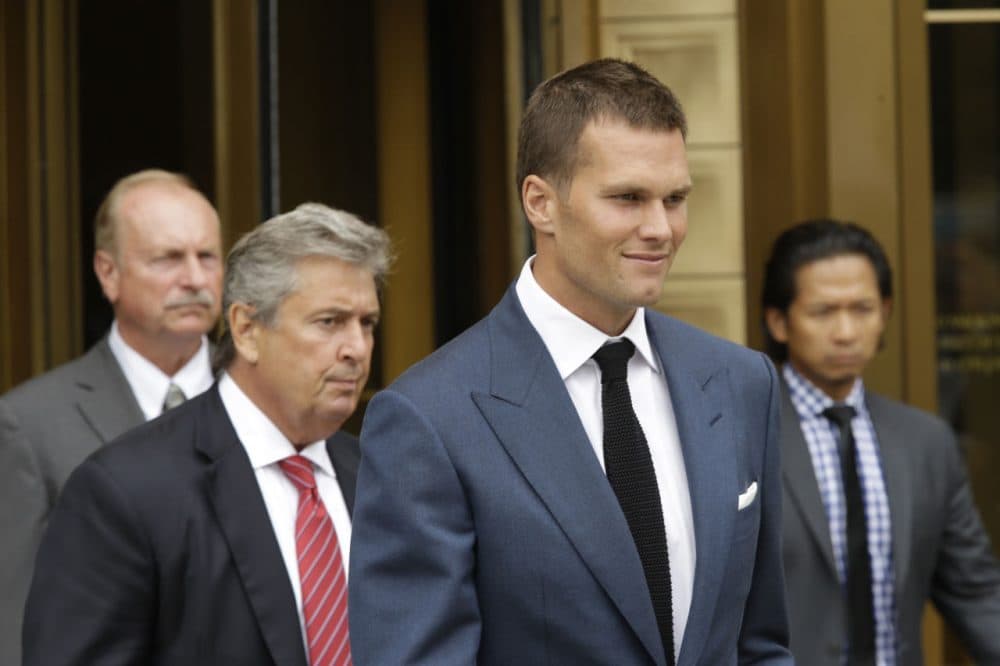 This article is more than 5 years old.
Our Week In Review panel goes behind the headlines: Tom Brady's four game suspension gets overturned by a New York judge; Irish nanny Aisling Brady McCarthy returns home from prison, after the Middlesex District Attorney dropped the charges against her in the death of a Cambridge child in 2013; and more.
Guests
Shira Springer, investigative and enterprise reporter for the Sports section of The Boston Globe. She tweets @ShiraSpringer.
Dante Ramos, columnist for the op-ed page of The Boston Globe. He tweets @danteramos.
More
Radio Boston: Tom Brady 'Deflategate' Suspension Overturned
"A federal judge in New York dealt the NFL and Commissioner Roger Goodell a major blow: overturning Tom Brady's four-game suspension for his alleged role in 'Deflategate.' The NFL had charged that Brady was at least 'generally aware' of a scheme to under-inflate footballs in the AFC championship game back in January. But Judge Richard Berman said the NFL could not suspend Brady for 'general awareness' of other people's conduct, and he identified a number of other legal deficiencies in the league's case."
WBUR's CommonHealth: Mass. 2014 Health Care Spending Rises Faster Than State Goal
"Massachusetts spent $632 million more on health care last year than it was supposed to, according to a report from the state's Center for Health Information and Analysis. The goal, established via a 2012 law, is to keep health care spending in line with the rising costs of other goods and services. Every year the state sets a benchmark. In 2013 — the first year of accountability — Massachusetts stayed well under the cap. But last year, spending shot right past the 3.6 percent target and hit $54 billion, a 4.8 percent increase over the previous year."
Radio Boston: Diagnosing Shaken Baby Syndrome
"Monday, prosecutors dropped criminal charges against Aisling Brady McCarthy after the state medical examiner office said it could no longer stand by its ruling that the infant's death was a homicide. Brady McCarthy's lawyers say she spent two and a half years in prison for a crime that she did not commit, and that did not occur."
This segment aired on September 4, 2015.