President Obama Calls For Paid Leave In Boston Labor Day Address
09:41
Play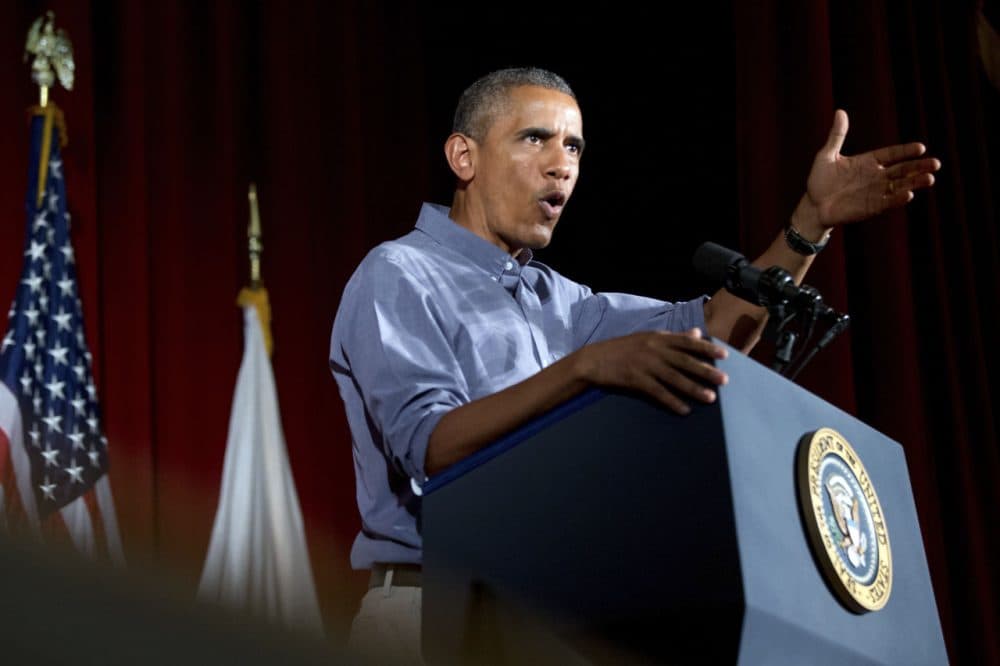 This article is more than 5 years old.
President Barack Obama addressed the annual Labor Day breakfast right here in Boston on Monday. The President, wearing a blue-collar shirt, was here to tout his administration's record, to push what he calls middle class economics, and to salute the power of organized labor.
"They're the ones that gave us the 40 hour work week. They're the ones who gave us overtime and the minimum wage and all kinds of things that folks now take for granted. It was those fights that gave us health insurance, and Social Security, and Medicare and retirement plans," Obama said Monday. "All those gains are union made, they're stamped with the union label, and they're what we celebrate today."
The president was here to sign an executive order expanding the right of paid sick leave for federal contractors.
Guest
Jim Green, Professor Emeritus of History at University of Massachusetts, Boston, specializing in U.S. labor and working class history.
More
WBUR: Obama Observes Labor Day In Boston, Pushing Paid Sick Leave
"'I'm calling on Congress, take a cue from the rest of the world,' Obama said to the breakfast crowd at the Park Plaza Hotel. 'Make paid family and medical leave a reality for all Americans.'"
WBUR's Cognoscenti: Solidarity Forever! When Labor Had Its Day, And Why Its Time Has Come Again
"Worker advocates would do well to look back to values of the first Labor Days and deepen the argument about the dignity of those who do the work. For inspiration, they can draw upon labor lore and listen to refrains like the one performed at the annual Labor Day festival today in Lawrence, Massachusetts, one of the few events that revives the spirit of the early marches. 'Our lives shall not be sweated from birth until life closes,' sang that city's immigrant women, on strike in 1912. 'Hearts starve as well as bodies / give us bread but give us roses.'"
This segment aired on September 7, 2015.