Catholics Coming Home: Pope Francis And The Changing Role Of The Pope
26:33
Play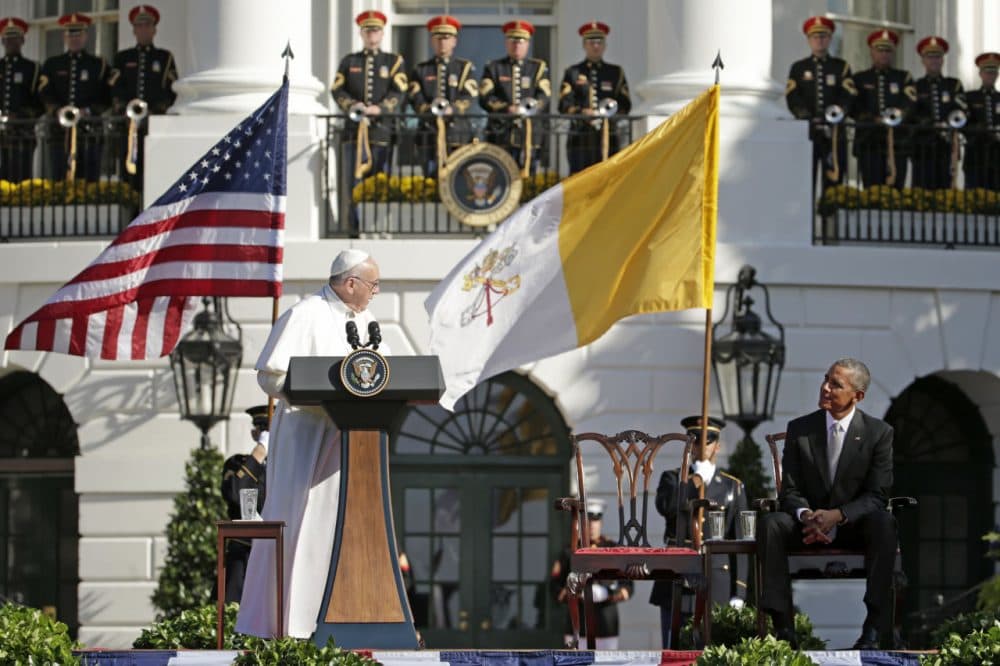 This article is more than 5 years old.
After flying to the nation's capital from Cuba Tuesday, the pontiff rode in his modest Fiat Wednesday to the White House, where President Obama thanked him for helping Washington and Havana restore diplomatic relations.
"Holy Father, we are grateful for your invaluable support of our new beginning with the Cuban people," the president said, "which holds the promise of better relations between our countries and greater cooperation across our hemisphere and a better life for the Cuban people."
In his remarks, Pope Francis addressed several politically charged issues. Calling himself the son of an immigrant family, he praised the U.S. as a nation of immigrants. And, he praised President Obama's efforts to fight climate change.
"Mr. President, I find it encouraging that you are proposing an initiative for reducing air pollution," the Pope said.
Huge, enthusiastic crowds are welcoming Francis, who has become famous for his "common touch" — and, for speaking out on the moral implications of climate change, the dangers of capitalism and the need to address the migrant crisis in Europe.
Guests
Tiziana Dearing , associate professor of global practice at Boston College and member of WBUR's Executive Advisory Council. She was the first female president of Boston's Catholic Charities. She tweets @tiziana_dearing.
James Carroll, Distinguished Writer-in-Residence at New York University and author, most recently, of Christ Actually: Reimagining Faith for the Modern World.
More
The New Yorker: What To Make Of Pope Francis Now?
"Rather than seeing him as a cult-worthy personality who represents something wholly new in Catholicism, it is better to understand Francis, even in his stylistic deviations, as the culmination of a slow, if jerky, recovery on the part of the Church from its self-defeating rejection of modernity."
Cognoscenti: Pope Francis On The Immorality Of Environmental Degradation
"Despite an historical reputation for clashing with science and a short-term loss of the moral high-ground in the wake of the sex abuse crisis, the framework of social ethics outlined by the church has a great deal to offer a secular world struggling with injustice, inequality and environmental degradation."
USA Today: Where Is Pope Francis? A Schedule Of His U.S. Visit
"Pope Francis began his visit to the USA on Tuesday and plans visits to Washington, D.C., New York City and Philadelphia."
This segment aired on September 23, 2015.