After The Paris Attacks, What's Next?
15:11
Play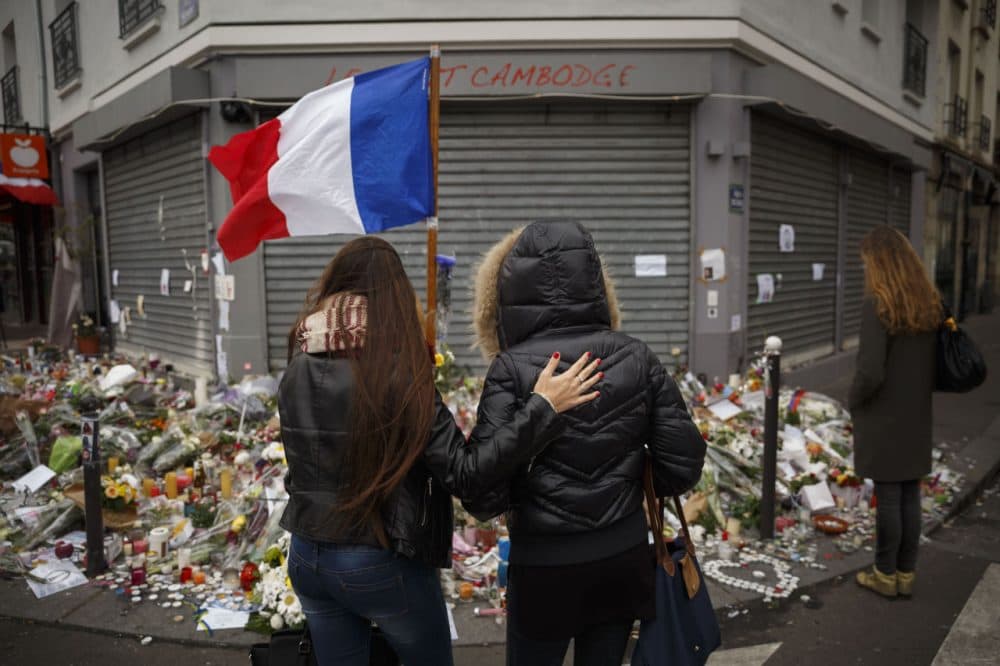 This article is more than 5 years old.
Monday, in wake of the attacks in Paris, Gov. Charlie Baker announced that he is "not interested in accepting refugees from Syria."
Meanwhile, in France, President Francoise Hollande spoke to 900 members of the upper and lower house of parliament at Versailles to propose more public safety spending in response to the attacks. He also promised more airstrikes to be launched "in the coming days."
Sealing borders and preparing the military are not new strategies, but some question if they will stop these terrorist attacks.
Guests
Adil Najam, dean of the Frederick S. Pardee School of Global Studies at Boston University. He tweets @AdilNajam.
Farah Pandith, former first-ever special representative to Muslim Communities under Secretary of State Hillary Clinton and adjunct senior fellow at the Council on Foreign Relations. She tweets @Farah_Pandith.
More
Bloomberg View: Islamic State Dominates the Digital Battlefield
"IS issued more than 1,146 communications in a single month on their official channels, an October study found. Those messages are the work of a determined army of online IS foot soldiers that has won over tens of thousands of recruits worldwide."
Politico: EU Agrees To French Request For Military Help
"The EU 'expressed its strongest full support and readiness' to provide all the assistance required, said EU foreign policy chief Federica Mogherini in a joint press conference with French Defense Minister Jean-Yves Le Drian, who spent Tuesday morning briefing his EU counterparts on France's military operations."
The Los Angeles Times: Paris Attacks: France Hits Islamic State With New Airstrikes; Police Raids Continue
"The French Defense Ministry said 10 aircraft took off from bases in Jordan and the Persian Gulf and dropped 16 bombs, destroying an Islamic State command center and a training camp in Syria."
The New York Times: Paris Attacks Reaction: Condolences And Condemnation
"Obama earlier called the attacks on Paris 'outrageous attempt to terrorize innocent civilians' and vowed to do whatever it takes to help bring the perpetrators to justice. Speaking to reporters at the White House, Obama called the attacks a 'heartbreaking situation' and an 'attack on all of humanity.' "
This segment aired on November 17, 2015.