Evictions In East Boston: The Push For A 'Just Cause' Ordinance
Resume
Part one of our special four-part series, "Evictions in East Boston."
We've had a number of conversations on Radio Boston about the city's housing crisis, but one aspect of the situation that doesn't get much attention is the evictions. Many long-term tenants in Boston's neighborhoods are being issued "no fault evictions," forcing them out because of skyrocketing rents and home values.
"It's displacement on a massive scale," says Matt Nickell, an attorney at Greater Boston Legal Services. Housing advocates like him call this an "eviction crisis," and its epicenter is East Boston. "Tenants are, more and more, seeing this as a threat to their very livelihood, their housing, their life. Because rents are rising so rapidly that no mortals can pay them."
The eviction crisis is so bad, say Nickell and his fellow advocates, that they're calling for a major change in Boston city housing laws. They want the city to pass a so-called "just cause" eviction ordinance that would make it much harder to remove tenants from apartments simply because rents are rising.
Olga Pasco faced that situation on Paris Street in East Boston, where she has been a tenant for 30 years, living in the same apartment for 25 of them. But in August, she was forced to move.
She showed us her current home — her bed is neatly made, it's two cots pushed together, covered with blankets and a printed bed sheet. The other bed, where her friends sleep, looks as if children have just finished taking a nap. A doll blocks the stairs. The only privacy is a temporary screen near the beds.
"It's nice, but it's not home," says Pasco in Spanish, because Olga Pasco is living in a church, Our Saviour's Lutheran Church in East Boston.
Her bed is upstairs in the nave, wedged behind the pews, about a dozen rows back from an alter dominated by a life-sized painting of Jesus.
"This is where we live, thanks to Pastor Don," says Pasco. "He opened the doors for us to live here because the landlords — who have all the money in the world. They threw us on the streets without compassion. They knew we were human beings, but nothing mattered to them. That's unjust. They put us in this situation. We didn't ask to leave our homes, especially in the way they threw us out."
For 25 years, Olga Pasco had been living in an apartment at 175 Maverick Street as a month-to-month tenant. The building had been owned by the same family for roughly 30 years.
Rents are rising so rapidly that no mortals can pay them.

Matt Nickell
But, on Dec. 1, 2014, the old owner sold Pasco's building and two others to a group called Maverick Street Realty, LLC.
Pasco says no one in the building was informed about the sale until February 2015.
"We never knew who the new owners were because they never came by and said, 'We're the people who bought this building.' Never," says Pasco. "I met the person who collects the rents — the property manager — in June, by coincidence."
A few days later, Pasco and every other tenant in the building received a letter. It was a "no fault eviction notice," formally known as a notice to quit. The letter stated that Pasco's rent was being raised to $2,000 per month. Average rents in her building had been around $800. The letter stated that, if tenants couldn't pay the new rent, they had to vacate the units by Aug. 1.
"I felt bad because, where am I going to get $2,000 to pay? We're the victims, because we've lived in the apartment for years," says Pasco. "We took care of it, but they immediately evict us."
Pasco took her case to Greater Boston Legal Services, a longtime non-profit that offers legal assistance to low-income residents. Tenants at the Maverick Street building wanted to fight their eviction. Then, on Aug. 1, the same day their notice required them to move out, the back of the building collapsed.
Maverick Street Realty, LLC first paid for motel rooms for Pasco and the other tenants, but then sought a court order to stop paying for the motel, which was granted. That's how Olga Pasco ended up living in the nave of Our Saviour's Lutheran Church.
She and the other tenants are on a high priority list at the city's Department of Community Development and one tenant has already been re-housed, but affordable housing advocates say that Olga Pasco's case is typical of what they're calling an eviction crisis in Boston.
"East Boston, at this point, feels like the epicenter," says Lisa Owens-Pinto, executive director of City Life/Vida Urbana. "Things are changing so quickly, so rapidly. This is a citywide crisis, but this is the heart of the crisis."
Rental numbers are notoriously difficult to pin down. Zillow, the real estate website, estimates that rents in East Boston have jumped more than 25 percent in the past three years. Owens-Pinto says it's even higher.
"East Boston used to be one of the most affordable places to live," she says. "We see folks coming into our weekly meetings on Wednesday, talking 50 percent rent increases, sometimes 100 percent rent increases, sometimes 200 percent rent increases. So, if 30 percent is the average, the folks who are the most vulnerable have it even worse."
The rising rents are part of a massive change in East Boston's overall housing picture. From 2014 to 2015, year to year median sales prices jumped 120 percent. The average price per square foot in the neighborhood is now almost 38 percent higher than Boston as a whole.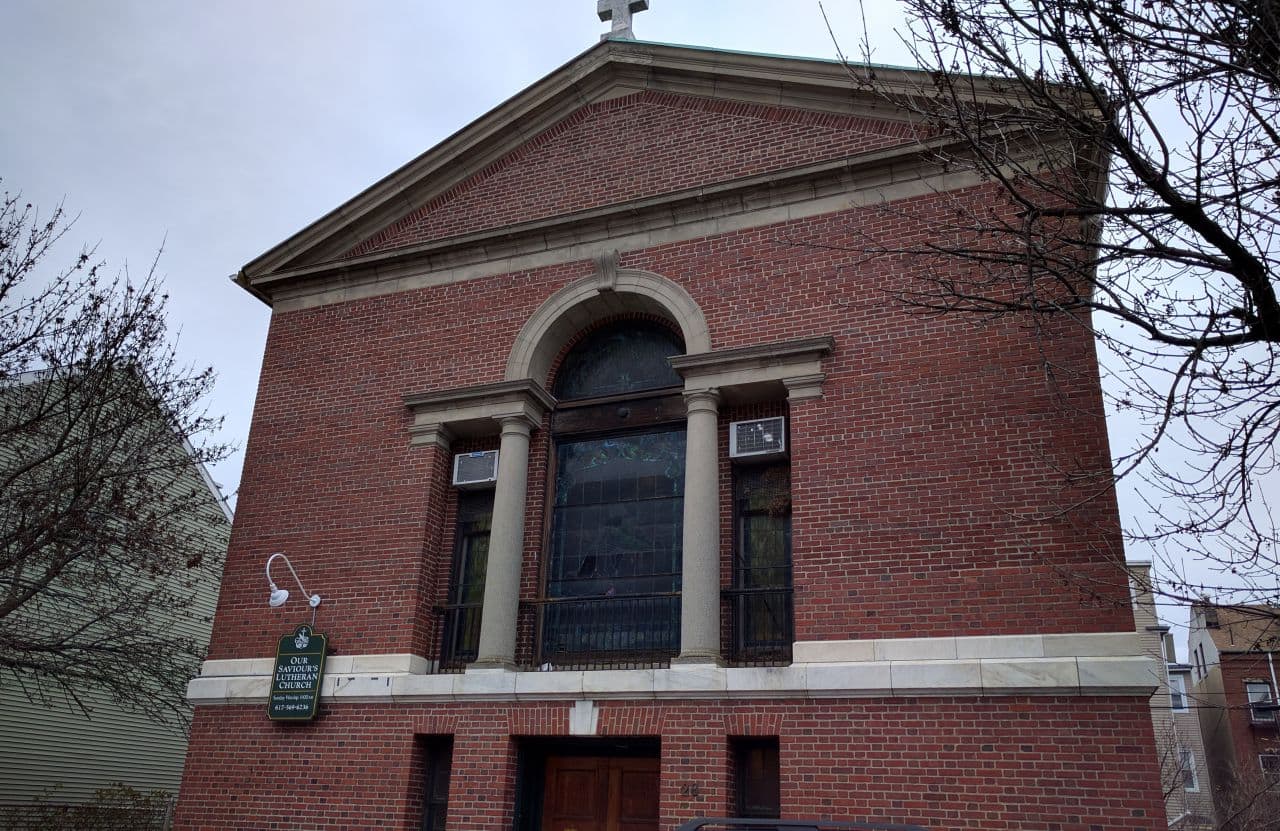 In other words, East Boston real estate is white hot. The question is, how many tenants are then being issued no-fault evictions? This, too, is a tough number to pin down. More than 5,000 eviction cases ended up in Boston housing court last year for a variety of reasons. That number has been relatively stable. However, affordable housing advocates say that a vast number of no-fault evictions never even make it to court. Faced with higher rents, the tenants just move out. That's why they're fighting for a so-called "just cause" eviction statute.
"This is a big business for these guys," says Nickell. "Their business plan is to bring in people who are not the people who currently live in East Boston."
Walking around Maverick Square, he points out five recently sold buildings where the new owners are investors or investment groups.
"They're really remaking the community on a grand scale," says Nickell.
Take Maverick Street Realty, LLC. In the past year, the company made six separate purchases in East Boston for approximately $5.2 million. However, the mortgages associated with those purchases total $18 million, all of which is financed by the same group — Acquisition Funding, LLC, a corporation owned by Shem Creek Capital, a Boston commercial real estate finance company.
Neither Maverick Street Realty, LCC or Shem Creek Capital responded to our requests for comment.
Back at Our Saviour's Lutheran Church on Paris Street, evicted tenant Olga Pasco knows that everything that's happened to her is legal, but she doesn't accept how it's changing East Boston.
"They're dislocating a lot of people," she says. "They've realized... How do I put this? It's a gold mine. Why? Because East Boston is near the universities. So, they're dislocating those who live here to rent them, fix them and rent to university students. That's what happening."
As for Olga herself, she says losing her home and the cosmetics sales business she once ran from her apartment has changed her, permanently.
"It's had a long psychological effect. I'm not the same Olga I was before. I used to sell a lot. I love sales. I love everything about the business. But now, I'm not the same person. It feels like I've lost an arm."
Guests
Olga Pasco, East Boston resident.
Lisa Owens Pinto, executive director of City Life/Vida Urbana. She tweets @owenslmichelle.
Matt Nickell, attorney at Greater Boston Legal Services.
More In This Series
Evictions In East Boston: Landlords On What A 'Just Cause' Ordinance Would Mean
"Landlords say the proposal to regulate evictions for 'just-cause' creates 'de-facto rent control,' and that it would have disastrous effects including, 'housing deterioration, no new housing construction, death of small property ownership, destroying neighborhoods.'"
Evictions In East Boston: Housing Lessons From San Francisco
"There's really only one long-term solution, which everyone from city officials, tenant advocates and housing economists agreed upon. San Francisco has to build its way out of its rental crisis."
Evictions In East Boston: How Can Boston's Housing Be More Affordable?
"We turn the conversation to our listeners – Are we in the midst of an eviction crisis? What do you think of a "just cause" eviction proposal? What is the role of government as the region undergoes rapid transformation? How do we promote growth and prevent displacement simultaneously?"
More
WBUR: 'The First To Leave East Boston Are Us': Rising Rents Are Pushing Some Residents Out
"Stories of exodus are increasingly common in East Boston, but it's happening across the city. A recent study from Northeastern University suggests Boston's housing market is in crisis: Young snake people and aging baby boomers are relocating from the suburbs, occupying housing that traditionally went to blue-collar Bostonians."
Ungentry: U.S. Census Housing Data For Boston, Visualized
Including median rents in East Boston and percentage of residents paying 30% or more of their income for rent.
Zillow: Boston Market Overview: Rentals
"To track rents, we use the Zillow Rent Index (ZRI). The ZRI is the midpoint of estimated rents in a given region. Half the estimated rental prices are above this number and half are below."
This segment aired on December 14, 2015.