What The Paris Climate Accord Means For Boston
08:10
Play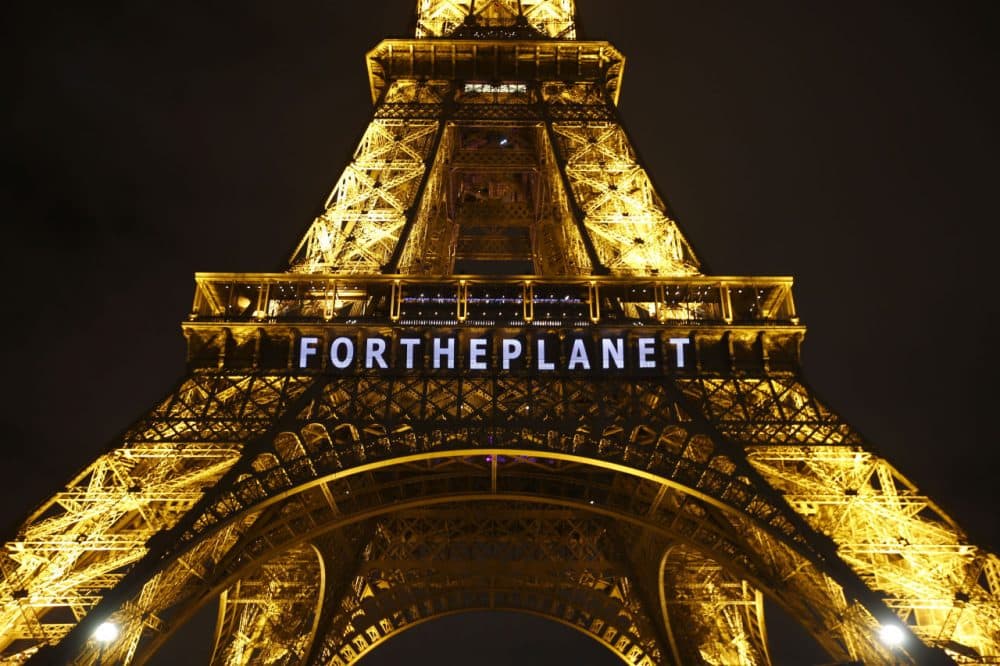 This article is more than 5 years old.
On Saturday, nations participating in the 2015 climate talks in Paris came to a conclusion. The countries agreed to hold the increase in the global average temperature "to well below 2°C above pre-industrial levels and to pursue efforts to limit the temperature increase to 1.5°C above pre-industrial levels."
That's the temperature, but how do nations intend to reach the goal? And what would our world look like under those conditions?
President Obama, speaking from the White House on Saturday, was confident about the agreement, but cautioned the United States not to be "complacent" about upholding goals set in Paris this weekend.
"Even if all the initial targets set in Paris are met, we will only be part of the way there when it comes to reducing carbon from the atmosphere," said the president. "The problem is not solved because of this accord. But make no mistake, the Paris agreement establishes the enduring framework the world needs to solve the climate crisis."
What exactly is that framework? And how binding is it?
Guest
Adil Najam, dean of the Frederick S. Pardee School of Global Studies at Boston University. He tweets @AdilNajam.
More
The New York Times: Inside The Paris Climate Deal
"The text of the climate pact establishes a commitment by 195 countries to take concrete measures to reel in planet-warming carbon emissions."
The Guardian: Ten Tests To Find Out If Paris's Climate Change Deal Is A Success
"Given the science, the experience of a quarter century of climate talks, and all the promises made in the past three years, an ideal agreement should garner 10 "yes" responses. I, however, will be happy with anything that gets at least five. Anything less, I think, will not be worth the carbon cost of everything that has gone into the process."
National Journal: Five Things To Know About The Newly Minted Global-Climate Accord
"The break­through teth­ers non-bind­ing na­tion­al pledges to limit car­bon-di­ox­ide emis­sions with more form­al agree­ments that en­able mon­it­or­ing and veri­fic­a­tion of coun­tries' ac­tions to ensure trust. Na­tions will also sub­mit new plans every five years, a key pro­vi­sion that ac­know­ledges that ex­ist­ing na­tion­al pledges are nowhere near tough enough to pre­vent highly danger­ous levels of glob­al warm­ing."
This segment aired on December 14, 2015.