Which 2015 Books Make For The Best Holiday Gifts?
13:16
Play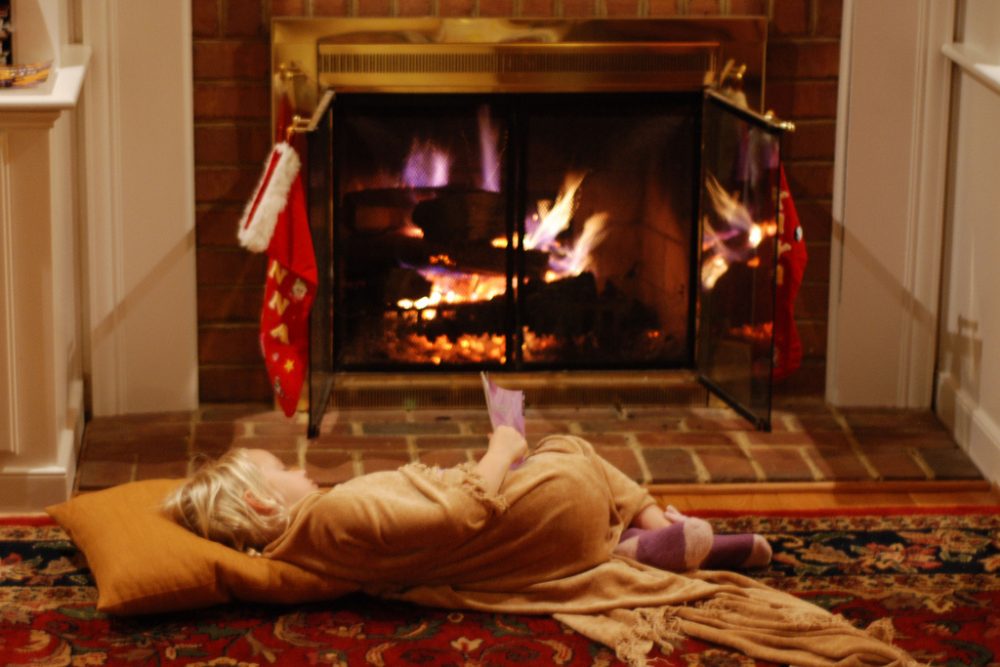 This article is more than 5 years old.
Sitting by the fire, curled up with a blanket, sipping hot chocolate, that's where we want to be around the holidays. But, what's missing from that picture? A book!
If you're looking for one for yourself, or you want to give the gift of reading to a loved one this season, we have a treat for you, because earlier this month we visited Harvard Book Store to talk to some book experts about their favorites reads this year.
Guests
Jennifer de Leon, children's writer-in-residence at the Boston Public Library. Her short story, "Home Movie," was selected as the Boston Book Festival's "One City, One Story" this fall. She edited "Wise Latinas: Writers on Higher Education" and teaches 7th grade language arts in Boston Public Schools. She tweets @jdeleonwriter.
Rachel Cass, head buyer at Harvard Book Store. She tweets @rachel_mbc.
Liz Sher, children's book buyer at Harvard Book Store.
Jenn de Leon's Booklist
"A House of My Own: Stories from My Life," Sandra Cisneros
"From the author of 'The House on Mango Street,' a richly illustrated compilation of true stories and nonfiction pieces that, taken together, form a jigsaw autobiography — an intimate album of a beloved literary legend. Ranging from the private (her parents' loving and tempestuous marriage) to the political (a rallying cry for one woman's liberty in Sarajevo) to the literary (a tribute to Marguerite Duras) and written with her trademark lyricism, these signature pieces recall transformative memories as well as reveal her defining artistic and intellectual influences."
"Faith Ed: Teaching About Religion in an Age of Intolerance," Linda K. Wertheimer
"A suburban Boston school unwittingly started a firestorm of controversy over a sixth-grade field trip. The class was visiting a mosque to learn about world religions when a handful of boys, unnoticed by their teachers, joined the line of worshippers and acted out the motions of the Muslim call to prayer. Wertheimer's fascinating investigation reveals a public education system struggling to find the right path forward and offers a promising roadmap for raising a new generation of religiously literate Americans."
"Extraordinary Rendition: (American) Writers on Palestine," Edited by Ru Freeman
"Brings together the work of 65 prominent writers to examine America's culpability in the denial of human rights and dignity to Palestinians in Israel/Palestine and beyond. Includes pieces by writers such as Chana Bloch, Jane Hirshfield, Colum McCann, Roger Reeves, George Saunders and Alice Walker. The anthology as a whole counters the dehumanizing narrative about Palestine that has taken hold in the United States, often supported by mainstream news organizations, and makes a significant contribution toward an understanding of the ways people of conscience in general, and writers in particular, can take on one of the most pressing political questions of our time."
"The Turner House," Angela Flournoy
"The Turners have lived on Yarrow Street for over 50 years. Their house has seen 13 children grown and gone — and some returned; it has seen the arrival of grandchildren, the fall of Detroit's East Side and the loss of a father. The house still stands despite abandoned lots, an embattled city and the inevitable shift outward to the suburbs. But now, as ailing matriarch Viola finds herself forced to leave her home and move in with her eldest son, the family discovers that the house is worth just a tenth of its mortgage. The Turner children are called home to decide its fate and to reckon with how each of their pasts haunts — and shapes — their family's future."
"Make Your Home Among Strangers," Jennine Capó Crucet
"When Lizet — the daughter of Cuban immigrants and the first in her family to graduate from high school — secretly applies and is accepted to an ultra-elite college, her parents are furious at her decision to leave Miami. Pulled between life at college and the needs of those she loves, Lizet is faced with difficult decisions that will change her life forever. Urgent and mordantly funny, 'Make Your Home Among Strangers' tells the moving story of a young woman torn between generational, cultural and political forces; it's the new story of what it means to be American today."
"Magpiety: New and Selected Poems," Melissa Green
"This marks the return to print of one of the most celebrated American poets of her generation. Green's first book, 'The Squanicook Eclogues,' published in 1987, was cheered by writers such as Joseph Brodsky, who observed, 'Here, by the grace and wisdom of the language in which 'rhyme' rhymes with 'time,' comes the poet who commits everything she touches to your memory.'"
"Untwine," Edwidge Danticat
"A haunting and mesmerizing story about sisterhood, family, love and loss by literary luminary Edwidge Danticat. Giselle Boyer and her identical twin, Isabelle, are as close as sisters can be, even as their family seems to be unraveling. Then the Boyers have a tragic encounter that will shatter everyone's world forever. 'Untwine' is a spellbinding tale, lyrical and filled with love, mystery, humor and heartbreak."
"Yaqui Delgado Wants to Kick Your Ass," Meg Medina
"One morning before school, some girl tells Piddy Sanchez that Yaqui Delgado hates her and wants to kick her ass. Piddy doesn't even know who Yaqui is, never mind what she's done to piss her off. Is there any way for Piddy to survive without closing herself off or running away? In an all-too-realistic novel, Meg Medina portrays a sympathetic heroine who is forced to decide who she really is."
"Oh, Oh, Baby Boy!" Janine Macbeth
"'Oh, Oh, Baby Boy!' follows a newborn baby as he grows up, laughs, plays, causes mischief and makes friends. His father's involvement is woven throughout the story, and depicted in nontraditional ways. The baby's father cuddles, bathes, and cooks with his son, and re-enters the story when the baby boy eventually becomes a father himself, bringing the journey full circle."
"This Side of Home," Renée Watson
"Identical twins Nikki and Maya have been on the same page for everything — friends, school, boys and starting off their adult lives at a historically African-American college. But, as their neighborhood goes from rough-and-tumble to up-and-coming, suddenly filled with pretty coffee shops and boutiques, Nikki is thrilled while Maya feels like their home is slipping away. Suddenly, the sisters who had always shared everything must confront their dissenting feelings on the importance of their ethnic and cultural identities and, in the process, learn to separate themselves from the long shadow of their identity as twins."
Rachel Cass' Booklist
"Between You & Me: Confessions of a Comma Queen," Mary Norris
"Mary Norris is a copy editor at The New Yorker, and her book is part memoir, part grammar guide. Her insider stories are a pure delight to read and her love of the perfectly executed written word is infectious."
"Where the Dead Pause and the Japanese Say Goodbye," Marie Mutsuki Mockett
"Marie Mockett's family owns a Buddhist temple near the Fukushima Daiichi power plant, so the tsunami that hit in 2011 was personal to her. She traveled to Japan in the aftermath, talking to as many people affected as possible. Through her beautiful descriptions of traditions, rituals, conversations and quiet moments, she shows the nuances of a people picking up and moving on. By seeking out the cultural context of her subjects' very human reactions and emotions, she walks a fine line that globalization has tried to erase entirely."
"Kitchens of the Great Midwest," J. Ryan Stradall
"The central character of 'Kitchens of the Great Midwest' is Eva, an aspiring chef, but only one chapter of the book focuses on her directly. The other chapters each focus on another character with some connection, sometimes tangential, to her life. Each chapter also revolves around a particular food item that helped to shape her as a chef."
"Between the World and Me," Ta-Nehisi Coates
"The strongest contender for book of the year. Coates's short but powerful book is written as a letter to his teenage son, and gives a candid take on living, physically and intellectually, as a black man in America. It was timely when it came out in July and continues to be timely in the wake of events in Chicago and other cities."
"Fates and Furies," Lauren Groff
"'Fates and Furies' is the account of a marriage told from both perspectives. But it goes beyond the mere observation that the same events can be viewed differently by different people, confronting questions of ownership, creation and loyalty."
"Better Than Before: What I Learned About Making and Breaking Habits — to Sleep More, Quit Sugar, Procrastinate Less, and Generally Build a Happier Life," Gretchen Rubin
"Gretchen Rubin, author of 'The Happiness Project' and 'Happier at Home,' has a new book about habits, particularly how to go about creating or changing habits. She introduces a personality framework that helps explain why certain habit-forming strategies work for some people and not for others, and offers many helpful, practical tips. It will be out in paperback on 12/15."
"The Light of the World," Elizabeth Alexander
"There are many excellent memoirs out this year, by celebrities of all kinds. Elizabeth Alexander is a poet (she gave the inaugural poem at President Obama's first inauguration), and her memoir about the sudden death of her husband is lyrical, tragic and yet somehow full of joy."
"The Thrilling Adventures of Lovelace and Babbage," Sydney Padua
"This began as a web comic and blossomed into a full graphic novel based on Ada Lovelace and Charles Babbage, 19th century pioneers of computing. The comic itself is charming, and the extensive footnotes and endnotes allow the reader to get as deep, or not, into the technical side as they like."
"Barbarian Days," William Finnegan
"Finnegan is an international journalist and currently a staff writer at The New Yorker, but in his youth he was an avid, and somewhat accomplished, surfer. A surfing memoir may not sound like ideal fare for the general reader, but his descriptions of the places he lived and surfed are engrossing."
Liz Sher's Booklist
"Over the Hills and Far Away: A Treasury of Nursery Rhymes" edited by Elizabeth Hammill
"The treasury that every home library needs. Elizabeth Hammill collected nursery rhymes from around the
world and paired each set with a different artist. There's so much to pore over, it's the kind of book you will never be done reading."
"Home," Carson Ellis
"The prettiest picture book of the year. Carson Ellis offers a modern riff on classics like 'A House is a House For Me.' There's also a touch of 'I Spy': each home is a cozy miniature world stuffed with details."
"Sometimes I Feel Like a Fox," Danielle Daniel
"This unique picture book celebrates Aboriginal totem animals; it also celebrates how we all contain
multitudes. ("Sometimes I feel like a bear, strong and confident...Sometimes I feel like a turtle, slow and quiet.") The illustrations, which depict children in the masks and costumes of their totem animals, are lovely and spot-on. Danielle Daniel wrote this book to teach her son about their family's Aboriginal roots."
"Voice of Freedom: Fannie Lou Hamer: The Spirit of the Civil Rights Movement," Carole Boston Weatherford, illusrated by Ekua Holmes
"A rich, exceptional picture book biography for older readers. Carole Boston Weatherford's free verse and Ekua Holmes' evocative collage art will hopefully return civil rights hero Fannie Lou Hamer to the canon and make her as famous as Dr. Martin Luther King Jr. and Rosa Parks."
"Where is the Artist?: From Cave Paintings To Modern Art: A Look And Find Book," Susanne Rebscher, illustrated by Annabelle von Sperber
"A seek-and-find that doubles as a sumptuous history of art. The vibrant scenes, each in the style of the art it is portraying, show that art is not created in a vacuum — it's part of a busy, bustling world."
"The Illustrated Harry Potter," J.K. Rowling, illusrated by Jim Kay
"Artist Jim Kay deserves a standing ovation. He's taken the most recognizable children's series in the world and made it entirely new. The full-page spreads are gorgeous; the tinier moments are just as exquisite. Whether you grew up with Harry or you're introducing a lucky reader to Hogwarts for the first time, this book is an heirloom."
"Listen Slowly," Thanhha Lai
"I love Thanhha Lai's work because she honors how complex young people can be. When 12-year old Mai
spends the summer in her family's village in Vietnam, she feels homesick for California, overwhelming love for her family and is by turns angry, frustrated, arrogant, humble, mature, naive, selfless and self-absorbed — sometimes within the same paragraph."
"Stella by Starlight," Sharon Draper
"This novel reads like a classic. Shelve it with 'Roll of Thunder, Hear My Cry.' Sharon Draper doesn't
sugarcoat life in Jim Crow, North Carolina — her young protagonists encounter severe racism, inequality, segregation and the Ku Klux Klan. But, her portrayal of a tight-knit black community, and her delight in family rituals reminded me of another classic: 'Little House in the Big Woods.'" The audio book is great too!"
"Goodbye Stranger," Rebecca Stead
"This is Rebecca Stead's best book yet. She returns to the urban landscape of 'When You Reach Me' and 'Liar and Spy,' but her characters are slightly older this time. They're 7th, 8th and 9th graders, caught between childhood and teenagedom. Stead shows us the characters in all different combinations of friendships and family as they mull things over in private and slowly try to figure themselves out in public."
"Uprooted," Naomi Novik
"One review compared this novel to 'The Hunger Games' and 'Jane Eyre.' I think that is a perfect description. (I was also reminded me of Monica Furlong's excellent, tragically out-of-print 'Wise Child' and 'Juniper.') Naomi Novik's fantastically-imagined world is steeped in Russian fairy tales. Her heroine Nieshka is a triumph, as complicated and compelling as any young woman in fiction."
"Symphony for the City of the Dead," MT Anderson
"Russian history, cultural history, music history, spy-thriller pacing and details stranger than fiction...M.T. Anderson delivers it all in this story of Shostakovich's 7th Symphony and the devastating siege of Leningrad."
Radio Boston's Booklist
"The Bassoon King: My Life in Art, Faith and Idiocy," Rainn Wilson
"For nine seasons Rainn Wilson played Dwight Schrute, everyone's favorite work nemesis and beet farmer. Viewers of The Office fell in love with the character and grew to love the actor who played him even more. Rainn founded a website and media company, SoulPancake, that eventually became a bestselling book of the same name. He also started a hilarious Twitter feed (sample tweet: 'I'm not on Facebook' is the new 'I don't even own a TV') that now has more than four million followers."
"America's Bank: The Epic Struggle to Create the Federal Reserve," Roger Lowenstein
"A tour de force of historical reportage, 'America's Bank' illuminates the tumultuous era and remarkable personalities that spurred the unlikely birth of America's modern central bank, the Federal Reserve. Today, the Fed is the bedrock of the financial landscape, yet the fight to create it was so protracted and divisive that it seems a small miracle that it was ever established."
"War of Two: Alexander Hamilton, Aaron Burr, and the Duel that Stunned the Nation," John Sedgwick
"In 'War of Two,' John Sedgwick explores the long-standing conflict between Founding Father Alexander Hamilton and Vice President Aaron Burr. A study in contrasts from birth, they had been compatriots, colleagues, and even friends. But above all they were rivals. Matching each other's ambition and skill as lawyers in New York, they later battled for power along political fault lines that would not only decide the future of the United States, but define it."
"Reclaiming Conversation: The Power of Talk in a Digital Age," Sherry Turkle
"Preeminent author and researcher Sherry Turkle has been studying digital culture for over thirty years. Long an enthusiast for its possibilities, here she investigates a troubling consequence: at work, at home, in politics, and in love, we find ways around conversation, tempted by the possibilities of a text or an email in which we don't have to look, listen, or reveal ourselves."
"The Only Woman in the Room: Why Science is Still a Boys' Club," Eileen Pollack
"In 2005, when Lawrence Summers, then president of Harvard, asked why so few women, even today, achieve tenured positions in the hard sciences, Eileen Pollack set out to find the answer. A successful fiction writer, Pollack had grown up in the 1960s and '70s dreaming of a career as a theoretical astrophysicist. Denied the chance to take advanced courses in science and math, she nonetheless made her way to Yale. There, despite finding herself far behind the men in her classes, she went on to graduate summa cum laude, with honors, as one of the university's first two women to earn a bachelor of science degree in physics. And yet, isolated, lacking in confidence, starved for encouragement, she abandoned her ambition to become a physicist."
"The Narrow Edge: A Tiny Bird, an Ancient Crab and an Epic Journey," Deborah Cramer
"Each year, red knots, sandpipers weighing no more than a coffee cup, fly a near-miraculous 19,000 miles from the tip of South America to their nesting grounds in the Arctic and back. Along the way, they double their weight by gorging on millions of tiny horseshoe crab eggs. Horseshoe crabs, ancient animals that come ashore but once a year, are vital to humans, too: their blue blood safeguards our health. Now, the rufa red knot, newly listed as threatened under the Endangered Species Act, will likely face extinction in the foreseeable future across its entire range, 40 states and 27 countries."
More
The New York Times: The 10 Best Books Of 2015
"The year's best books, selected by the editors of The New York Times Book Review."
The Boston Globe: Jennifer De Leon Finally Sees Her Work Catch Fire
"The life of a short story writer can be lonely and discouraging. Success, if it comes at all, arrives in modest increments: You're published in a literary journal. You get to do a reading."
The ARTery: Commentary: Why Do Celebrities Insist On Being Authors?
"There was a time when actors penned books. But these works tended to be memoirs and tales of humble beginnings and wild times in showbiz. All that has changed."
This segment aired on December 18, 2015.