7 Locally Made Foods To Give As Holiday Gifts This Year
Resume
Christmas is just days away, and despite the electronics, clothes and jewelry filling every store window and billboard ad, there's one gift that never fails: food!
You can tailor it to everyone's needs — your mom with a sweet tooth, your gluten-free brother, your paleo kid, and one of Amy Traverso's jobs is to find the best locally made food that would make for great gift-giving. She joined us to talk about the magazine's editors' choice food awards.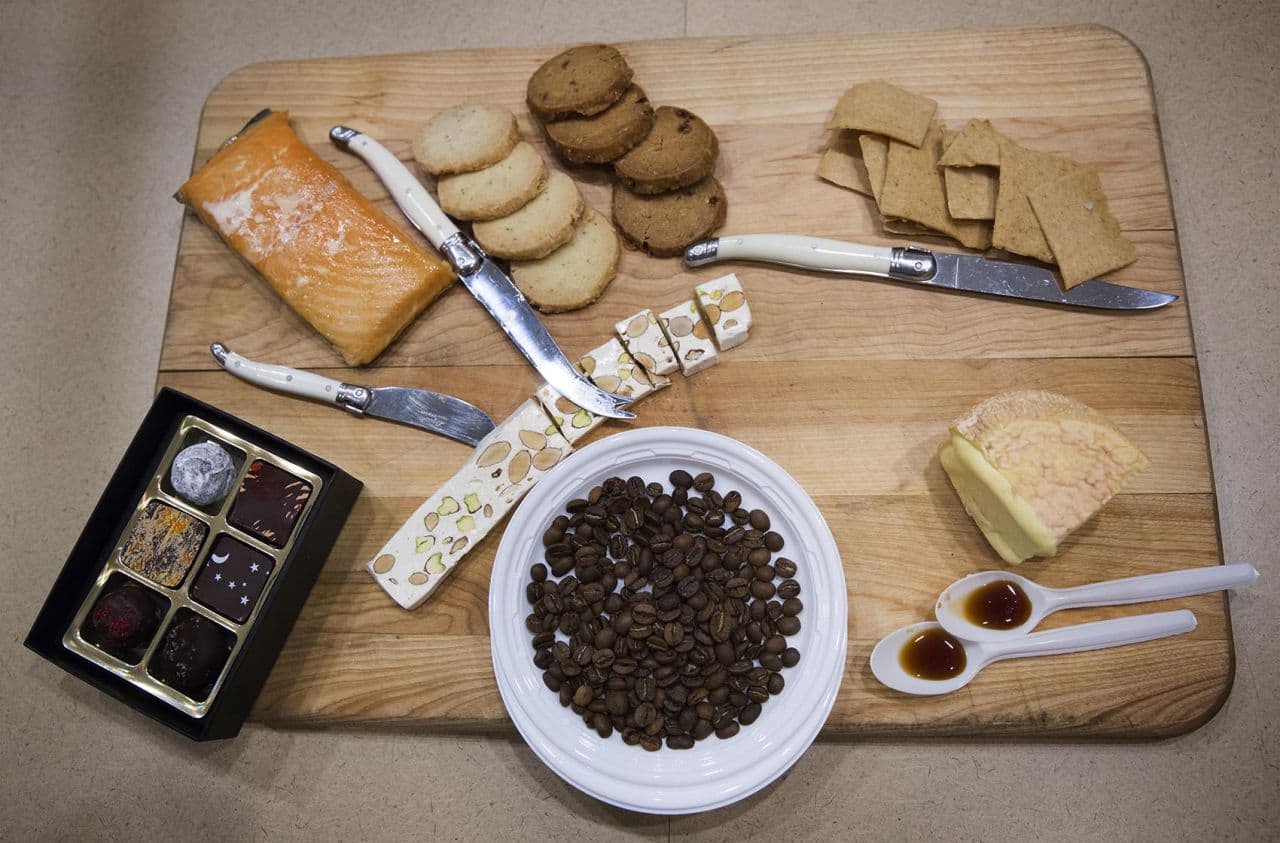 Guest
Amy Traverso, senior lifestyle editor at Yankee Magazine. She tweets @amytraverso.
7 Locally Made Foods To Give As Holiday Gifts This Year
1. Hooligan Cheese, Cato Corner Farm in Colchester, Conn.
"It's got that sassy name because it's a pungent, washed-rind cheese. It's made by a mother-son team, Liz MacAlister and Mark Gillman, they raise these cows on their farm and they use that milk. So, this is a farmstead cheese made only with their own milk. It's a little bit muenster-like, it has that little crystallized rind from the briny wash. Really great melted in a sandwich."
Suggested Retail Price: $28 per pound
Available At: Central Wine & Bottle Provisions American Provisions
2. Simply Smoked Salmon, Boston Smoked Fish in Sudbury
"This blew my mind...I just thought it was some of the best smoked salmon I've ever had...Matt Baumann, who's the owner of the company, he really experimented with a lot of different types of wood before he sort of settled — and brines, also — I mean, multiple experiments before he kind of came up with his formula. And, I think this is just so good and so moist. And, you can buy this at the market and they even make it into fun stuff like sliders."
Suggested Retail Price: $8 per 4-ounce package
Available At: Boston Public Market
3. Sea Salt Crackers, Onesto Artisan Crackers in Newburyport
"I tasted them, I loved them, and then I saw on the back in very small print, 'These are gluten-free crackers.' And I think it's actually really smart of Jane to not market them primarily as gluten-free because I think a lot of people would just kind of pass them, frankly. There's a lot of bad gluten-free stuff out there."
Suggested Retail Price: $6.95 per box
Available At: Formaggio Kitchen
4. True Grenadine, Powell & Mahoney in Salem
"They make just a much higher-quality grenadine, it's just a pure, cleaner, more fruity flavor...This is a really accessible product that will just bump up your cocktail-making. And this Jack Rose cocktail, so simple: lemon juice, Calvados, grenadine. Equal parts."
Suggested Retail Price: $5.99 per bottle
Available At: Brookline Liquor Mart
5. Apple Cider Syrup, Carr's Ciderhouse in Hadley
"It's a traditional New England product that a lot of people don't know about...This is essentially like maple syrup but made with cider. So, you take fresh cider and you boil it down...In terms of what you can use it in...I pour it over yogurt and granola. I would pour it over pancakes or oatmeal in the morning. So, anything really. You can use it in sauces to add a little acidity, almost like you'd squeeze a lemon into a sauce, you could use this instead. You can even use it in cocktails. It's so very, very good."
Suggested Retail Price: $15.99 per bottle
Available At: Formaggio Kitchen, American Provisions
6. Shortbread Trio, Lark Fine Foods in Essex
"They do kind of what they call 'cookies for grown ups.' So, you have a rosemary shortbread there and then this is a wonderful burnt sugar fennel shortbread...This is Bob and Brooke Carol who recently purchased the company. There is a holiday assortment that they make that comes in a gorgeous box — a really, really pretty holiday gift."
Suggested Retail Price: $8
Available At: Bacco's Wine + Cheese
7. Bonbons, Chocolate Springs in Lenox
"I have a raspberry truffle, a salted caramel truffle, this is a champagne and this one is an espresso chocolate bonbon...These have a particular clarity to their flavor...Joshua Needleman is the chocolatier. If you're out in Lenox, Massachusetts, this is a great place to stop because you can also stop and have ice cream, you can have a hot chocolate and a pastry."
Suggested Retail Price: $11.95 per 6-piece assortment
Available At: Chocolate Springs Cafe
More
Yankee Magazine: 2015 Yankee Magazine's Editors' Choice Food Awards
"Our guide to the best artisanal cheeses, chocolates, jams, cookies, bacon, and other worthy edibles in New England."
This segment aired on December 22, 2015.