Bill Littlefield On Sports: Rivalry Week In The Hub
05:43
Play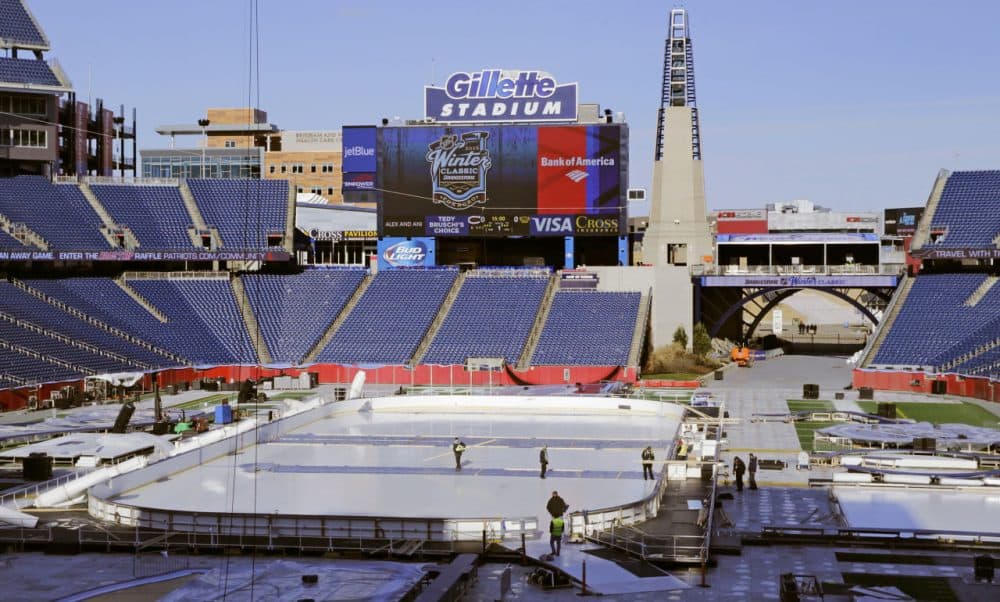 This article is more than 4 years old.
It's rivalry week in the Hub. Last Sunday, the Patriots were in New Jersey taking on the New York Jets. Back in Boston, the struggling Los Angeles Lakers visit TD Garden to take on the Celtics. And, Gillette Stadium is ready to go for the NHL Winter Classic. The Bruins face off against the Montreal Canadiens on New Year's Day.
Guest
Bill Littlefield, host of NPR's Only A Game, which tweets @OnlyAGameNPR.
More
The Boston Globe: One Week Left In NFL Season, But Many Possibilities Remain
"Sunday's overtime loss to the Jets at MetLife Stadium prevented the Patriots from clinching home-field advantage throughout the AFC playoffs. But thanks to Denver's win Monday night, the Patriots (12-3) still boast the AFC's best record, with another chance to bag the No. 1 seed. That comes this Sunday, when the Patriots close the regular season in Miami against the Dolphins. They've already guaranteed themselves a first-round bye, and can do no worse than the No. 2 seed, hosting a home game Jan. 16 or 17 in the divisional round. But they'd prefer that the road to Super Bowl 50 run through Gillette Stadium, where they've won their past three playoff games, and are 13-3 in the postseason. Beat the Dolphins, and the No. 1 seed is theirs."
The New York Times: Peyton Manning Rejects Report Linking Him To Doping
"Mounting an aggressive campaign against a report that linked him to performance-enhancing drugs, Denver Broncos quarterback Peyton Manning said Saturday night that he was treated at an anti-aging clinic in Indianapolis in 2011 while recovering from a neck injury but that the treatment was prescribed by his physician and did not involve any banned substances."
ESPN: When The Celtics Picked Antoine Walker Over Kobe Bryant
"Auerbach and Carr talked about how well Bryant shot the ball. Carr raved about Bryant's institutional knowledge of the game. Auerbach waxed about Bryant's size and athleticism. 'I think this kid is going to be a hell of a player,' Auerbach told Carr. 'But it can go either way. He seems to be solid, but he's a high school kid. You've got to make a choice based on what you need today. But I think he's a hell of a player.'"
This segment aired on December 30, 2015.