Former Secretary Of State Madeleine Albright Reflects On Inequality, Diplomacy
12:00
Play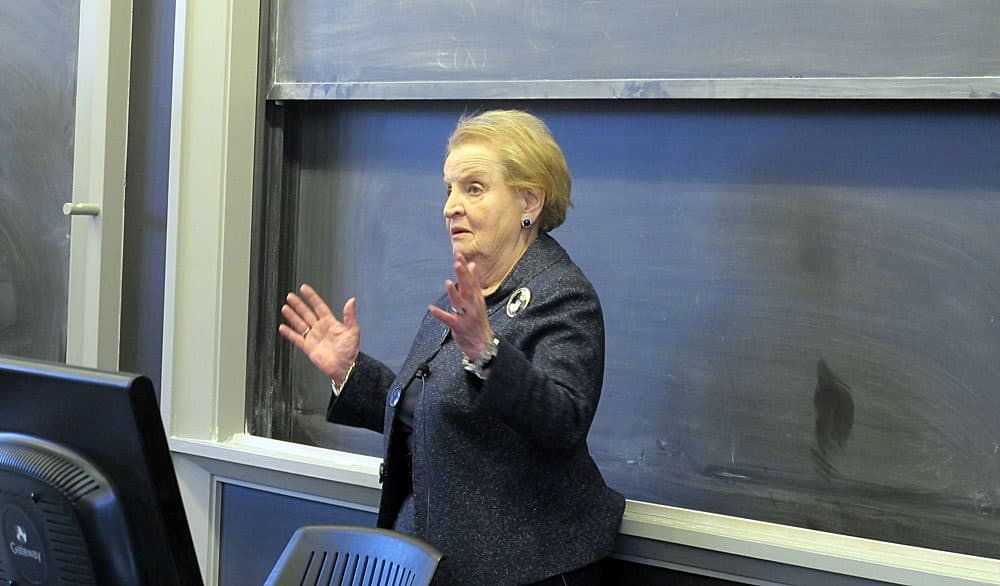 This article is more than 5 years old.
On Friday in Washington, Massachusetts Attorney General Maura Healey went to the White House for an announcement by President Obama on new executive actions aimed at closing the gender pay gap.
"We are proposing to collect and report pay data by race, ethnicity and gender from businesses with 100 employees or more. And the goal is help businesses that are trying to do the right thing, to get a clear picture of how they can ensure their employees are being treated equally," the president said at the White House. "A better picture of the data will also help us do a better job of enforcing existing equal pay laws."
On Beacon Hill yesterday afternoon, the Massachusetts State Senate unanimously approved a bill to strengthen the Bay State's existing equal pay laws, which were the first passed in the nation. The issue of gender inequality, and global inequality, is one that's near and dear to Madeleine Albright.
Guest
Madeleine Albright, former U.S. Secretary of State (1997-2001), and current chair of the Albright Stonebridge Group. She'll be speaking at the Wellesley College Albright Institute Symposium on Sunday, January 31. She tweets @madeleine.
More
The New York Times: Obama Moves To Expand Rules Aimed At Closing Gender Pay Gap
"The new rules, Mr. Obama's latest bid to use his executive power to address a priority of his that Congress has resisted acting on, would mandate that companies with 100 employees or more include salary information on a form they already submit annually that reports employees' sex, age and job groups."
The Boston Globe: Equality is key to global economic growth
"Women face a double disadvantage in the job market: They are less likely to have a paid job than men and, if they get a job, they will earn significantly less than their male colleagues — even with the same level of education and in the same occupation. Eliminating these employment gender gaps could boost GDP significantly — for instance, by 5 percent in the United States, 9 percent in Japan, and 27 percent in India."
This segment aired on January 29, 2016.