New Hampshire Primary Voters Go To The Polls
50:11
Play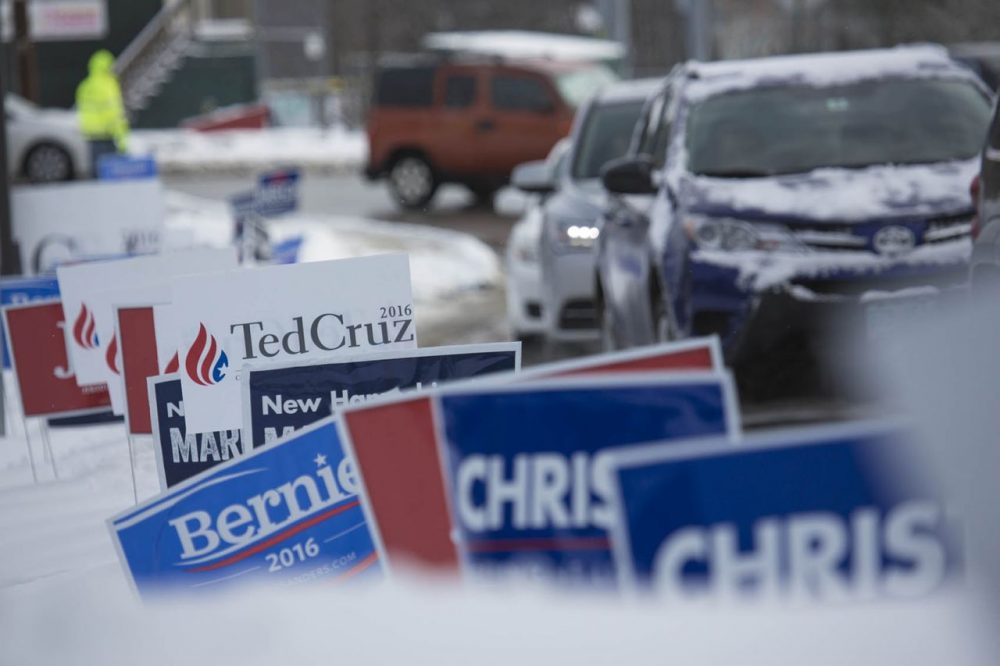 This article is more than 4 years old.
After months of rallies, town halls, hand-shaking, phone banking and all the trappings of New Hampshire primary politics, it all comes down to one day. We have a full hour of special coverage of the New Hampshire primary.
Guests
Anthony Brooks, WBUR senior political reporter. He tweets @anthonygbrooks.
Dante Scala,, associate professor of political science at the University of New Hampshire. He tweets @Graniteprof.
Alan Solomont, former U.S. ambassador to Spain and Andorra and dean of the Jonathan M. Tisch College of Citizenship and Public Service at Tufts, which tweets @TischCollege.
Steven DiSalvo, president of Saint Anselm College. He tweets @Dr_DiSalvo.
Paul Miller, executive editor of The Keene Sentinel, which tweets @sentinelsource.
More
WBUR: Mass. Voters Volunteer Their Time In Hopes Of Making A Difference In The N.H. Primary
"'For the past two months, folks have been coming up every weekend day and sometimes during the week,' Pensak said. 'We know that Cambridge to Hampton equals Hillary to the White House, so we're there.'"
The Boston Globe: A Look Ahead For the N.H. Primary
"As the world's eyes turn to a small New England state Tuesday for the first presidential primary in the nation, experts are looking to a small city that has shown an uncanny ability to predict the results. Since 2000, Laconia, located in the Lakes Region, has proven to be a near-perfect reflection of the statewide vote in the presidential primaries for both parties. Not only did Laconia pick the winners in recent New Hampshire primaries, but its results mimic the second and third place finishers for both parties statewide, according to an analysis from pollster David Paleologos. Even more telling: Laconia's results came within five percentage points of the statewide results in every competitive primary since 2000."
The New York Times: New Hampshire Voters Ask: Is It Over Yet?
"'We are too broke to buy anything. We know who we are voting for. We have found Jesus,' another sign on a door in Laconia read. 'Seriously, unless you are giving away beer, PLEASE GO AWAY!'"
This segment aired on February 9, 2016.