Is There A Generational Divide Between Female Democratic Voters?
24:01
Play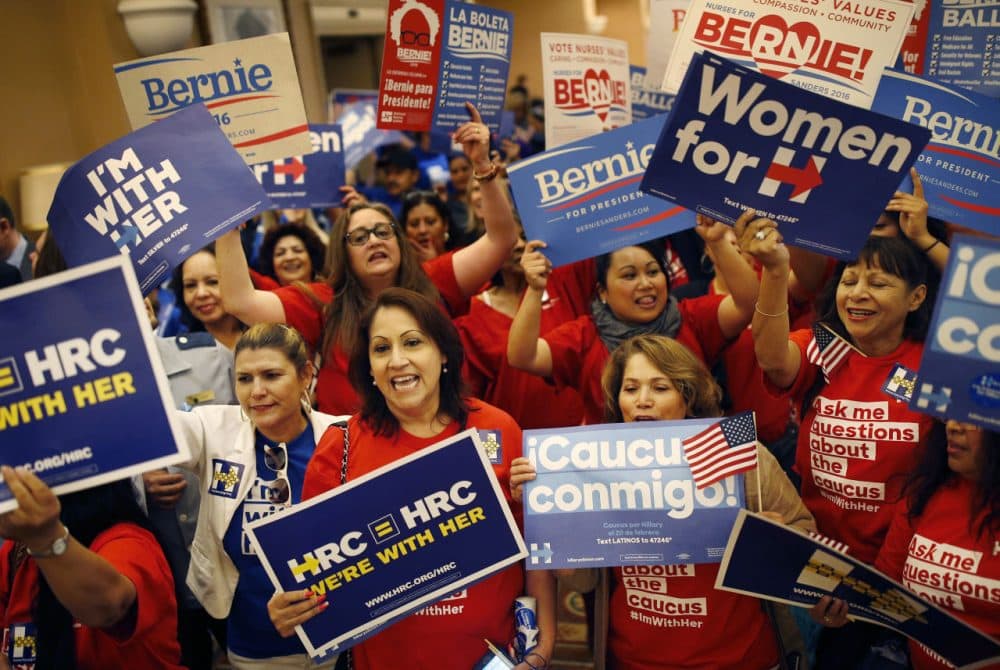 This article is more than 4 years old.
The presidential politicking is in high gear in Massachusetts with Super Tuesday one week away. The latest polls in the state gives Donald Trump a solid lead with about 50 percent of the Republican vote. But, Democrats Bernie Sanders and Hillary Clinton are in a virtual tie.
According to some polls, Clinton's message is not resonating with many young voters, especially younger women. We want to take a closer look at that divide.
Guests
Roxanne Euben, professor of political science at Wellesley College.
Ruth Balser, state representative for the 12th District of Middlesex County. She tweets @RepRuthBalser.
Lily Luo, senior at Wellesley College. She tweets @LilyLuo930.
More
Al Jazeera America: There's A Strong Feminist Case For Hillary Clinton
"Gender, it turns out, matters as much in politics as anywhere else — maybe even more. And there is a strong feminist case for Clinton, and that case is made not only on gender but also on efficacy and policy."
TIME: Bernie Sanders Is Winning Feminists, Even At Hillary Clinton's Alma Mater
"Those poll numbers show a generational divide among liberal women that suggests a sea change in feminist thought. For many older feminists, it seems only natural to support the most viable female presidential candidate to ever get this far, especially after the disappointment of the 2008 primary. But younger feminists are more likely to eschew traditional feminism in favor of 'intersectionality' — the idea that social identities like race, gender and class are so intertwined that it's impossible to prioritize one lens over another."
The New York Times Opinion: Why Sexism At The Office Makes Women Love Hillary Clinton
"While the contours of sexism shift with age, the number of usable hours in each day shrinks. Many more women over 25 are in the work force than those under, and women over 25 also do about twice as much unpaid domestic work as their younger counterparts. For the many women who live at the center of that time crush, Mrs. Clinton's emphasis on the wage gap, paid family leave and universal prekindergarten may be particularly appealing."
Radio Boston: Mass. Minority Leaders Endorse Sanders, Clinton Campaigns
"Who will win the support of African-American and Latino voters? Right now, that is the most pressing question in the Democratic presidential primary. Wednesday, the debate landed on the steps of the Massachusetts State House. Black and Latino leadership groups gathered; each endorsed a different candidate."
This segment aired on February 23, 2016.