Massachusetts Voters Cast Their Ballots On Primary Day
49:00
Play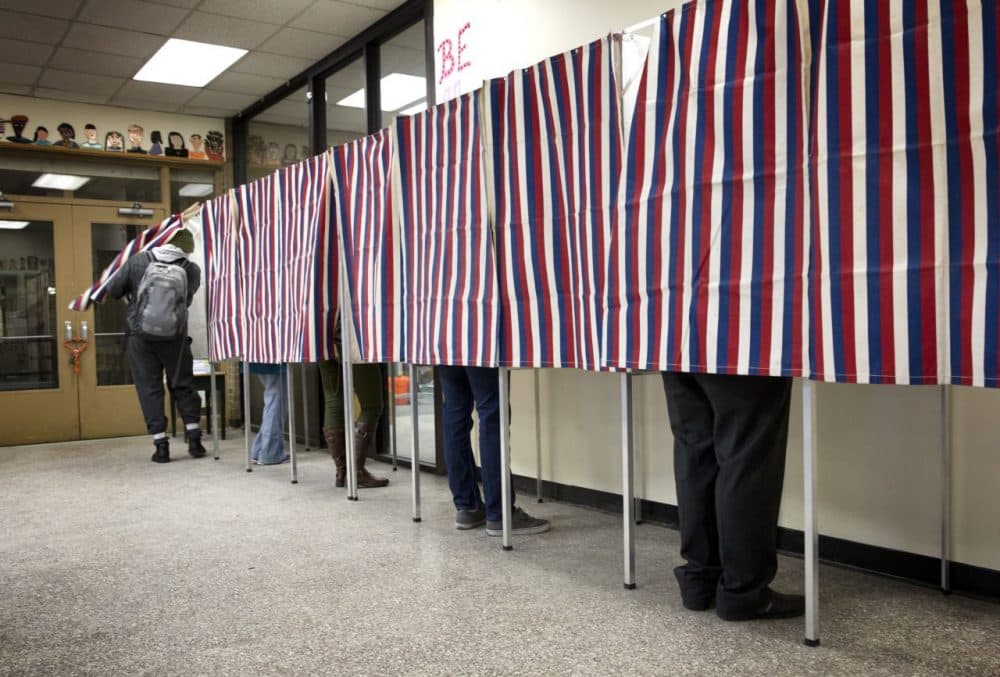 This article is more than 5 years old.
The polls are open in Massachusetts — one of 13 states voting in Super Tuesday presidential primaries and caucuses across the country. In all, 865 delegates at stake for the Democrats, while Republicans are competing for 595.
Here in Massachusetts, there's a tight race between the two Democrats, Hillary Clinton and Bernie Sanders. And, in the GOP contest, Donald Trump has been leading in polls, raising the question — if Massachusetts Republicans won't stop his march toward the Republican presidential nomination, will anybody?
We spend the hour looking at Super Tuesday — here in Massachusetts and beyond.
Guests
Anthony Brooks, WBUR's senior political reporter. He tweets @anthonygbrooks.
Zeninjor Enwemeka, digital reporter at WBUR. She tweets @Zeninjor.
Heather Cox Richardson, professor of history at Boston College and author of "To Make Men Free," a book tracing the history of the Republican party.
Kari Njiiri, senior reporter at New England Public Radio.
Jane Lindolm, host of Vermont Edition. She tweets @JaneLindholm.
Peniel Joseph, professor of public affairs and history at the University of Texas at Austin, where he's also founding director of the Center for the Study of Race and Democracy. He's author of "Dark Days, Bright Nights: From Black Power to Barack Obama," among other books. He tweets @PenielJoseph.
Fred Thys, WBUR reporter. He tweets @fredthys.
More
WBUR: Galvin Predicts Big Turnout As Candidates Hit Mass. A Day Ahead Of Presidential Primary
WBUR: Clinton, Sanders Make Final Pushes In Mass. Before High-Stakes Primary
"It's primary day in Massachusetts, which has one of the biggest stashes of delegates up for grabs among the 13 states holding presidential primaries and caucuses across the country on Tuesday."
WBUR: Kasich Campaigns In Plymouth Ahead Of Mass. Primary
"Ohio Gov. John Kasich is asking Massachusetts voters in Tuesday's Republican presidential primary to take it seriously."
This segment aired on March 1, 2016.