How Should We Talk To Kids About The Presidential Race?
16:01
Play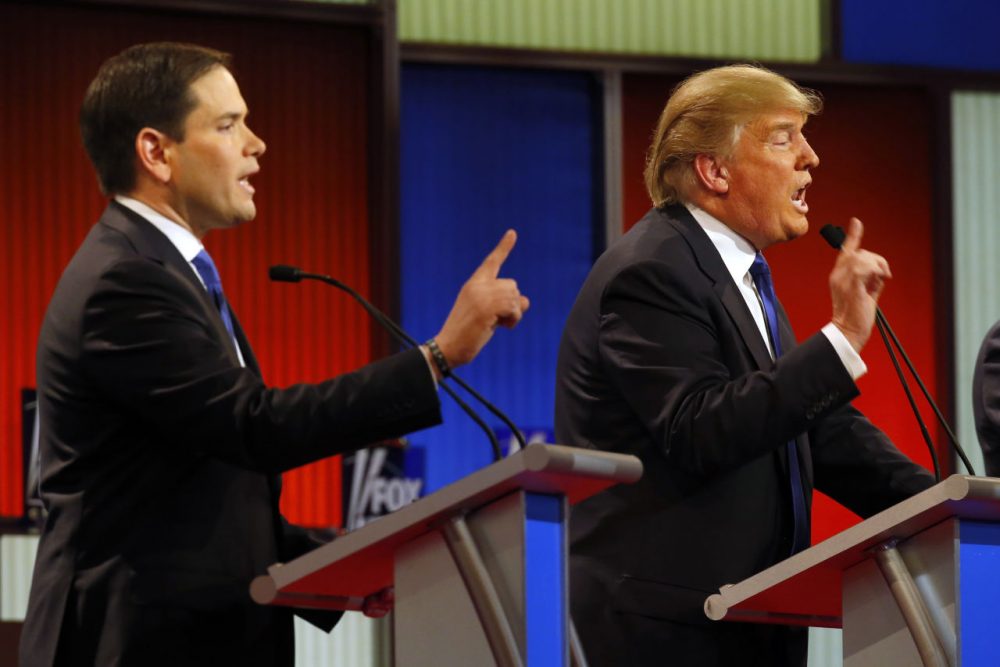 This article is more than 5 years old.
This presidential primary season is historic in so many ways. It should be a great moment for parents to teach their children about the civic expression of citizen frustration, the role of race in society, the great push-pull between political parties and their base. The voters of tomorrow ought to be learning from the election of today.
And yet, there are many parents who won't talk to their kids about this election. They won't let their kids watch the debates. They don't know how to talk about what it meant when Donald Trump guaranteed there's no problem with the size of his — hands — at last week's Fox News GOP debate.
In a nanosecond, the moment was everywhere — television, radio, social media — which is why, to the even most ostrich-like parent among us, Dr. Steve Schlozman says, "Parents Can — And Must — Talk About Ugly 2016 Politics With Kids."
Guest
Dr. Steve Schlozman, associate director of the MGH Clay Center for Young Healthy Minds. He's also assistant professor of psychiatry at Harvard Medical School. He tweets @SSchlozman.
More
CommonHealth: Opinion: Parents Can — And Must — Talk About Ugly 2016 Politics With Kids
"How did we get to a place where you have to explain to your 10-year-old daughter that the Republican front-runner is bragging on national television about the size of his penis? Seriously. Tell me how we make that sound OK in any arena?"
The Boston Globe: How To Talk To Your Kids About Donald Trump
"The 2016 presidential race is already shaping up as one of the strangest in history. Every day, an army of pundits dissects its bewildering dynamics. But none thus far have addressed the crisis facing millions of American parents: What to do when your young child brings up Donald Trump."
BBC: Donald Trump And The 'X-Rated' Election
"Some parents found themselves in a strange spot while watching the most recent Republican debates with their young children — the moment when front-runner Donald Trump started talking about his hands."
This segment aired on March 7, 2016.