Week In Review: The Primaries Continue, Beacon Hill Passes Opioid Legislation, BPS Budget
27:00
Play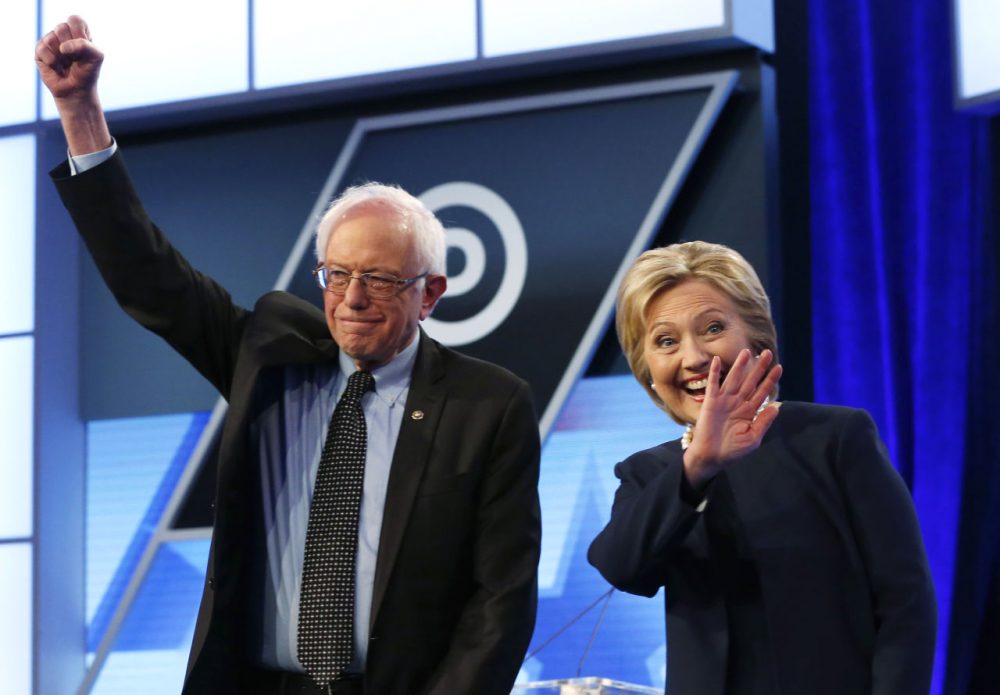 This article is more than 5 years old.
It's Friday, which means it's time for Week In Review. This week, we're talking about the latest round of primary contests and debates, the opioids legislation that passed Beacon Hill this week, and Mayor Walsh's response to students protesting budget cuts for Boston Public Schools.
Our Week In Review panel goes behind the headlines.
Guests
John Carroll, professor of communication at Boston University and WBUR Senior Analyst. He tweets @johncarroll_bu.
Renee Graham, op-ed columnist for the Boston Globe. She tweets @reneeygraham.
More
Vox: Here's What Has To Happen For Bernie Sanders To Win
"If current trends continue, Clinton will win with room to spare. But though a Sanders comeback looks unlikely, Sanders's whole candidacy has been unlikely. Indeed, just this Tuesday, the Vermont senator shocked the punditry yet again with an upset victory in Michigan, a state where polls showed him down by more than 20 points. Now, if Sanders hopes to catch up to Clinton, he'll need not just several more upsets like Michigan, but several more upsets bigger than Michigan. It's a tall order..."
MassLive: Massachusetts Senate Passes Opioid Bill, Sends It To Gov. Charlie Baker
"The bill would limit first-time prescriptions for opioid drugs – such as those prescribed as painkillers after surgery or an injury – to a seven-day supply. There would be a seven-day limit for all opioid prescriptions for minors. There would be exceptions for patients with cancer or chronic pain or for palliative care. The bill establishes a process for schools to verbally screen students at two different grade levels – one in middle school and one in high school – to identify students who are addicted or at risk of addiction to drugs."
The Boston Globe: After Student Walkouts, Walsh Moves To Block Budget Cuts
"Days after thousands of students walked out to protest budget cuts, Mayor Martin J. Walsh said Thursday that he plans to announce that Boston high schools will be spared the controversial reductions that endangered popular programs and teacher jobs. Instead of making significant cuts to high school budgets, the School Department will delay about $6 million in new programs and pull dollars from district-wide budget items, city officials said. In the end, high schools are expected to receive slightly more money next year, according to the officials."
The Boston Globe: Tourist Trap Or Living History? A Review Of Union Oyster House At 190
"In a city that prides itself on its history, it's one of a handful of truly historic eateries remaining. That makes Union a real institution. Its enduring popularity and exorbitant prices feed hopes it might rise above the gimmicky Wall Drugs of the world. Locals gather regularly at the raw bar downstairs, so the enterprise isn't based solely on tourists staggering in off the Freedom Trail in search of ye olde Authentic New England Experience. And Daniel Webster, according to the back of the menu, routinely slurped down six platefuls of oysters here, downing a "tall tumbler of brandy and water" with each plate. So let's start with the oysters. At $16.50 for a half-dozen, they're at the high end of the going rate for oysters in town, and a platter can be put together a la carte for considerably less at some pretty fancy joints. But would you get the Authentic New England Experience of six oysters crammed onto a warm plate so small that the back of each shell leaches gray New England mud onto the flesh of the oyster behind it? Would you, at some newfangled place with shaved horseradish ice and tiny forks and mignonette, learn to know the authentic taste of the silty beds where these creatures began their short lives?"
The Boston Globe: Union Oyster House Manager Responds To Globe Review
"The pettiness and glee Ramos reveals in his review of the Union Oyster House in Boston, the longest continuously operating restaurant in the United States, speaks volumes about the writer himself. Perhaps because Chipotle does not carry seafood and the Union does not offer ramen noodles and Red Bull, Ramos found himself out of his element. Or maybe Nestor was just having a bad day, as the recent double-duty mandate that requires Globe writers must also deliver the newspapers themselves may have left him feeling bitter and unfulfilled. Maybe a subscriber reprimanded Nestor for leaving the paper in the driveway and not on the porch. It seems on his trip to the Union Oyster House, Ramos found little to his liking. Unfamiliar with lobster scampi, perplexed by Indian pudding, and apoplectic that the Union Oyster House would dare have a gift shop inside the restaurant were all Ramos needed for his amateurish hatchet job."
This segment aired on March 11, 2016.