What Happens When A Duxbury Couple Sets Up Their 'Ask A Muslim' Table Around Boston
24:00
Play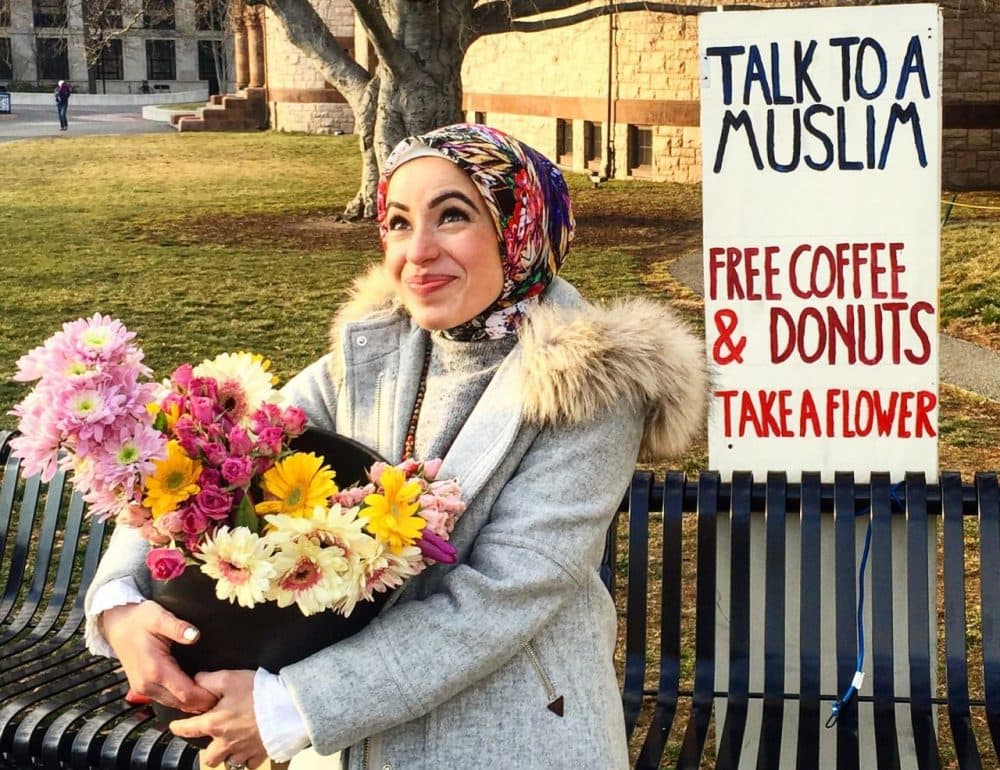 This article is more than 5 years old.
Where does Islamophobia come from, and how do you respond to it if you're Muslim?
In the past year, with terrorist attacks from Paris to San Bernardino, some members of the Muslim community, including here in Boston, say they're encountering new levels of anti-Muslim sentiment.
Last month, Boston composer Mehmet Ali Sanlikol, who is Muslim, told Meghna Chakrabarti about his discomfort with anti-Muslim rhetoric here in Boston following the terrorist attacks in the U.S. and Europe. He said he'd never felt that discomfort before, not even during 9/11.
"I think this kind of rhetoric has never been professed in the way that it is out there right now," he told us.
One Duxbury-based Muslim married couple — Sebastian Robins and Mona Haydar — felt that same discomfort after the attacks. They didn't even want to leave the house.
But then, they had an idea: set up a table, put up a sign that read "Ask a Muslim," hand out free coffee and doughnuts and just talk to people.
Guests
Sebastian Robins, runs the "Ask a Muslim" table with his wife, Mona.
Mona Haydar, runs the "Ask a Muslim" table with her husband, Sebastian. She's working toward her masters in divinity and tweets @mona_haydar.
Yasir Fahmy, senior imam at the Islamic Society of Boston Cultural Center, which tweets @isbcc.
More
WBUR: Faced With Fear, A Muslim Woman Makes A Stand — By Setting One Up
"So much so, in fact, that she set up a stand outside a library in Cambridge, Mass., with a big sign reading 'Ask a Muslim.' Along with a free cup of coffee and a doughnut, Haydar offered passersby an opportunity for conversation."
The Boston Globe: Coffee, Doughnuts, And A Muslim To Answer Your Questions
"Mona Haydar knew that when she set up two signs outside a Cambridge library last week with the words 'Ask a Muslim' and 'Talk to a Muslim,' she had to be prepared for strong opinions about her faith."
WBUR: Islamic Society Of Boston Cultural Center Selects Young New Jersey Cleric As Its New Imam
"The largest mosque in New England has selected a young cleric from New Jersey as its new imam."
This segment aired on April 20, 2016.