What The Suspension Of A Natural Gas Pipeline In Western Mass. Means For The State's Energy Future
08:24
Play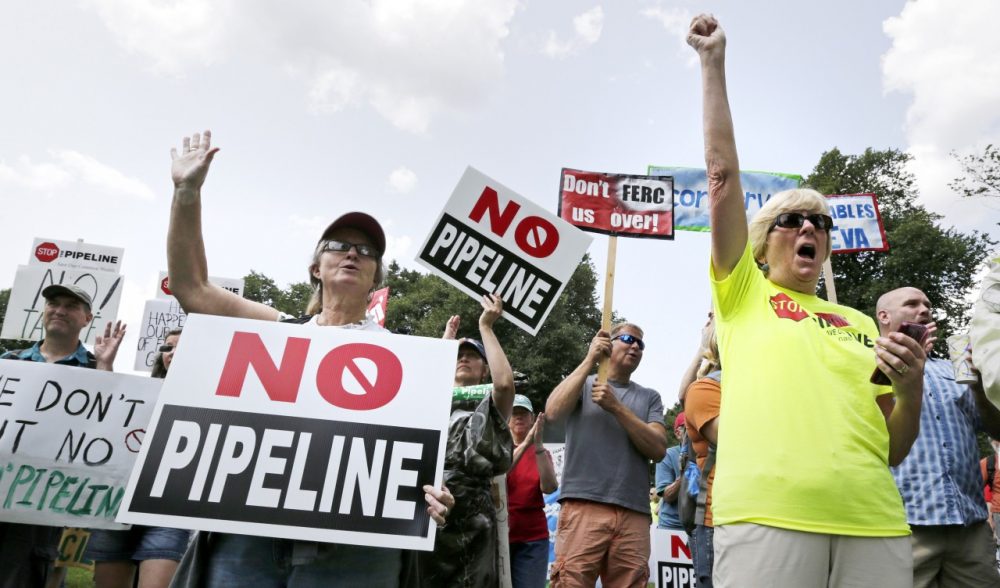 This article is more than 5 years old.
Opponents of a proposed natural gas pipeline that would have cut through parts of southern New Hampshire and Massachusetts are celebrating today after Kinder Morgan announced that they are suspending the controversial project.
Late yesterday, the giant energy company surprised just about everyone and announced it couldn't get the necessary financial commitments from its biggest customers to go head with the $3.3-billion endeavor.
Guest
George Bachrach, President of the Environmental League of Massachusetts, which tweets @EnviroLeagueMA.
More
WBUR: Kinder Morgan Suspends Work On Controversial Pipeline Project
"Less than a year ago, in July 2015, the company's board authorized Tennessee Gas Pipeline (TGP) Company to move forward with a $3.3 billion investment in pipeline capacity from Wright, New York, to Dracut, Massachusetts. On Wednesday, Kinder Morgan said that approval was based on contractual commitments at the time and expected commitments from additional gas distribution companies, electric distribution companies and other 'market participants' in New England. 'Unfortunately, despite working for more than two years and expending substantial shareholder resources, TGP did not receive the additional commitments it expected,' Kinder Morgan said in a statement on Wednesday."
Wall Street Journal: Kinder Morgan Unveils Further Cuts to 2016 Spending Plans, Profit Falls 27%
"Mr. Kean on Wednesday said Kinder Morgan reduced its projects backlog to $14.1 billion at the end of the first quarter, from $18.2 billion at the end of the fourth quarter. The backlog reduction was mostly driven by the removal of the Northeast Energy Direct Market project amid insufficient contractual commitments from New England customers and the removal of the Palmetto Pipeline project after unfavorable decisions by Georgia lawmakers that affected the project, Mr. Kean said."
This segment aired on April 21, 2016.