How Can Harvard Be Free, Fair... And Diverse?
11:30
Play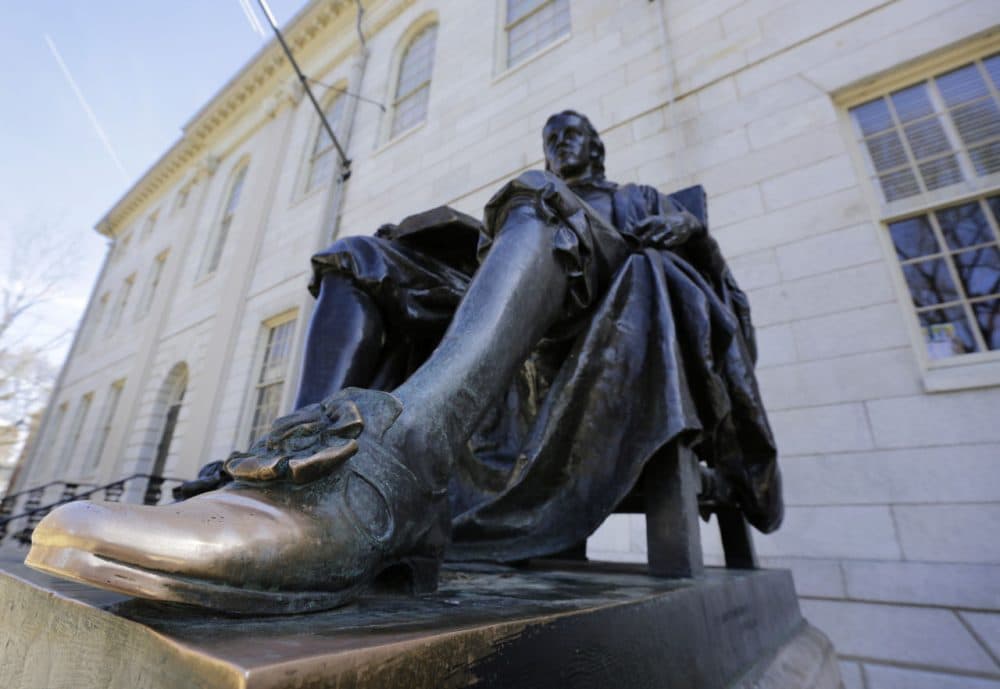 This article is more than 5 years old.
Ron Unz is running on a slate of four other Harvard alumni to make Harvard tuition-free and make the admissions process more transparent. When we spoke to Ron Unz about "Free Harvard / Fair Harvard" he said, "Broadening the applicant pool by making Harvard free plus encouraging greater transparency in the admissions process would have a tremendously positive impact on Harvard and encourage other universities to follow the same pattern."
Now, another group of Harvard alumnus has formed in opposition to Unz's campaign. It's called "Coalition for a Diverse Harvard" and argues that if elected to the board of overseers, the candidates on the "Free Harvard / Fair Harvard" slate might actually work to decrease diversity at the school.
Guest
Jeannie Park, a co-founder of "Coalition for a Diverse Harvard" which tweets @harvarddiverse.
More
Radio Boston: Ron Unz's Campaign To Make Harvard More Transparent — And Free
"Ron Unz built his fortune and his reputation running Wall Street analytics, a financial software company in Silicon Valley. Now, he's behind 'Free Harvard, Fair Harvard,' a campaign to make Harvard University tuition-free and make the university's admissions process more transparent."
The Harvard Crimson: Overseers Candidate Donates to 'Quasi-White Nationalist' Group
"Unz's public tax filings connect the Silicon Valley multimillionaire with VDARE, a group the Southern Poverty Law Center describes as an "anti-immigration hate website," in addition to several writers who have published articles arguing that white people are genetically superior and homosexuality is a transmittable disease, among other extreme views."
Ron Unz: My Stasi File Published in the Harvard Crimson
"Over the last dozen years I've certainly provided donations to a very wide range of political groups and individuals, including leftwingers, rightwingers, and libertarians. Many of these groups are on the political fringe and espouse controversial views on all sorts of different issues. I might agree with them on some things and disagree with them on others, but frequently find their ideas a useful counterpoint to the conventional wisdom presented in The New York Times and The Wall Street Journal, which I spend hours closely reading every morning."
The Harvard Crimson: On the Fallacy of Free Harvard/Fair Harvard
"These deep social schisms complicate the college admissions process, especially if it were altered to reflect Unz's vision. A system based solely on numbers—on test scores and grades—makes it easier to forget these truths."
This segment aired on April 26, 2016.