Week In Review: Mayor Walsh's Woes, Deflategate, Proposed Tobacco Ban
18:30
Play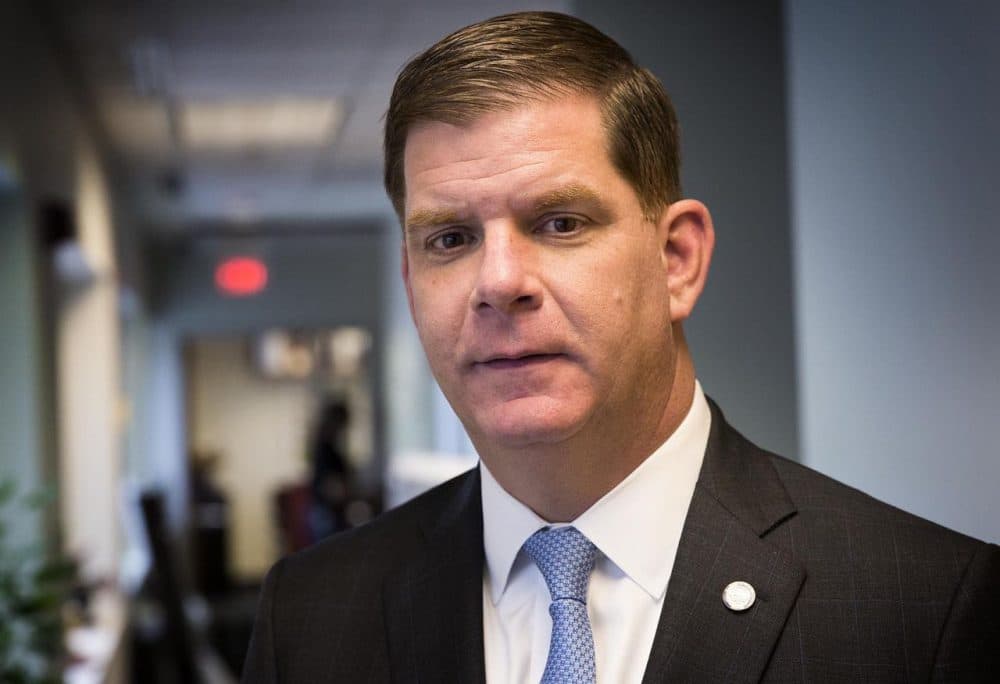 This article is more than 5 years old.
There was news this week that Boston Mayor Marty Walsh has been drawn into the federal investigation of allegations of strong-arm tactics used by union leaders against developers and other businesses in the region.
"The issue at hand is whether the permitting agencies in the city of Boston and other cities have been improperly used to put pressure on private citizens and developers to hire union labor," said former state inspector general Greg Sullivan. "And, if that is happening, it would represent a very serious thing and one that should be completely eradicated."
The events in question date back to when Walsh worked as a union leader, but before he became mayor.
"I never bullied anybody, any developer, I mean that's just not my style," the mayor said on Herald Radio Wednesday. "And, anyone that knows me knows that's just not my style. I just know that when I built these relationships, it was important for me to reach out and try and get more work for the men and women of the trades and whatever tools were at my disposal. And what I mean by that, there was opportunities for market recovery money and some other things. It's about building a dialogue and building a conversation."
Guest
Renée Loth, columnist for The Boston Globe and editor of Architecture Boston Magazine. She also writes for WBUR's Cognoscenti and tweets @reneeloth.
Jabari Asim, professor of creative writing at Emerson College and executive editor of The Crisis, the journal of the NAACP. He tweets @jabariasim.
More
The Boston Globe: Did Marty Walsh Cross A Line When He Stood Up For Working Folks?
"Such accolades from a president illustrate the conflicting narratives surrounding union activism. Precisely how Walsh stood up for working folks during those pre-mayoral days is the subject of a Boston Globe report that disclosed a 'sweeping federal investigation into allegations of strong-arm tactics by unions.'
The Boston Globe: Secrets Of The Grand Jury
"This case isn't an investigation into a bank robbery, where the question is not whether a crime occurred, but the identity of the perpetrator. The question here is whether a crime occurred at all in connection with labor officials' efforts to ensure that developers hire union workers. More significantly, the case involves constitutionally protected activities, free speech, and the right to engage in collective action."
Radio Boston: What Does Tom Brady's Suspension Mean For The Patriots?
"We discuss the federal ruling that Patriots quarterback Tom Brady must serve a four game 'deflategate' suspension imposed by the NFL. What does this decision mean for the Patriots? Is this the end of the 'deflategate' scandal?"
The Boston Globe: Brady Must Serve 'Deflategate' Suspension, Appeals Court Rules
"The lawsuit and appeal were less about Brady and deflated footballs and more about whether National Football League commissioner Roger Goodell had the power to deliver a harsh penalty for 'conduct detrimental' to the NFL under the league's collective bargaining agreement. Monday's ruling, adamantly in the league's favor, reaffirms Goddell's strength and his bargained-for authority to discipline."
The Boston Globe: Mass. May Raise Tobacco Age To 21 From 18
"The state Senate is poised Thursday to pass a bill that would raise the minimum legal sales age for tobacco products from 18 to 21, potentially catapulting Massachusetts to the forefront of national efforts to crack down on underage smoking. Only one state, Hawaii, has passed such a law."
CommonHealth: Mass. Lawmakers Unveil Bill To Raise Legal Age For Buying Cigarettes To 21
"A statewide ban on the sale of cigarettes and other tobacco products to anyone under the age of 21 cleared a legislative committee on Thursday, and supporters said they were hopeful for final passage within months."
This segment aired on April 29, 2016.