As Verizon Negotiations Begin, What's At Stake?
12:45
Play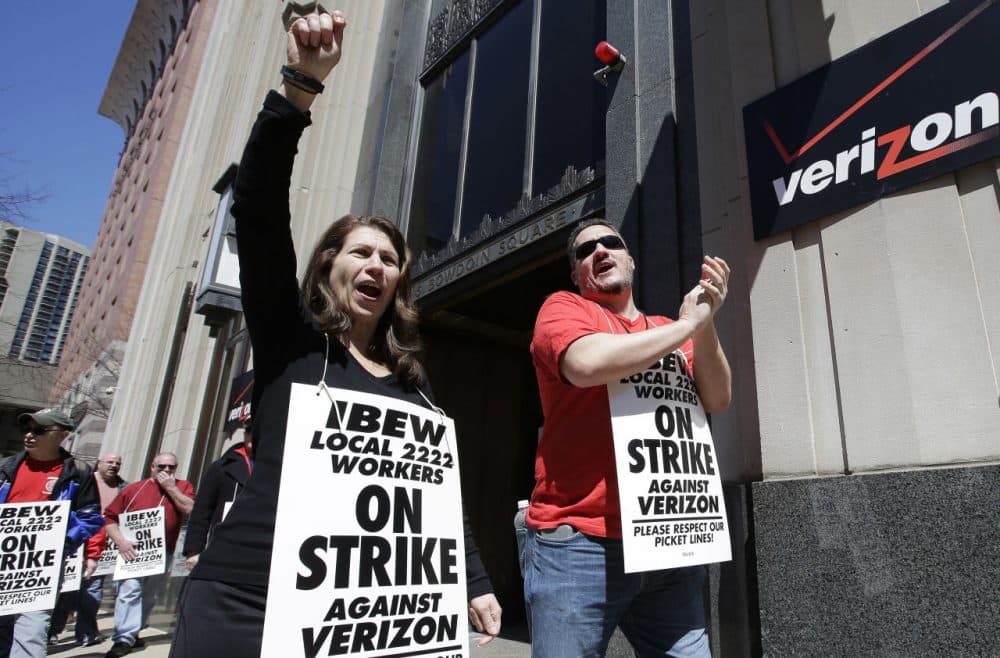 This article is more than 4 years old.
Verizon and labor union leaders are restarting negotiations Tuesday. For more than a month, about 40,000 Verizon landline workers have been on strike across the East Coast, in the largest labor strike in nearly five years.
The strike has made headlines and even garnered the political support of Democratic presidential candidates, but how typical is the story of these striking workers? And what does the strike tell us about the deeper story of where and how American unions should be placing their efforts?
Guest
Tom Juravich, professor at the Labor Center at the University of Massachusetts Amherst and author of "At the Altar of the Bottom Line: The Degradation of Work in the 21st Century," which includes a chapter on Verizon workers.
More
Marketplace: Verizon Strike Underscores Changes In Telecom
"(H)eadcounts of wireline call center and IT workers are on the decline along with that segment of the business...(because of) big changes in the telecom industry. People have mostly given up on landline phones. And growth in fiber-optic services is flat."
The New Yorker: The Verizon Strikers' Shrinking World
"(W)hat we are seeing is a fight between a company stuck in a business for which it has no enthusiasm, and workers stuck with a company to which there is no alternative...What's clear is that McAdam and others have a vision of the future with no wires and, consequently, with no unions."
The Nation: 40,000 Verizon Workers Launch One Of The Biggest Strikes Of The Decade
" Workers and union officials say they didn't have much of a choice but to strike. They maintain that after months of contract talks, Verizon has not eased up on its drive for concessions."
At The Altar Of The Bottom Line: Customer Service Representatives At Verizon
"With little emotional satisfaction and little need for problem- solving skills, it is no surprise that sales work provides less satisfaction, particularly for those reps who started in a service-oriented system or for those who prefer and excel at service-oriented work. The new paradigm at Verizon, however, is all about sales, all the time."
This segment aired on May 17, 2016.