11-Year-Old Boston Boy Swims 2 Miles Across The Strait Of Messina
Play
This article is more than 6 years old.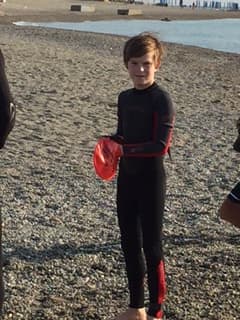 We've been watching Michael Phelps and Katie Ledecky go for the gold in the Rio Olympics. But, on the other side of the world, a Boston boy completed a feat worthy of Olympians.
Tancrede Roy is 11 years old, and on July 27, he became the youngest swimmer to ever complete the journey across the Strait of Messina, a channel of water between Sicily and the Italian peninsula.
Roy swam the two miles in one hour and seven minutes. In the water beside him were his parents, Stephen and Isabelle Roy. The family spoke with us over the phone from Burgundy, France about Tancrede's heroic swim.
Guests
Tancrede Roy, 11-year-old who swam more than two miles across the Strait of Messina. This fall, he begins sixth grade at the Kingsley Montessori School.
Stephen and Isabelle Roy, Tancrede's parents from Back Bay.
This segment aired on August 17, 2016.