Treasurer Deb Goldberg On Marijuana Legalization
Play
This article is more than 6 years old.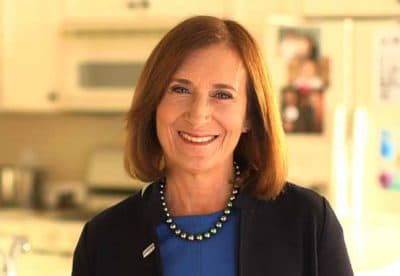 We met with Massachusetts Treasurer Deborah Goldberg to talk about how she's going about enacting significant parts of the recreational marijuana law that passed earlier this month. Her office will oversee the industry and appoint the three-member Cannabis Control Commission.
During our conversation, she touched on adhering to the timeline laid out in the ballot question, what she's still hoping to see, and what questions remain for her.
Guest
Deborah Goldberg, state treasurer. She tweets @masstreasury.
Interview Highlights
On The Timeline In The Ballot Question
"We, until anything changes, have to assume that the deadlines are the deadlines, but we are working collaboratively with all the folks both in this building and from the Yes on 4 campaign to execute the will of the people. That's what this is about.
"When I met with the Yes on 4 folks I said look, I'm a businessperson. And we're gonna get this right. I don't like absolute deadlines... When things have been said to me by others, well Colorado operated in that time frame — it's my understanding that Colorado has had several hundred fixes that they've had to do."
On Colorado's Timeline As A Blueprint
"Let's go back now and ask Colorado how it all went. And it didn't go very well. And we're not gonna compare Colorado homegrown to potentially what is Massachusetts homegrown, but the fact that whole counties are now voting to not allow home grow... Let's get it right so that we don't have counties or cities and towns passing referendums that say 'No homegrown.' I also think Colorado has learned in terms of edibles and packaging."
On Marijuana Taxes
"Colorado got a 29 percent excise tax. We have 3.7 ... My feeling is we have a multitude of taxes ... on alcohol, and that we should have the revenues to not only cover the operation, but to be able to benefit the local communities, who by the way, are going to incur a great deal more cost."
On The Cannabis Control Commission
"We are not aggressively seeking applicants — we are receiving resumes from applicants. But we visualize having people who've had experience with marijuana in the past, who have public service or regulatory agency backgrounds, and we also want a public health background. And we are not afraid to go outside of Massachusetts to try to find those with the most experience. Many of our professionals came out against the ballot question and so we need to have an open mind because we wanna have the best possible people."
On The Law's Home Grow Provision
"My job as treasurer is to help create economic stability in the state and one of those goals is to generate revenues for the state in many many different areas. And home grow — it interferes with what is the revenue generating aspect of the business. It's a question that needs to be addressed."
On What Questions She Still Has
"My question of the week is, show me the actual organizational structures that other states have used and then let's talk about what's worked best and what hasn't. What are those job titles? What are the job descriptions? I mean, I'm very technical here. The biggest question in my mind is what will the [request for quote] tell us? What are the legitimate time frames of implementation?"
On Why She Opposed The Ballot Measure
"What I talked about all the time were the issues around taking this kind of endeavor and putting it within a ballot question. And in particular, if you were to do a poll and ask people if they read the ballot question, I bet it would shock you how many people didn't. So they didn't know an array of issues. All they knew is they wanted recreational marijuana and that was it. And so consequently, my position was this is such an enormous task that to me this is not the way to drop this bill.
"... When you start a new business. The people who can get the investors to invest in their business are those who write the best business plan. I started having to write business plans over 30 years ago. And this business plan has been written for me. And then I'm the entrepreneur, if you want to call me that. That's where the conflict sort of comes into play. But I have found in my conversations with the Yes on 4 people, they get where I'm coming from. And so I don't think me having voted no impacts their belief that we'll do it right in this office."

This segment aired on November 30, 2016.