Sen. Ed Markey Talks Nuclear Weapons, Voter Fraud
13:00
Play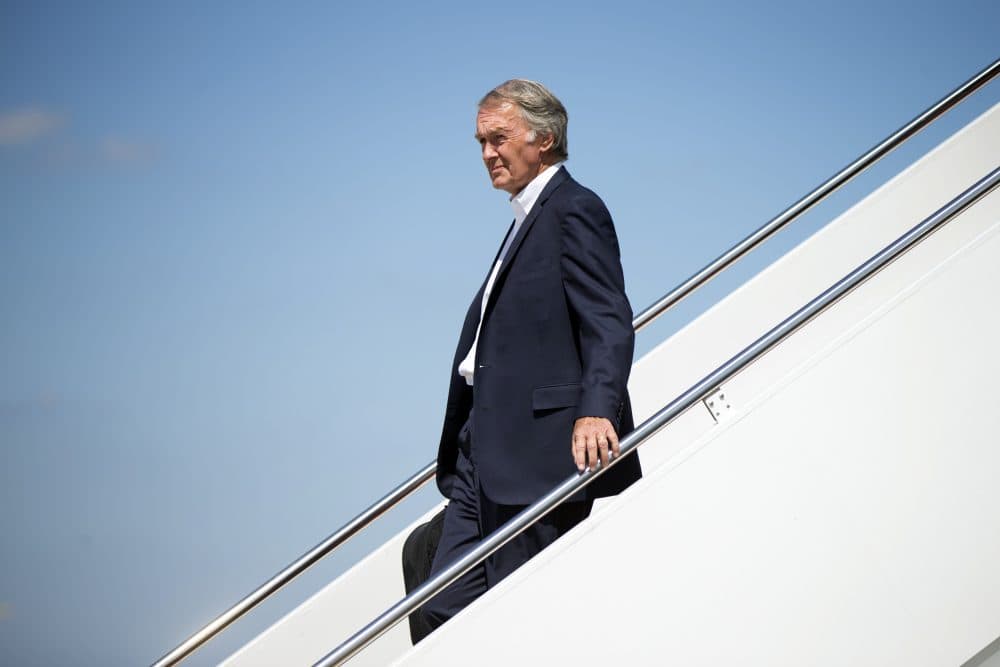 This article is more than 3 years old.
This morning, President Trump reiterated a claim for which there is absolutely no proof — that there was widespread voter fraud in the election that he won.
The top official who runs elections in Massachusetts is reacting strongly to the president's call for an investigation. Secretary of State Bill Galvin spoke to WBUR:
I find it disgusting that somebody who is the president of the United States would continue to say things that are so outrageous and untrue. Either put up or shut up. It's not right to be suggesting that people who are legitimate citizens who voted, who exercised their right to vote, who just didn't happen to vote for him, are somehow criminals, or illegal, or improper. Because they weren't. If he really thinks the election was rigged, then why don't we do it again? See if he wins? I don't think he will. So we're certainly not going to let him just throw mud on the citizens of Massachusetts.
Sen. Ed Markey joins us with his own reaction to Trump's statements, and talks about his call to strip the president of his ability to conduct a first-strike nuclear attack without a congressional declaration of war.
Guest
Sen. Ed Markey, U.S. senator from Massachusetts. He tweets @senmarkey.
Interview Highlights
On President Trump's executive orders overall
"I think that obviously he's fulfilling his campaign pledges but to what effect? He's gonna build a border wall, detain families and children at our border and turn back asylum seekers.
"What he's also gonna do is trigger a whole spate of raids, mass deportations, fear and terror within our immigrant communities. I don't think these policies are going to make America great or safer, they will isolate us and undermine our standing in the world. I think there's a part of Lady Liberty right now that is shedding a tear at Donald Trump's executive actions.
"Obviously, we support a policy of deporting those who have engaged in criminal activities. The problem with what the president just said is that he didn't say what he's going to do with young people, for example, who were brought here as children, as infants, who have gone through our school system in Massachusetts, who are honors graduate of our universities. But who now, are wondering, are they about to be deported? Are people about to knock on their door?
"The President did not distinguish between those who are engaged in serious criminal activity who of course, must be deported. And the millions and millions of people who are here, who are now fearful that their peaceful lives, their productive lives are now going to be put in jeopardy."
On president's executive order "cracking down on sanctuary cities."
"The mayor of Somerville, the mayor of Cambridge, they believe that they can make their city safer by having better cooperation between the police and the immigrant communities, that they don't live in fear of the police acting in an arbitrary way. And I defer to those mayors. They know their cities best.
"Yes, it's going to be a very punitive action which, President Trump undertakes if he tries to coerce cities that are acting in their communities' best interest to engage in activities which they believe actually counter-productively is going to increase the crime rate, increase the isolation of the immigrant community from the law enforcement officials with whom today, they do not have to fear."
On what Senate might do to counteract the executive orders
"... We're putting together a set of messages which we think are going to work in countering Donald Trump's attacks on all of the achievements of the Democratic party, on Medicare, Medicaid, social security, education, healthcare, over the years. And we are ready to fight. While simultaneously saying we are willing to work with the President if he wishes to negotiate but that is not Donald Trump ..."
On specific actions Senate Democrats plan to do
"That includes a comprehensive infrastructure transportation bill. Roads, bridges, rural broadband, a comprehensive package of infrastructure improvements across the country that can put millions of Americans back to work. And that's the kind of an area where we have a chance potentially to work with Donald Trump in a constructive way.
"But again, it's going to ultimately be up to President Trump if he wishes to work in a cooperative fashion with Democrats on issues like that."
On his filed legislation on limiting the president's first strike capability
"I feel compelled to do it because Donald Trump has already said that he would welcome a nuclear arms race with Russia. He supported additional acquiring nuclear weapons like Japan, South Korea, and Saudi Arabia. And he has said that he would consider launching nuclear attacks against terrorists. And that is a profoundly dangerous proposal.
"Donald Trump just doesn't understand that nuclear arms race and how it can spin out of control ... So the sole purpose of nuclear weapons is to deter other nuclear weapons ... We should not allow President Donald Trump or any president to use nuclear weapons except in event of a nuclear attack against the United States."
This article was originally published on January 25, 2017.
This segment aired on January 25, 2017.