'Stand Your Ground' And America's History Of Lethal Self-Defense
Play
This article is more than 6 years old.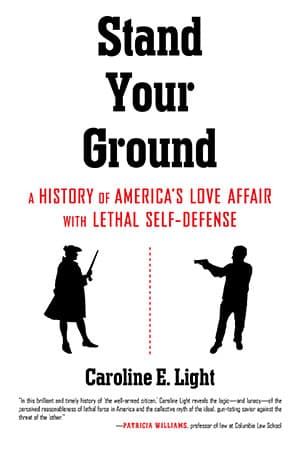 It's been five years since the shooting death of 17-year-old Trayvon Martin in Florida. Martin was shot by George Zimmerman who claimed self-defense. Zimmerman and his family claimed that Martin threatened him and attacked him, forcing him to shoot. Zimmerman was found not guilty in 2013.
One of the laws surrounding the case was known as "stand your ground." Zimmerman waived his right to a "stand your ground" hearing before the trial. Florida passed the first such law in 2005 that allows people to stand their ground instead of retreating, in order to protect or defend themselves.
Colorado's version of the law is even named after Clint Eastwood's famous quote, "Make My Day."
Harvard historian Caroline Light calls these laws part of the, "Do It Yourself Security Citizenship" movement. It's a movement she says crosses political spectrum and is provoked by anxieties in the world that lead us to think, as NRA executive vice president Wayne LaPierre has said, "The only thing that stops a bad guy with a gun is a good guy with a gun."
Caroline Light will be reading on Thursday, Feb. 16, 2017 at the Harvard Book Store.
Correction: An earlier version of this article said one of Zimmerman's early defenses was a law known as "Stand Your Ground." Zimmerman did not cite the law in his defense during the trial, but it was cited in jury instructions.
Guest
Caroline Light, director of undergraduate studies in Studies of Women, Gender and Sexuality at Harvard University. Her new book is "Stand Your Ground: The History Of America's Love Affair With Lethal Self-Defense."
This article was originally published on February 15, 2017.
This segment aired on February 15, 2017.