Environmentalist Bob Massie Eyes Governor's Office
15:09
Play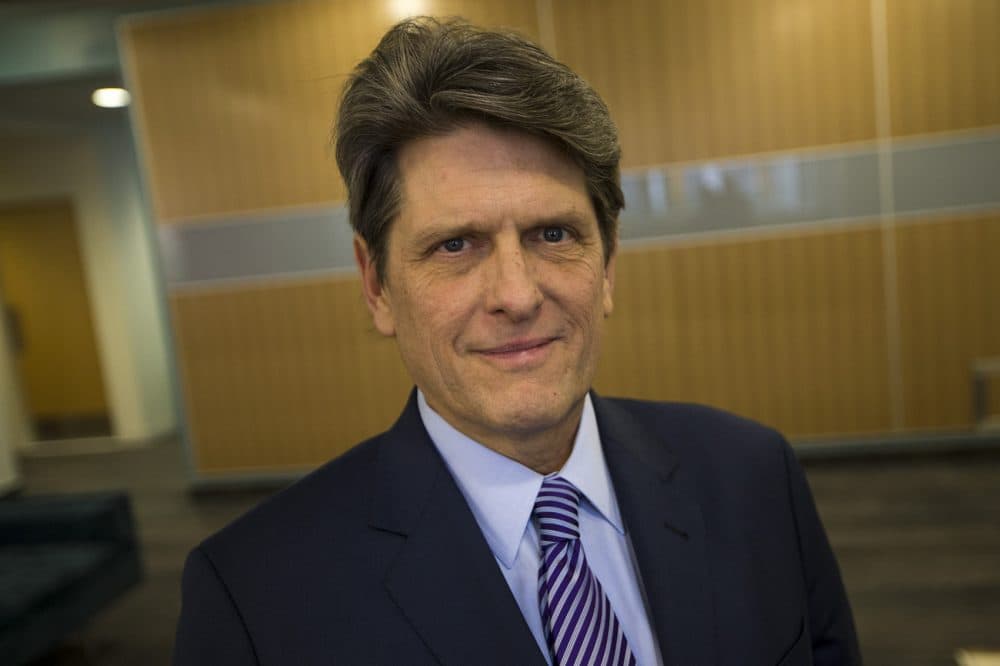 This article is more than 2 years old.
Gov. Charlie Baker is riding high in the polls. One recent survey found him to be the most popular governor in the country.
As he enjoys the high numbers, a line is forming to take him on in the 2018 gubernatorial race.
Jay Gonzalez, former Gov. Deval Patrick's budget chief, has declared his candidacy, and Newton Mayor Setti Warren is laying the ground work for a campaign.
Today we're joined by environmentalist and entrepreneur Robert Massie. Massie recently opened a fundraising committee and says he's ready to go.
Radio Boston will be speaking with the other candidates for governor as the race continues.
Guest
Robert K. Massie, former executive director of UMass Boston's Sustainable Solutions Lab. He tweets @bobmass.
Interview Highlights
On Challenging Baker
"Gov. Baker is a manager who manages, I think, small scale problems and tries to move things forward incrementally, kind of baby steps. But we have deep structural problems in Massachusetts that require us to be honest, face them, and address them. And they are deep economic problems. They're long term issues around transformation of our technologies and our energy. There are problems with our democracy and defending our democracy from the attacks by the White House. So there are many, serious problems and he has not demonstrated a willingness to take them on."
"... Gov. Baker has just taken down his periscope and gone under water. He didn't show up at the Women's March. He didn't go to the airport at the time of the Muslim ban. He didn't go to the Copley Square defense of our constitutional rights. He didn't go to the science March. I doubt he's going to the Climate March. He's doing whatever he can to keep his head low, and as a result I think he's actually betraying our politics and our citizens."
Vision For Massachusetts
"The bigger question is, 'Where do we as a state want to go and be in 10 years?' We have other states that are looking at, can they provide free higher education? In New York, that's happening now. That discussion isn't even open. We have other states and countries that are moving far more rapidly around renewable energy. We waste $18 billion every year importing fossil fuels that we could be phasing out. There are countries the same size as Massachusetts that have already hit 50 percent renewable energy, which is much cheaper and obviously much healthier for the environment and for public health. And on and on and on. We have deep structural problems in the budget that can't continue to be fixed by little games and moving things around."
"... The prosperity we have now is because people built transportation in the 19th and 20th Century. We are not laying down that kind of infrastructure to prosper in the next 20 or 30 years. That's the kind of things we need to be doing. That's regional transportation. That is, as I said, regional energy. It is all kinds of new technologies that are available, but will not flourish unless they have leadership from the corner office."
Shaping His Worldview
"As a boy I suffered from a difficult illness called haemophilia which meant that I couldn't walk for most of my childhood. I was able to come out of that experience through the support of many people and through technology and it taught me some lessons about just how hard it can be to move forward when you have certain kinds of impediments. How much we need to support each other. So, as I got older, I realized that all of the things that you mentioned are connected: our economy, our environmental health, our public public health, our education. They're our interconnected ecosystem, if you will, of creating a prosperous community. And too often these things are addressed in isolation. "
The Democratic Party
"What everyone realizes is that the long-term Democratic Party politics and policies, which have supported families and workers, we may have been a little distracted from those over the last few years. So we just have to go back to the basic values, that go back to Franklin Roosevelt, that people need a good home, a good school, a good doctor, a good job, and then they can build a life depending on the energy and commitment and insight that they have.
"So we've lost that, and because we're an unequal society one of the problems is the people at the top when they have trouble with the home, school, doctor, job they have enough money to go get it from somewhere else. But people in lower income brackets they don't have that extra resilience. They don't have those extra resources. And so that's why when you have expanding inequality you also see increasing pressure on people who are struggling. And that's a special responsibility of the governor to point out that to prosper as a state we have to prosper together."
This segment aired on April 25, 2017.