Top Intelligence Officials Testify Before Senate Committee
16:02
Play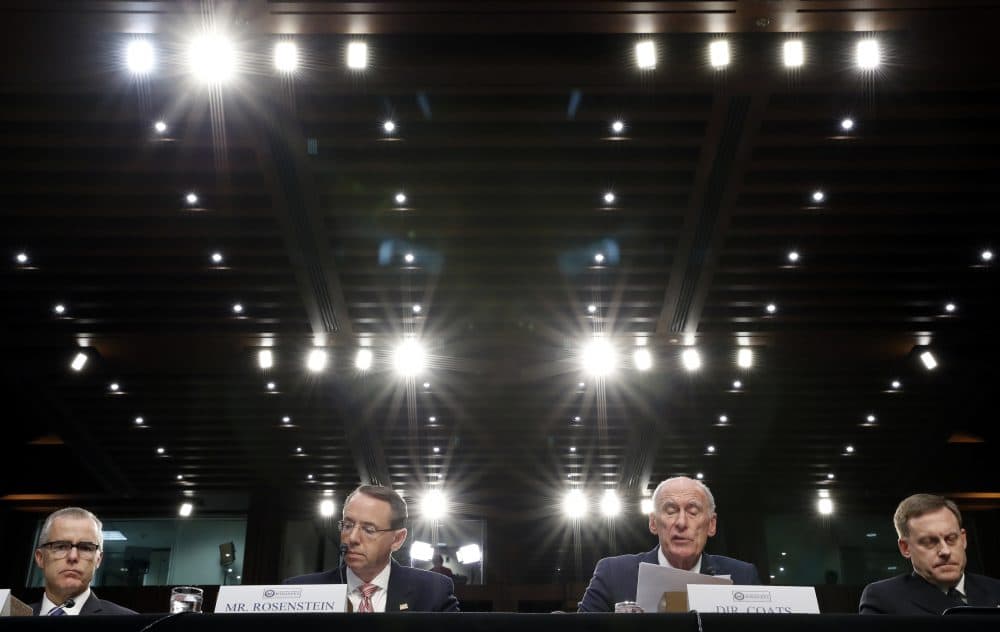 This article is more than 4 years old.
We will not discuss private conversations in a public hearing.
That was what today's testimony before the Senate Intelligence Committee boiled down to when the nation's top intelligence officials were asked repeatedly if President Trump had asked them to push back against the FBI's investigation of the Trump Campaign.
Sen. Mark Warner, Democrat of Virginia, began the questioning by asking, "In your experience, would it be in any way typical for a president to ask questions or bring up an ongoing FBI investigation, particularly if that investigation concerns associates and individuals that might be associated with the president's campaign, or his activities?"
Admiral Michael Rogers, director of the National Security Agency, responded by saying, "In the 3-plus years that I have been the director of the NSA, I have never been directed to do anything that I believe to be illegal, immoral, unethical or inappropriate. And to the best of my recollection, during that same period of service, I do not recall ever feeling pressured to do so."
Warner doubled down, asking, "Did the president in reports that are out there ask you in any way shape or form to back off or downplay the Russia investigation?"
Rogers replied, "I'm not going to discuss the specifics of conversations with the president of the United States, but I stand by the comments I just made to you, sir."
Rogers was referring to yesterday's Washington Post story that says Trump asked Daniel Coats, the director of national intelligence, to get former FBI Director James Comey to back off from his investigation into the Trump campaign. The Post reported: "The interaction with Coats indicates that Trump aimed to enlist top officials to have Comey curtail the bureau's probe."
But today, before the Senate Intelligence Committee, Coats refused to give details about his conversations with the president, saying, "I do not feel that it's appropriate for me to, in a public session, in which confidential conversations between the president and myself — I don't believe it's appropriate to address that in a public session."
Maine independent Sen. Angus King was not satisfied. He sharply questioned each member of the panel in turn. He asked Rogers, "Why are you not answering these questions? Is there an invocation by the president of executive privilege? Is there, or not?"
Rogers replied, "Not that I'm aware of."
King shot back, "Then why are you not answering the questions?"
Rogers said, "Because I feel it is inappropriate."
King's reply? "What you feel isn't relevant, admiral."
King also questioned Acting FBI Director Andrew McCabe about why he wouldn't reveal details of his conversations with his predecessor. McCabe asserted that "It would not be appropriate for me sir to discuss issues that are potentially within the purview of the special counsel's investigation."
King said, "So it's your position that the special counsel's entitled to ask you questions about this, but not an oversight committee of the United States Congress."
As he closed today's hearing, Sen. Richard Burr, Republican of North Carolina, asked each intelligence official to take a message back to the administration — that they cannot hide things from the Senate Intelligence Committee, and are required to be fully forthcoming. Burr continued, "At no time should you be in a position where you come to Congress without an answer. It may be in a different format, but the requirements of our oversight duties and your agencies demand it."
Sen. Warner ended with this: "Again, I want to thank all the witnesses. But I come out of this hearing with more questions than when I went in."
Some of those questions may be answered tomorrow, when former Comey is scheduled to testify before the same committee.
Guest
Matt Viser, deputy Washington bureau chief for the Boston Globe. He tweets @mviser.
This segment aired on June 7, 2017.