What We Learned From Former FBI Director James Comey
49:00
Play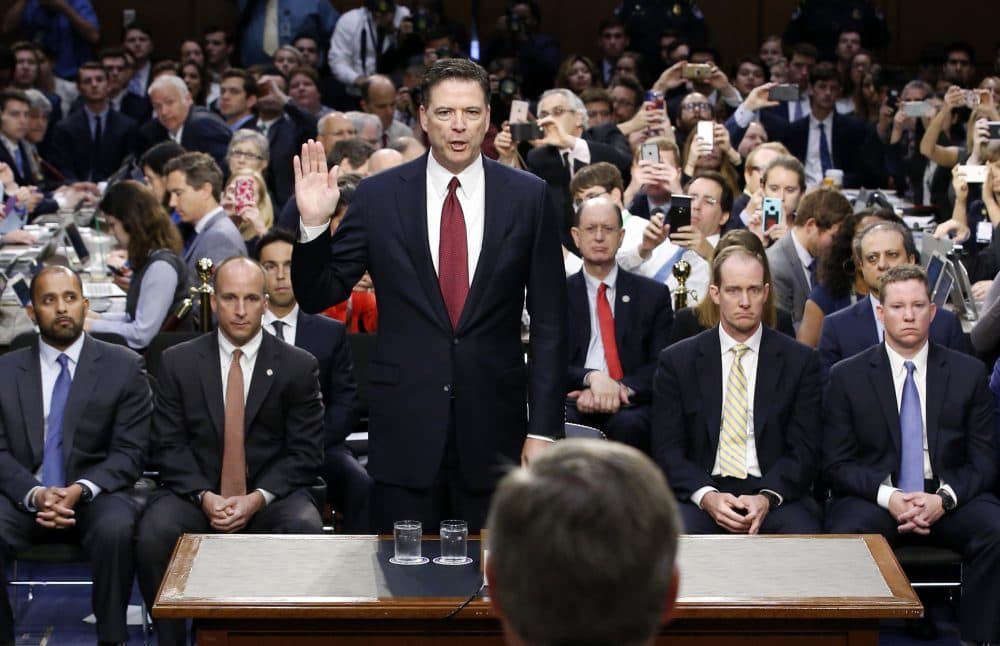 This article is more than 4 years old.
Thursday, former FBI Director James Comey gave two and a half hours of highly anticipated testimony before the Senate Intelligence Committee.
Comey was repeatedly asked about details revealed in his written testimony, submitted Wednesday. Specifically, he was asked why he took it upon himself to write memos of every visit and call he made with President Trump.
"I was honestly concerned that he might lie about the nature of our meeting," said Comey. "So I thought it really important to document."
Comey also confirmed the serious nature of the Russian hacking in the 2016 election.
"There should be no fuzz on this whatsoever," said Comey. "The Russians interfered in our election during the 2016 cycle. They did it with purpose, they did it with sophistication, they did it with overwhelming technical efforts, and it was an active measures campaign driven from the top of that government."
Guests
Sen. Richard Blumenthal, Democratic senator of Connecticut. He tweets @senblumenthal.
Matt Viser, deputy Washington bureau chief of The Boston Globe. He tweets @mviser.
Nancy Gertner, WBUR legal analyst, former federal judge and a professor at Harvard Law School. She tweets @ngertner.
Donald Stern, former U.S. attorney for Massachusetts from 1993 to 2001, and managing director of corporate monitoring and consulting services at Affiliated Monitors.
Kim Alfano, Republican consultant with Alfano Communications. She tweets @alfanocomm.
Interview Highlights
Donald Stern on what Congress heard in Comey's testimony
"[Comey] was not prepared to answer the ultimate question here, which is: Was this obstruction or what did the president intend? I think you have to look at all the circumstances. I think hopefully that's what Congress will do and I know that's what [Special Prosecutor] Bob Mueller will do ...
"It's rare in any criminal case, certainly when you're talking about a potential obstruction case, that the person says, 'Now let me tell you, I wanna obstruct justice here.'"

Former U.S. Attorney Donald Stern
That's just not the way it works. It's the whole fabric of circumstances. So here you've got the president's own tweets, you've got the direct conversation in the Oval Office and on phone calls ... and of course ultimately, the firing of James Comey as director of the FBI. So it's not one thing."
Donald Stern on Comey's reveal that he leaked his memos
"I don't think that was the way to go. I'm not applauding the fact that Jim Comey was the one who leaked it to the press. I think there are probably some other alternatives including going to Congress and providing that information."
Senator Richard Blumenthal on his reaction to the testimony
"I came away with greatly deepened and enhanced concerns. Because Jim Comey presented a picture that was chilling, it was riveting, of a president abusing power and putting himself above the law."
Senator Richard Blumenthal on what he plans to do next
"I am going to call for the Attorney General of the U.S. Jeff Sessions and his deputy Rod Rosenstein, to come before the [Senate] Judiciary Committee to offer additional evidence, in public, under oath, as to why they failed to safeguard the integrity of the FBI when it was threatened in this way. And they will have to answer about potential conversations with the Russians which Jeff Sessions had, and other facts which also reflect on this investigation ...
"I also think Jim Comey oughta be subpoened to the Judiciary Committee as well."

Sen. Richard Blumenthal
I hope it will be as soon as possible — in a matter of days or weeks."
Judge Nancy Gertner on what Comey's testimony means for President Trump
"First of all, I want to say that even if [Trump] hasn't been under counterintelligence investigation, what we've heard today suggests that he is now.
In other words, Bob Mueller is now investigating the President, it sounds like for obstruction of justice. And he's doing so because of the words he said, which again, the standard for obstruction of justice is, 'Are these words or are these acts naturally and probably going to lead to interference with the due administration of justice?' ...
There is certainly enough here to begin to begin an investigation for obstruction of justice. The question, was this an inadvertent comment of the president? Criminal law requires a certain intentionality ..."
Judge Nancy Gertner on the defense of not knowing
"It is not the remotest defense that [Trump] is incompetent at the job and doesn't respect the boundaries of the FBI and the office ... He may not have understood that he was violating the law — ignorance of the law is no defense. But that he understood that he was pressuring the head of the FBI who had a 10-year term, seems clear.
"In my years on the bench ... people get convicted on circumstantial evidence of obstruction of justice."

Judge Nancy Gertner
Judge Nancy Gertner on the questions she still has
"[Trump's] asking to shut down the Flynn investigation. Why? Why of all the things — the investigations that are swirling around — what does that connote? What is Flynn gonna say? What does Flynn have on the president? Why would you do that, cause he's a 'nice guy'? Why would he go out of his way in that regard? That, it seems to me, is a very central issue here."
Kim Alfano on if she believes Trump's attorney
"I would err with Donald Trump that he was, in his mind, on his own reality TV show. And I can hear him saying those words ['I need loyalty'], maybe channeling the Godfather. I don't think that Donald Trump necessarily had criminal intent on his mind with what he was doing, I think he honestly just sees himself in a wholly different light than politicians are used to and just works in a wholly different way ... I just think it was drama vs. the legality."
Kim Alfano on how the testimony looks to Trump's base
"I think it's a complicated thing for the president's base. They wanna like him and they've already given him a pass on his bluster and his bravado and that's kindly stating it ...
Those of them that have appreciated [Trump] for his policy or what he outlines as what he wants to get done have said, 'We don't care if you're a jerk. We don't care if we don't wanna have a beer with you. We want you to do what you said you're gonna do.'
"I think this kind of thing, while it's good TV, good for some soundbites, in 18 months, it's not gonna be what people are gonna look back on and make a decision on."

Republican consultant Kim Alfano
What they're gonna make a decision on is, did you actually cut my taxes? Did you get me a job? Did you make my health care more affordable? And if we don't get things like that done, then we're in trouble. This kind of back and forth, if it doesn't rise to any illegality that's ever proven, it's just show. It's just drama."
Kim Alfano on her advice to Republicans
"I think that if I was advising them, I would say keep quiet, keep working on the laws we want to pass and the issues. And 18 months is far away — you gotta get something done by then. So keep your head down and say as little as possible and get away with it, because in 3 days, this will be old news and we'll be onto the next thing."
This article was originally published on June 08, 2017.
This program aired on June 8, 2017.