What Uber CEO Travis Kalanick's Departure Means For Women In The Workplace
10:37
Play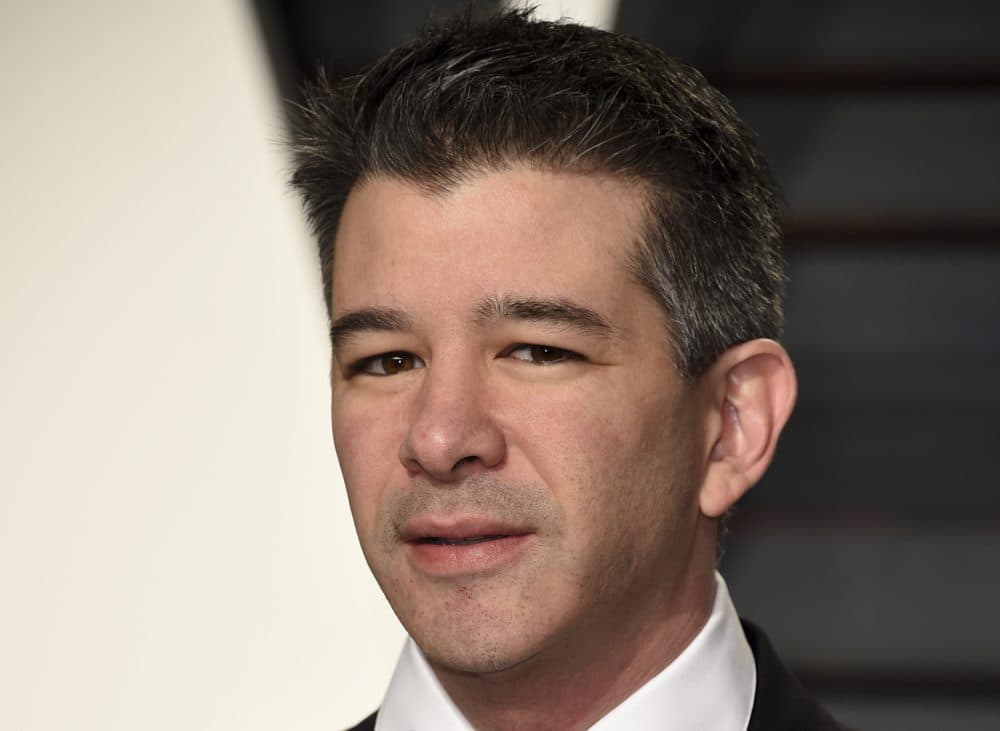 This article is more than 4 years old.
Uber CEO Travis Kalanick resigned late Tuesday night, and although he is still on the company's board, his ouster feels like the almost-inevitable conclusion to months of bad press that exposed sexual harassment and discrimination at the company.
So this is a good thing, right? That the CEO of a troubled enormous organization can be held to account? Some in the business media think so. The magazine Fast Company put up this celebratory blog post: "Travis Kalanick's Uber exit is another nail in the coffin for toxic masculinity in company culture."
But does this really signify a shift in the culture of Uber, and of Silicon Valley? And what does it mean for women in business and technology?
Guest
Jesse Mermell, president of the Alliance for Business Leadership. She tweets @jessemermell.
Interview Transcript
So, is Travis Kalanick's departure a nail in the coffin for toxic masculinity in workplace culture?
I'd subscribe to that if Uber had started out in 2009 with a culture that welcomed and embraced and was comfortable for women and people of color. That would have been the real nail in the coffin, that such a huge company understood the value of taking that path and went there from the get-go. I think that what's happened to Travis Kalanick is the right thing, but I'd be in a more celebratory mood if we were talking about how Uber came out of the gate embracing these values because it wasn't just the right thing to do, but they also knew it was good for business.
It seems to me that Uber wouldn't have found itself in the place where it is today if [former Uber engineer] Susan Fowler had not had the courage to go public. In a blog post, she described sexual harassment and terrible HR policies at Uber. That blog post talked about how the entire company was riddled with this stuff. And we wouldn't have known about any of it unless she had chosen to go public.
And we have to imagine she was not the first. Uber has been around since 2009, and Susan Fowler came out a mere few months ago. She was not the first. She was just the first who found herself in a position to be able to come forward. We all owe her a lot for that. It takes a tremendous amount of courage. But no woman or employee of any stripe should have to feel that way in their workplace.
Kalanick is out, other C-suite level folks are out, there are changes at the board, though Kalanick himself will still be on it. Will that be enough to change the culture of a workplace whose corporate identity was built around this machismo?
The idea that Travis Kalanick is staying on the board is laughable. It makes me feel that they are perhaps looking more for the PR points of making this change, rather than really internalizing a major culture shift. They are going to need to bring in a CEO who is serious about creating a new culture in the company. We know about 20 Uber executives have been fired over the last few months. They are going to have to make sure that any remaining bad apples are gone, and they are going to need to get serious about changing their culture, and I think that's going to be really hard.
I have to point out, I work with the Uber team here in Boston, and I have had nothing but wonderful experiences with a largely female and diverse leadership team. I want to be careful not to paint every Uber employee with a broad stroke, but clearly the corporate culture at the top was incredibly toxic. And it's not a problem just because it's a really bad thing and people's feelings have been hurt. For as hard-charging as Uber likes to think that they have been, they have inevitably left money on the table by creating a sexist, discriminatory, intolerant culture. All the studies bear out that it is bad for business when you don't create an inclusive environment.
Uber finally came out with its first report on employee diversity in March. That report found that — not including drivers — 36% of the company's employees are women, 50% are white, 31% are Asian, 9% are African American, and only about 6% are Hispanic. That puts them in line with the rest of tech, right?
But it's 2017, and for a company that claims to be on the cutting edge of everything, the fact that they were okay with being right in line with everyone else but not okay with being right in line with everyone else in other areas of their corporate culture, I think says everything.
How much does what's happening at Uber — Kalanick being forced out, by investors, no less, might redound across the rest of Silicon Valley or business leadership as a whole? Are other CEOs going to take note and say, maybe we ought to change how we do things too?
I hope so. I'm trying not to be cynical about this. I'm trying to bring some optimism to this situation. There are a portion of business leaders who are motivated by the fact that this is the right thing to do. But for others, they need to see how this impacts their bottom line, and certainly what Uber has experienced over the past several months illustrates that in very clear terms. But the research has been abundantly clear for decades. MIT reported in 2014 that offices with a 50-50 split, male and female, saw their revenues go up by 41%. McKinsey has released multiple studies along these lines. I hope that this is the giant frying pan that hits corporate America over the head and makes them wake up, because the information has been out there. They just need to have a light bulb moment, and dude, fingers crossed that this is it.
And the thing that I haven't been able to let go of is that we wouldn't have arrived here if one person, Susan Fowler, hadn't had the courage to come forward. It's not like Uber is going through a noble act of self-examination. It was forced to do this by a courageous woman.
I mean, tale as old as time, right? This isn't a unique situation for Uber, in terms of sexism in the workplace and in terms of one person who in some way felt "other" being brave enough to come forward. Unfortunately, I don't think that we're going to see the end of those examples any time soon. So I completely and totally agree with you. We are not here because of some deep soul-searching on the part of Uber or some other company. We are here because someone decided that she couldn't take it anymore, and wouldn't let her colleagues take it anymore, and stood up for herself and on their behalf, and she should be roundly applauded.
Is there a generational shift going on here? Is there a growth in the recognition of the strength that diversity brings to business...and real change afoot?
Yes, but it is slower than it needs to be. So many of the business leaders that we work with at the Alliance for Business leadership feel this way, but the shift is really noticeable from a generational perspective. These things typically don't have to be explained when I'm talking to a new CEO who is in their 20s or 30s and is launching a startup. They totally get it. It's their values and they understand the business value as well. But I think change is going to take allies at all levels, and Susan has proved that. It was not corporate leadership at Uber forcing this change. This was a woman smack-dab in the middle of the company. Women are going to have to stand up for themselves and other women. But women and people of color, and people in the disability and LGBT community, are going to need people who don't look like them to be allies. Not that we need battles fought for us, but you need people to have your back and to amplify your message. So we have to turn to leadership to help us make these changes, but we also have to turn to our allies and understand that we all need to wage this battle together.
So not quite a nail in the coffin yet.
A step in the right direction, but I'm not going out for drinks to celebrate.
This article was originally published on June 21, 2017.
This segment aired on June 21, 2017.