Mass. Midwife Sees Migrant Crisis Firsthand On The Mediterranean
Play
This article is more than 5 years old.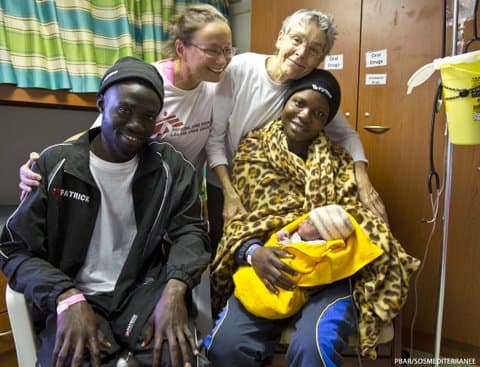 Gill resident Liza Ramlow spent three months in the middle of the crisis on the Mediterranean.
As a member of Doctors Without Borders, she worked on a search and rescue boat, scouring the sea for refugees and migrants. Her boat, the Aquarius, picked up people fleeing Libya for refuge in Sicily and southern Italy.
The ones they found were lucky: According to Doctors Without Borders, one out of every 41 people who attempted to leave Libya by boat died trying. Last year, more than 4,600 people drowned or went missing attempting to cross the Mediterranean Sea.
As a midwife, Ramlow worked with many women who made the journey, both pregnant and not, and she kept records of their stories and what they'd gone through.
Guest
Liza Ramlow, retired midwife.
Interview Transcript
You spent three months on the Aquarius, this boat operated by Doctors Without Borders. What was that like?
It brought me right into the middle of a worldwide crisis that I didn't understand as well as I could have when I went. But I sure understand it now, having met the people who were in the middle of it. We were out at sea in international waters, never closer than 12 nautical miles to the coast of Libya. And then we were directed to the vessels — the ships in distress — that were found by the rescue commission stationed in Italy. So they would send us, for the most part, to the boats we needed to find. Sometimes we found them on our own. They were these rubber boats that are very flimsy, or wooden boats that are cobbled together and not meant to go very far. They make it just into international waters and then they run out fuel or the boat starts to deflate and sink.
Given that you are a midwife, a lot of the people you assisted were women, children, or infants. Tell us about the experience of their journeys.
The most central lesson is that these days, the best way to be accepted by an immigrant in another culture is to be a victim. Victim of conflict, victim of abuse of some kind, driven out of their country. Those are the people that we accept, and most of those people will find sanctuary or asylum. But what we ought to be doing is thinking of those people as the same kind of courageous people that our forebears were, who came to this country. They are absolutely amazing women. I can think of one woman — her name was actually God's Choice. She left the detention center [in Libya] when 42 women were shot by the guards in that place. Not knowing where she was going, she ran, and she did make it to the beach. Women were killed on the beach. A couple of them were trampled to death right in front of her. But she got on the boat, and on the boat, she stood for nine hours, because she knew that if she sat down it would be dangerous for her. One of the other fatalities that we encountered was another woman on that boat who was in fact sat upon and trampled to death. It's a panicky situation when a boat like that starts to go down. But God's Choice knew what she wanted to do. And one of the amazing statements that she made to me really was seeking an education. She wanted to support her family back home in Nigeria. And she said, with education, there is one light shining on the family, which will shine on the others. So I can't disappoint my family. I must succeed.
Did you encounter many women who had experienced sexual violence?
Yes. One of my jobs was to help those women tell their stories, and to make a safe space for them so they could tell those stories, and we could offer them what medical treatment we have available post-rape.
Was that common?
Very common. Rape is used in that setting, in Libya, as a tool of subjugation and control, for both men and women alike.
Has the flow of migrants reduced? Or is it just that we in the United States are not paying attention as much as we were two summers ago?
It has not reduced at all, no. Despite the dangers, despite what life is like in the human trafficking center that is Libya, people are making that journey, because they want a better life for themselves, for their families. And they don't know how to achieve it in their own countries where governments are challenged to put together to put together an infrastructure that works for all their people, for instance.
Were there instances where your boat, the Aquarius, was not able to get to people fast enough?
Yes. Once we had the boats in our sight, we were able to take care of them. We had an amazing rescue team in the SOS people. They were the ones who got the people off the boats. But we would be so busy with some boats that we couldn't attend to others that were a little distance away. Sometimes there were other actors in the area who could help, and sometimes there were not.
This segment aired on June 21, 2017.