Attorney General Maura Healey On Suit Against Betsy DeVos
Play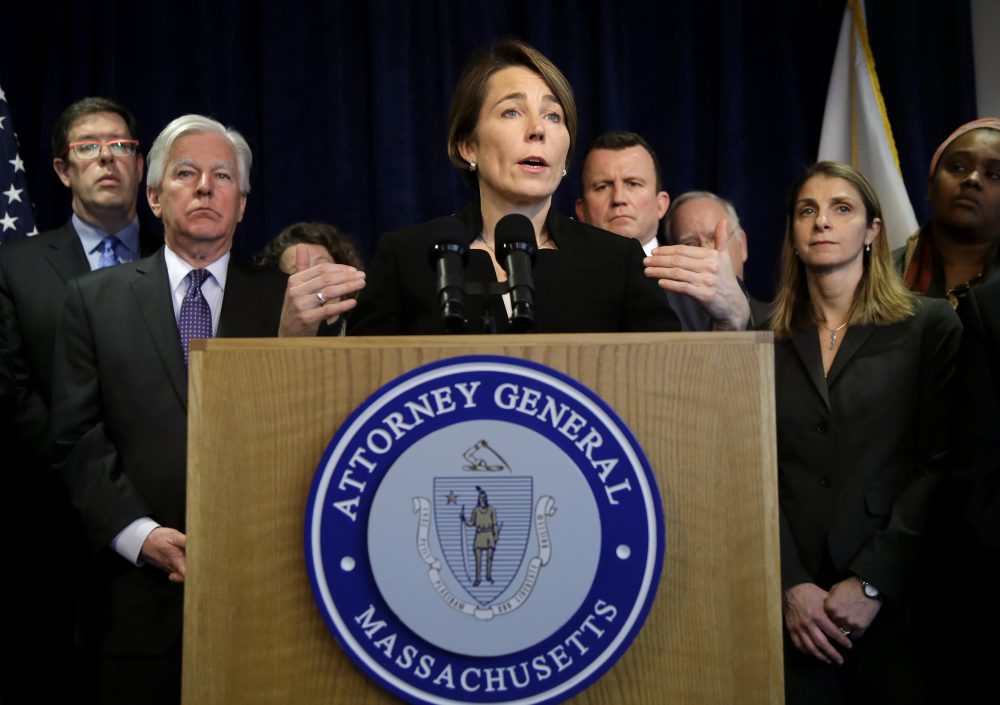 This article is more than 5 years old.
Eighteen states, led by Massachusetts Attorney General Maura Healey, have filed suit against U.S. Education Secretary Betsy DeVos and the Department of Education.
The states say that DeVos broke federal law by rolling back rules meant to protect students who have been defrauded by colleges. DeVos rescinded what's known as the Borrower Defense Rule, which was put in place by the Obama administration in November and was set to take effect this month.
Guest
Maura Healey, attorney general of Massachusetts. She tweets @massago.
Interview Highlights
On why she's filing the lawsuit
"For the last few years, my office and other offices have investigated and worked to shut down the worst of these actors — these predatory for-profit schools — and in addition to that, we also worked very closely over the last two years with the Department of Education to develop a rule that would be in place to make sure that students and taxpayers are treated fairly. This is the Borrower Defense Rule that was supposed to go into effect July 1 ...
What Betsy DeVos did is pull the rug out from under us, with no notice, and announced that she was going to delay that rule that had been carefully crafted and worked on for the last two years. And what she did was illegal. It violates the Administrative Procedures Act and more importantly, it's unfair. It makes no sense.
Unfortunately though, we have a Secretary of Education in Betsy DeVos who's more interested in protecting the executives of for-profit schools, than actually protecting the students whose responsibility it is that her office takes care of."
On what the delay of the rule means
"Delay is another way of them canceling the rule, effectively ...
And we know through our investigations and cases that for far too long, there's been an open spigot and these for-profit schools have been able to access federal loan dollars on the backs of vulnerable students, by specifically targeting them and marketing them through high pressure sales tactics.
... Many of these schools spend 90 percent of their dollars marketing to students and they offer them the promise of great jobs, great careers, when our investigations have showed that they've actually lied about the kinds of internships and jobs available to students, lied about the kinds of courses and the caliber of teachers available to these students, and in some instances we've seen some of the schools simply go bankrupt, belly up, and leave these students high and dry, stuck with significant debt."
On why DeVos has delayed the rule
"Unfortunately, it's just, I think, symptomatic of where the agency is in terms of its priorities. Its priorities are not with students. Its priorities seem to be with private interests that stand to profit through education. And Betsy DeVos does not seem to be acting in the interest of students by taking such an action ...
I'm not surprised on some level because it's simply followed a pattern of this Administration ... I view it simply as a betrayal of the responsibility of the Department of Education and a betrayal of millions of students and families across this country."
This segment aired on July 6, 2017.