Rep. Moulton On CHANCE In Tech Act, Mosul, Future For Democrats
Play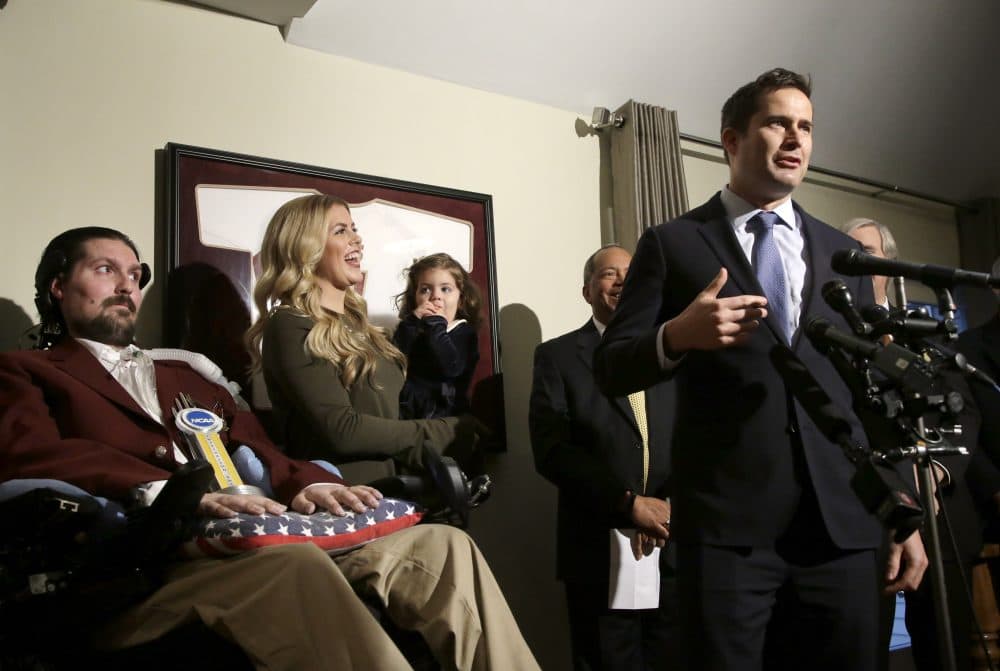 This article is more than 5 years old.
On Monday, Congressman Seth Moulton was in Ipswich to introduce the Championing Apprenticeships for New Careers and Employees in Technology Act — also known as the CHANCE in Tech Act. It's a bill aimed at addressing a huge problem in the tech sector — the growing skills gap. He wants to bring more people into the tech pipeline, by expanding and investing into technology apprenticeship programs.
"Apprenticeships are a really great way to train workers for the new economy," Moulton said. "And we don't have those opportunities — at least, we don't have enough of them — in America today."
We also spoke with Congressman Moulton about the Senate health care bill, and about the Iraqi Army's declaration of "total victory" over ISIS in Mosul. Finally, he spoke about the future of the Democratic Party, and called for a change in leadership.
Guest
Congressman Seth Moulton, representative for the 6th Congressional District of Massachusetts. He tweets @sethmoulton.
Interview Transcript
Tell us exactly what the CHANCE in Tech Act would do.
The chance in tech act basically sets up a public/ private entity as a vehicle to get more apprentices in tech. This is something we've seen across the world as a valuable way to train people for the IT jobs of the future, but we don't have good opportunities for apprenticeships here in America.
So is it going to be something that addresses High School grads, Community College grads — who will be eligible for these apprenticeships?
Could be both people who have had some community college, or people who are straight out of High School. Of course, it depends on the qualifications necessary for the certain job or apprenticeships. But the point is, apprenticeships are a really great way to train people for the new economy, and we don't have those opportunities — or at least, we don't have enough of them — in America today.
You're talking about this as a public/ partnership — what exactly does that mean? Does that mean that we've seen a financial commitment from companies, or do you have a commitment that companies will hire x number of apprentices?
That's exactly what we're trying to get, because there just isn't as much job training going on in corporate America as there once was. Big corporations and local companies used to take people off the street, including many immigrants, and teach them how to do the jobs in their factories. That's not happening enough in America today, and we want to jump-start that, because there are an awful lot of jobs that are unfilled.
At this point, is it going to be a financial commitment and / or a commitment to hire a specific number of apprentices?
Well, the specific policies will have to be developed. That's something that will take time, and we want the public sector and the private sector to work together to do that. Because ultimately, this should be something that not only benefits American workers, but also benefits American companies, especially the startups and the new companies that are leading the way in technology. We want them to be leading the way in the global economy, and we want them to do it with American workers.
Do you already have any commitments or partnerships with companies in the Boston area?
We don't yet, but there are an awful lot of companies in the Boston area that are prime for this opportunity. That's why I'm going to EBSCO, up in Ipswich, one of the biggest employers in my district, for the press conference. They're enthusiastic about this, they see the value of it, and we're bringing in a lot of companies to learn more about it. We're just getting this effort started — this is a new thing, this is a new innovation. So it will take a little bit of time to get it, but this is the kind of leadership we need to embrace the economy of the future.
One of the things that interested me about this bill is that it seems to have such a wide level of bipartisan support at this early stage, and that's something you don't often see in politics. But on the flip side, one of the things I've noticed in covering tech is there's this sort of bias toward people with a college degree. Whether or not a college degree is needed, there seems to be a preference for it. Is that something that you've heard or discussed in the conversations that you've been having?
I've seen that a lot. I see that preference. I'm a big supporter of everybody in America having the opportunity to go to college, but that doesn't mean that everybody wants to go to college, or that's the best thing for everybody. Sometimes, when we need IT help around the office, people say, I've got a high school kid who knows this better than anyone. So we need to be open to those opportunities, and recognize that there are many different ways that Americans can contribute to the new economy, and they don't all require a college degree.
President Trump tweeted this morning that he cannot imagine that Congress would dare to leave Washington without a beautiful new health care bill fully approved and ready to go. Are you expecting that to happen?
Well, I certainly hope that we leave Washington without stripping health care away from millions of Americans, because that's what the Republicans are trying to do.
You've come out strongly against the GOP health care plans, but I'm curious what you think Democrats need to do to make their opposition as effective as possible, particularly to the Senate bill.
We've just got to explain this to the American people. We've just got to explain what this GOP health care bill will do. It's not even a health care bill. How do you call a bill that takes health care away from millions of hardworking Americans a health care bill? It's really just a tax cut bill for the ultra rich. And the facts speak for themselves, but we've gotta tell that story. We've gotta explain to people what's at stake here. We've gotta explain what it means to their families if the Republicans succeed at passing this horrible, horrible bill.
You did multiple tours in Iraq, so I want to ask you about the news out of Mosul. This weekend, Iraq's Prime Minister, Haider al-Abadi, went to Mosul to congratulate the Iraqi army for winning the city back from ISIS. What's your reaction to the idea that the Iraqi forces have reclaimed this city?
Well, first of all, congratulations. This is a great achievement and it's something that the Iraqis did with our support, but leading the effort on their own. But my question is the same, the same question I always ask, which is, what comes next? Frankly, it doesn't surprise me that they were able to defeat ISIS in Mosul. It was only a matter of time. But we've defeated terrorist organizations like this in the past, and yet they keep coming back because we don't put the proper governance and diplomatic efforts into ensuring the peace. So what comes the day after Mosul falls still the remains the key question, and I have yet to hear a good answer.
I know that you were quite critical of the Obama Administration's Iraq policy, or lack of an Iraq policy. Do you feel that you've gotten any greater clarity from the Trump administration about what's next?
Absolutely none. And to be clear, my view on the Obama administration policy is that they were actually quite effective at defeating ISIS. The Obama administration has killed a lot more ISIS fighters than the Trump administration has to date. But my question, again, was what comes after we defeat ISIS on the battlefield? And the Trump administration has yet to even address that question, let alone provide a good answer.
I know that you've been very vocal about House Democratic Leadership, specifically Nancy Pelosi. But there are reports that early on, she helped you, and you wrote a letter thanking her for that help, and I'm curious to hear from you what has changed, if anything.
There's nothing changed in the sense that I'm happy to write thank you notes for people who do good things. I wrote a thank you note to Paul Ryan last week. That doesn't mean that I'm going to agree with him. But the reality is that we need new leadership in the party. We can't keep losing election after election. And our party leaders need to be accountable for that. So I have great respect for Nancy Pelosi and all the things that she has done. She's the first woman to become Speaker of the House. But I think we all know that it's time for new leadership today. That we've got to have a plan that's forward-thinking, that brings all Americans into the new economy, that says that we're not just going to oppose Trump, we're going to provide some real alternatives. We're going to provide a new vision for the country. That's what Democrats need today, We've got to start winning again, because so much is at stake, and this GOP health care bill is the latest example of what happens when Democrats aren't winning elections and don't have the reins of power in Washington.
Do you have an idea of how to do that — how to start winning again?
Well, I think part of that equation has to be new leadership. Part of that equation has to be coming to terms, looking ourselves in the mirror, and recognizing what we need to change to start winning in the future.
This segment aired on July 10, 2017.