Violence In Charlottesville: Local Reactions
Play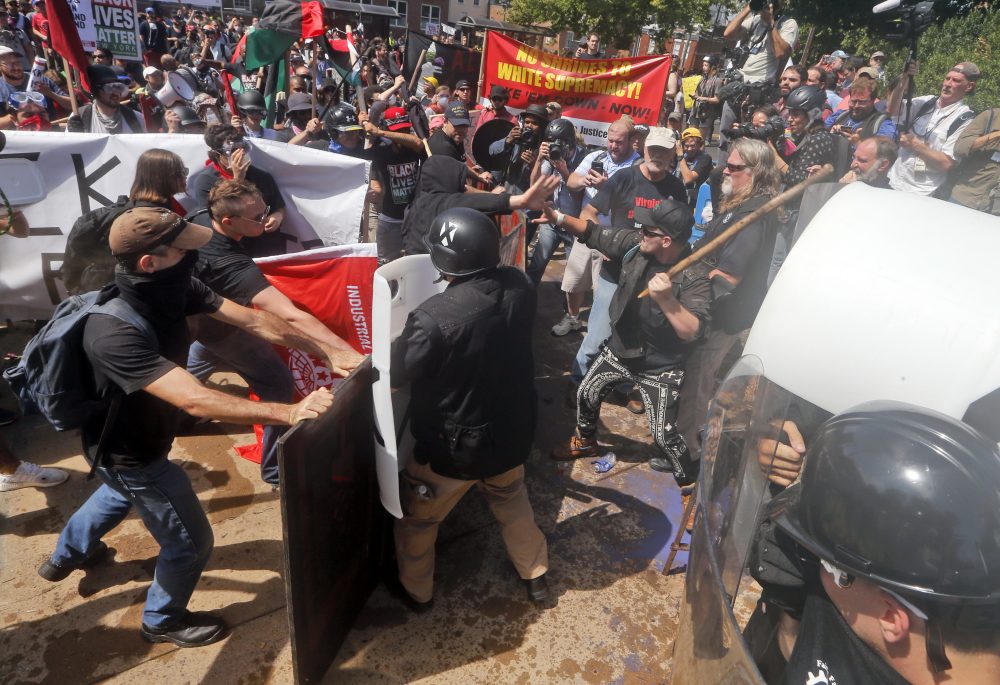 This article is more than 5 years old.
On Saturday, bloody demonstrations broke out in Charlottesville, Virginia, that ultimately left one person dead and more than 30 injured. Heather Heyer, 32, was killed when a car allegedly driven by James Alex Fields slammed into a group of counter-protesters. Additionally, State Police Lt. H. Jay Cullen and Trooper Berke M. M. Bates, who had been monitoring the demonstrations from above, died when their helicopter went down.
President Trump spoke on Monday. He has been roundly criticized for his comments on Charlottesville this weekend, saying there was "violence on all sides" at the white supremacist rally.
Today, the president condemned those groups by name. He said, "In times such as these, America has always shown its true character, responding to hate with love, division with unity, and violence with an unwavering resolve for justice. As a candidate, I promised to restore law and order to our country, and our federal law enforcement agencies are following through on that pledge. We will spare no resource in fighting so that every American child can grow up free from violence and fear."
Guests
Renee Graham, columnist for the The Boston Globe and a WBUR contributor. She tweets @reneeygraham.
Dan Linskey, former superintendent-in-chief of the Boston Police Department. Managing director in Kroll's Investigations and Disputes practice. He tweets @chieflinskey.
Rev. Mariama White-Hammond, minister at the Bethel AME Church in Jamaica Plain. Executive director of Project HIP-HOP. She tweets @mariamawh.
Sandy Hausman, Charlottesville bureau chief for Virginia Public Radio (WVTF).
David Gergen, former presidential adviser who served during the Nixon, Ford, Reagan, and Clinton administrations. He tweets @David_Gergen.
Shiva Ayyadurai, scientist and entrepreneur. Challenger for U.S. Senate. He tweets @va_shiva.
This segment aired on August 14, 2017.