Farming For 100 Years: Needham's Volante Farms Cookbook
Play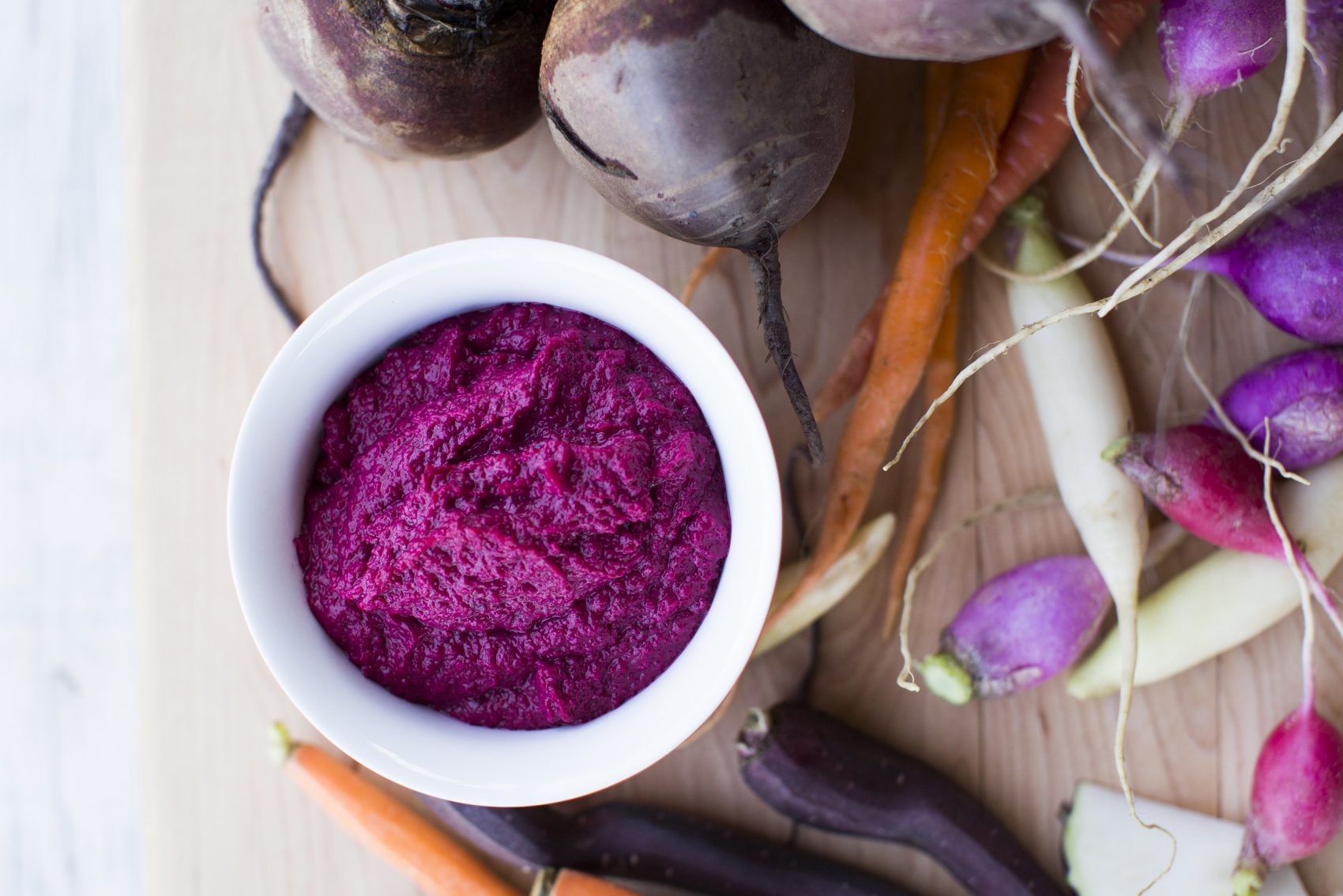 This article is more than 5 years old.
This year, Volante Farms in Needham turns 100. And on that anniversary, the family has published a new cookbook to highlight their favorite recipes.
The farm has been in the Volante family for four generations. Peter Volante started farming in Massachusetts in 1917. We visited the farm and talked about the challenges and rewards of farming  in suburban Boston.
Guests
Todd Heberlein, executive chef at Volante Farms. He tweets @VolanteFarmChef.
Steve Volante, co-owner of Volante Farms, which tweets @volantefarms.
Ryan Conroy, field manager of Volante Farms and author of "The Volante Farms Cookbook: A Century Of Growing."

Roasted Beet Hummus
Todd Heberlein, The Volante Farms Cookbook Makes 3 cups
2 beets (about 1 pound), rinsed and greens removed
3 tablespoons extra virgin olive oil, divided
2 teaspoons za'atar, divided
Kosher salt, to taste
Black pepper, to taste
1 14-ounce can garbanzo beans, drained and rinsed
¼ cup tahini paste
2 tablespoons chopped garlic
2 tablespoons lemon juice
1 teaspoon cumin
Preheat oven to 400˚F.
Toss beets with 1 tablespoon olive oil, 1 teaspoon za'atar, and a pinch of salt and pepper. Place on a sheet pan and cook until tender, about 45 to 60 minutes depending on their size. Remove from oven and let cool for 10 to 15 minutes.
Put garbanzo beans, tahini paste, and garlic into a food processor. Purée for 30 seconds. Add lemon juice, 1 tablespoon water, cumin, remaining za'atar, remaining olive oil, and a pinch of salt and pepper. Pulse until well combined, about 30 seconds, and scoop into a bowl.
Using a paper towel, wipe the skin off of the beets, cut them in half, and place into the food processor. Pulse until smooth, about 30 seconds. If the mixture gets too thick, add a tablespoon of water. Combine beet purée with hummus.
Season to taste with salt and pepper. Serve with pita chips, crudité, or enjoy as a sandwich spread.

Grilled Cornettas
Volante Family Heirloom Recipe, from The Volante Farm Cookbook
3 tablespoons olive oil
2 pounds Cornetta peppers, halved and deseeded
1 tablespoon kosher salt
3 tablespoons chopped garlic (optional)
1 loaf crusty Italian bread or baguette
Cover grill grates with aluminum foil and preheat grill to high.
In a bowl, drizzle olive oil over peppers, sprinkle with salt, and mix thoroughly. Add garlic if desired.
When grill is hot, dump peppers onto aluminum foil and spread into a single layer. Cover and cook until they develop a good char, about 3 to 5 minutes.
Flip the peppers, cover, and cook until they look like they are starting to melt, another 3 to 5 minutes.
Remove from grill and pile onto a plate. Tear chunks off of loaf and stuff peppers into chunks. Best enjoyed before 7 a.m.

This segment aired on August 24, 2017.