How 50,000 New Amazon Jobs Could Change Boston's Tech Ecosystem
Resume
Cities across the country, and in Canada, are shamelessly trying to lure Amazon to build their second headquarters in their town.
One big draw for the winning city? Amazon said they will create 50,000 new jobs.
But here in Boston, some tech companies say there's already a labor shortage. If Amazon chose Boston, would there be enough tech talent to go around?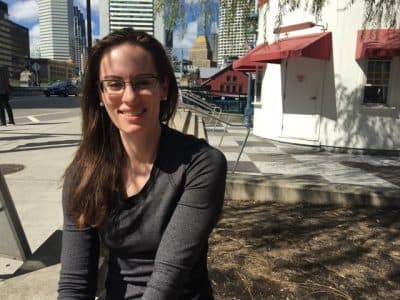 Sarah Downey works at Accomplice, a VC firm that invests in early stage companies. She said hiring is the biggest problem for every company she works with.
"This is the thing that everyone is struggling with," Downey said. "Everyone is trying to hire engineers, everyone is trying to retain engineers. It's very, very difficult and there's a lot of competition."
One of the reasons, tech leaders say, is tech talent chooses to go elsewhere - namely the West Coast.
Also, there is a gap between the number of technology graduates and the number of new opportunities in tech. CBRE, a real estate services firm, found that between 2011 and 2015, colleges in the Boston area gave 31,400 technology-related degrees but only 11,790 technology jobs were created in the region.
Tom Hopcroft, the CEO of the Massachusetts Technology Leadership Council, said he hopes Amazon could help reverse some of this brain drain.
"A company like Amazon would cause more students who come through to Massachusetts to think about the place to go after they graduate," said Hopcroft. "They're all looking for that new hot tech hub where the opportunity is, where the future is being built. This would be so symbolic."
Despite the increased competition, tech leaders expressed optimism about Amazon's potential move to Boston.
JD Sherman, the president of Hubspot, believes that even if there is more competition between companies, Amazon will benefit everyone.
"It would be a net positive," said Sherman. "I think the Boston tech scene is getting more and more vibrant but I that having a big name like Amazon it would help draw more talent to the area."
Guest
Asma Khalid, WBUR BostonomiX reporter. She tweets @asmamk and @bostonomix.
This segment aired on September 28, 2017.